Sargent Shriver, Albert and Vanessa
Posted: January 20, 2011 By: Leah Jaffee

Turning to the news of Sargent Shriver's passing, memories past mingle with new consciousness. Embarrassing as it is to acknowledge, I had no idea of his monumental contribution to the Peace Corps, Volunteers of America and other such notable service organizations. Realizing I have this bumper sticker, I dig it out of my 'forever box' and scan it to the immortal web.

Graduating from Franklin High School at 16, the famed Pike Place Market is my home in 1972. Taking a year off from school, I work selling fruit and vegetables as I did for the three previous years of weekends and summers. In 1972, The Market is not 'saved' and its worn authenticity is not shellacked with theme park tinted strip mall shine.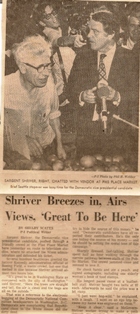 The fertile Kent Valley shrinks under the concrete weight of Southcenter Mall as the pole-to-pole territories of the farmer's stalls yield to hippies peddling roach clips and leather crafts. My male cohorts are sensitive to the war in Vietnam, I'm sensitive to the war in The Market. All is set aside the day Sargent Shriver visits on his way to a television interview. This photo is of my boss, Albert Hara, who along with his wife Molly, sell fruit and vegetables year in and year out forever ago. I remember the commotion of the day, the pride Albert exudes in meeting such a prominent figure. Stories of The Market are for another day, today is for the influence of Sargent Shriver.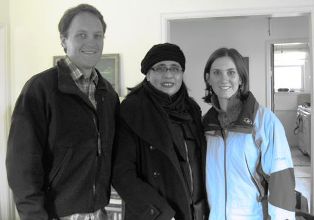 Craig, Leah and Vanessa 1/20/09
Over the past number of years, employing some of the best of the best, I watch as they sign up for the Peace Corps or VOA. I'm always struck by their idealism and vision, their self-determination to make a difference in the world. For a fraction of the monetary compensation their counterparts in the private sector earn, they trot off to dismal circumstances to ease someone else's life. One young woman, Vanessa, has kept in touch over the years, even once sending a postcard from a dirt hovel she built to live in while in Panama. She now resides in DC, continuing her education and public service. Inviting me to celebrate Obama's inauguration, through a network of retired PC vets I find lodging in an old row house close to The Mall. What a blast!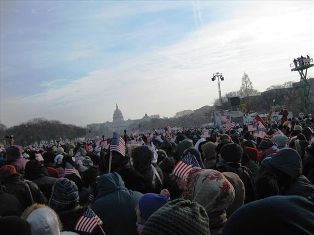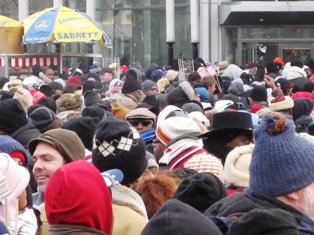 I just received an email from Vanessa announcing her engagement to Craig, a fine young man she met in the PC. I salute Sargent Shriver for inspiring people I'm proud to know; Vanessa and Craig, my brother Gordy, Claire's daughter Becky and my old friend Beth.
Mazel tov, Vanessa and Craig!