Raise the Debt Ceiling Already!
Posted: July 29, 2011

Being home most of the week, I keep the TV muffled in the background. In keeping with the spirit of Tisha B'Av, evil lurks in remote places and guns down kids in Norway. On the heels of the horrendous crime in Brooklyn, I wonder what is up with people.
The cable news channels repeat the same debt ceiling crisis situation with breathless anticipation, incredulous frustration and baffled intolerance. I'm exhausted from listening to scripted platitudes. Get a brain! The Rabbi has often said, with hopeful encouragement, that I don't suffer fools gladly. Yep, the Rabbi is very astute. So, I haven't written a blog this week; "if you don't have anything nice to say, don't say anything."


No Summer Vacation
Posted: July 17, 2011

Apparently, it isn't happening this year; I've made no plans to go anywhere. I've been to San Francisco, Acapulco, New York, and Bali in the past 15 months. I have no desire to travel. My catering schedule is lighter this summer with "the three weeks" being pushed into August. Traditionally, not a time for parties, I have an extended off-season. I'm enjoying time to decompress and not be crazy night and day. I like sleeping in until 8:30, I like staying up until 1:30 am. I still have a dinner here and there, a Kiddush now and then, but no brain straining logistically challenging major event….but soon. No, I'm enjoying the down time. I'm enjoying my family and friend time.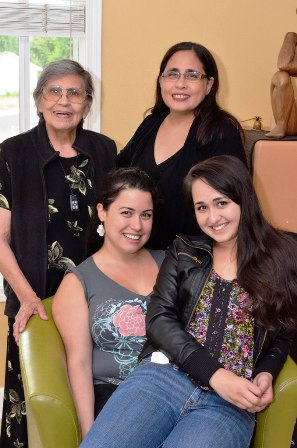 Babka Wedding 'Cake'
Posted: July 10, 2011

Vanessa and Craig tell me in April that they are engaged. I'm thrilled. Many employees, seasonal college help, come through the bakery over the years. Vanessa arrives and helps me with office work. Smart, calm, soft-spoken and fluent in Spanish, she is the perfect balance to my harried and intense, loud Spanglish in the final moments of an event going out.
I admire Vanessa's service in the Peace Corp. She joins after graduating college and I lose my competent help. Over the years, I get postcards from Panama. She lives in a dirt hovel she built herself and spends her time helping the locals. Once her stint is up, she stays on to help with basic medical training in remote villages. Eventually, she heads to DC to go to grad school. I meet Craig when I visit on my way to the Inaugeration. I think he's perfect for her. My babka is a favorite of Vanessa's and I schlep some out to DC.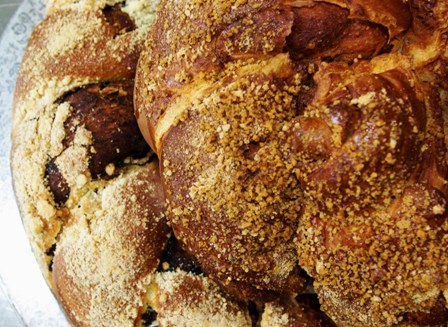 "Larry Crowne" - College Days
Posted: July 3, 2011

I frequently take my mother to the movies. Not working today, I pick her up 15 miles south of where I live and double back to the multi-plex closer to my neighborhood. Southcenter is closer to my sister's but I can't stand the sprawl of the huge mall and surrounding satellite discounters and chain stores. On the way back north, we zip through downtown on the freeway. Can't stop there either; parking is a drag. Five minutes further I can park easily and get my mother into the theater with few obstacles.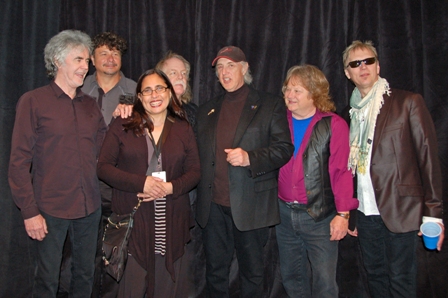 Three Dog Night (and Leah!)