Passover Cleaning 2013
Posted: March 18, 2013

Passover cleaning.....this is my 8th year supervising the cleaning of Hillel UW for Passover. Supervising means watching with the eyes on the back of my head as I scrub my share of oven racks and interiors of refrigerators. Last year, watching the Rabbi use the pressure washer to clean tables and racks, I wonder ALOUD, very aloud, why we aren't using STEAM. Because we don't have a steam cleaner.
I'm not known for tact, an easy going demeanor or passive acquiescence. My father's "you can do anything you set your mind to" has translated into "people go to the moon and we send machines to Mars!" in my brain. I may not be able to build a TV, but I can RENT a steam cleaner. Benoit suggests a couple of places to call. I tell the gentleman on the phone what were doing and he tells me what I need; 313' F steam and water option with Eco-friendly degreaser pre-wash....delivered and picked up. Yes; ask me now "How is this year is different from last year?" Last year we were SLAVES, this year we have STEAM!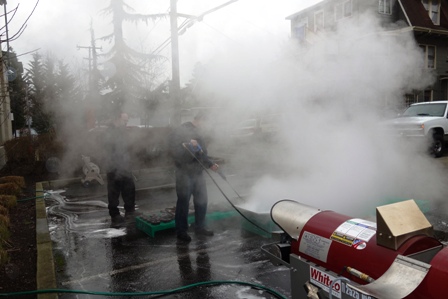 Of course, this doesn't necessarily mean that the job will be faster. No, it means I'm going after the roll down doors that close off the meat, dairy and parve kitchens. It means the walk-in fridge is getting blasted top to bottom. Coming out of the little hallway, I emerge from a sauna. My glasses are steamed over and there is water everywhere. Opening the reach-in fridges, I point Benoit in their direction. He blasts the interior. So easy, so clean.


It's Chanukah! Time to Order for Passover!
Posted: December 4, 2012

Yes, I'm scrambling....weddings out to June already on the books. I need to post for Chanukah...watch for my secret ingredient to successful everything fried coming this week! I notice in my inbox that I have the order guide for Passover. Must be Chanukah, must be December, I must be nuts.
Further in my inbox I find images of one of the Best New Products at Kosherfest. This image of Dyana Furmansky standing by her product "Matzolah" - yep, billed as "The Trail Mix of the Exodus!" makes me laugh. This is seriously good food despite all the whacky fun Foodman's team is having marketing.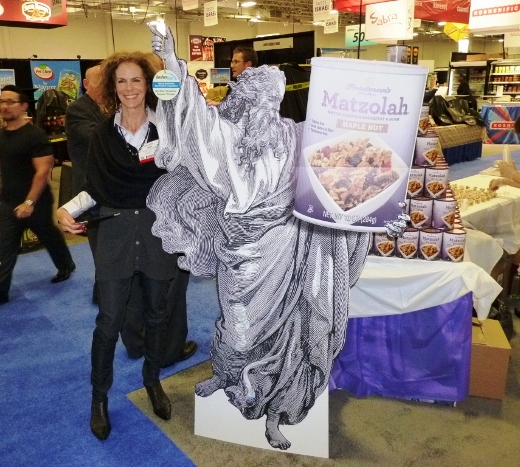 You'll want to fill your shelves at Passover with this item. It's gourmet granola made with matzoh sans the Birkenstock's. I'm thinking Matzolah brittle, Matzolah turtles, Matzolah crisp, or Matzohlah on top of ice cream. And, I suppose there isn't a halacha against eating it the rest of the year. I'm one of the lucky ones to have my own personal can NOW. Now, as in as I browse the order guide for Passover.....that is due this month!


Freeze!
Posted: April 4, 2012

We've been in Passover cooking mode for 6 days and we are almost done with what can be done ahead. Meals for about 1,800 and only 3 of us cooking; not bad. The magic word is freeze....everything. Gefilte fish, chicken soup, matzoh balls, brisket, chicken complete with marinade, salmon already boned and portioned, kugels and dessert. We couldn't do 300 - 350 people a day for lunches without the ability to prep ahead.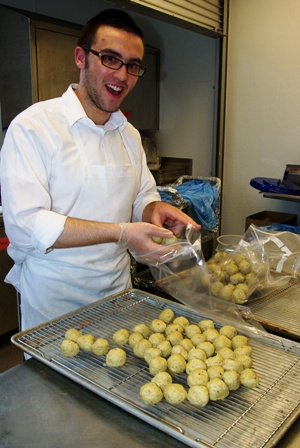 Hillel Meyer packaging matzoh balls for the freezer.


Shofar So Good!
Posted: October 4, 2011

Well, it seems that I owe my readers wishes for a Happy, Healthy New Year.....and for an easy fast.....and, at the rate I'm going I should add in a Happy Chanukah and Kosher Passover. Three day yontifs are tough enough feeding family and guests. It was a fine situation I found myself in last week: tailgate party for 100, BBQ for 200, Rosh Hashana for 300 and Shabbat dinner for 120. Whoa! That left zero time for the website or getting my hair done......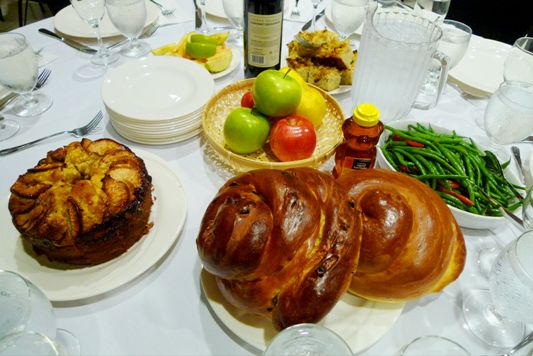 No Holiday Baking from Leah!!!
Posted: September 15, 2011

I need a sheital and dark glasses to walk through QFC incognito. The phone calls and emails are pouring in all with the same question. "Are you baking this year for Rosh Hashana?" My negative response breeds heavy sighs, I see the desperation across the miles. Tearing emoticons decorate replies in my email box. Virgo guilt rises in my belly; I'm nobody's BFF.
Closing the bakery 3 years ago was difficult but financially necessary. I sold product last year at the SJCC but required 5 days in Acapulco to recoup. Commercial baking is a tough business and I don't have the energy for it anymore. Alas, it is the end of an era in Seattle.