It's A Shark!
Posted: September 19, 2011

Done! Done, done and more done! It has been a marathon since Tisha B'Av. Six weeks of back to back events ending with the Stand With Us reception prior to their very successful presentation yesterday at McCaw Hall. Sheer will eeks out savory and sweet tidbits for 475 guests. The event doesn't suffer for being the end of the line; my perfectionism streaks across the finish line.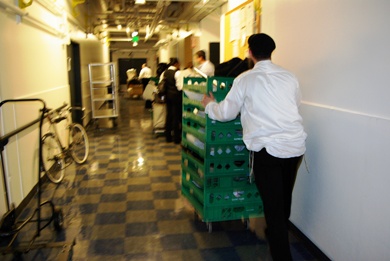 Very long hallways to the loading dock
Phillip, owner of Noshaway, has the next reception for The Jewish Federation. It's been a community day at McCaw Hall and lots of familiar faces are in the building. Phillip and I, viewed as 'competitors', have much in common given the market we serve. I consider him a friendly rival, we each have our followers. I made the decision long ago not do the jumbo sized, mega events. Too many plates, too much effort. Hats off to Phillip and Arthur for biting off that biz. Exiting the building, we pass Phillip and his wife Dana in the downstairs kitchen. "Have fun!".....


No Holiday Baking from Leah!!!
Posted: September 15, 2011

I need a sheital and dark glasses to walk through QFC incognito. The phone calls and emails are pouring in all with the same question. "Are you baking this year for Rosh Hashana?" My negative response breeds heavy sighs, I see the desperation across the miles. Tearing emoticons decorate replies in my email box. Virgo guilt rises in my belly; I'm nobody's BFF.
Closing the bakery 3 years ago was difficult but financially necessary. I sold product last year at the SJCC but required 5 days in Acapulco to recoup. Commercial baking is a tough business and I don't have the energy for it anymore. Alas, it is the end of an era in Seattle.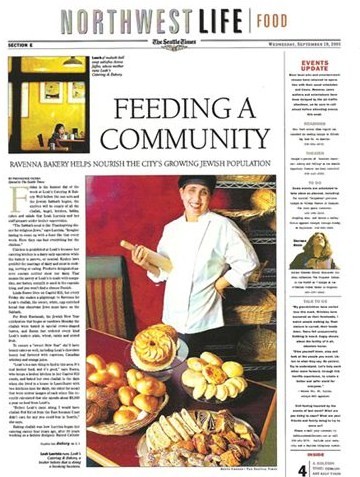 Making Choices
Posted: September 10, 2011

The last 6 weeks have been insanely busy with catering. The next week promises more of the same. Post Labor Day and pre-Rosh Hashana, erev 9/11 amidst a climate of economic uncertainty and terrorist threats, famine and floods, fire and general inane political postering, the climate is perfect for personal reflection. In fact, the climate here in the Northwest is perfect with sunshine illuminating our glorious landscapes and water ways. Light adds optimism to thoughts of what might lie ahead.