We are consistently voted "The Best Kosher Caterer" by local JTNews readers. Since my Orthodox conversion 18 years ago, I am dedicated to elevating the expectations consumers have about kosher food. The community has been supportive of my catering service in a way that goes beyond business as usual.
It is my good fortune to be from Seattle, a city renown for its foodies and eclectic social conscience. Within this Jewish community, we have a long-standing Ashkenazi and Separdi blend of food and ritual. I learn from some of the best Jewish mothers in the city ~ young and old! Through the pages of this website and over time, I look forward to expanding my own learning of the foods Jews eat; classic and trendy, vegetarian and vegan, gluten-free and dairy free.....and, all kosher.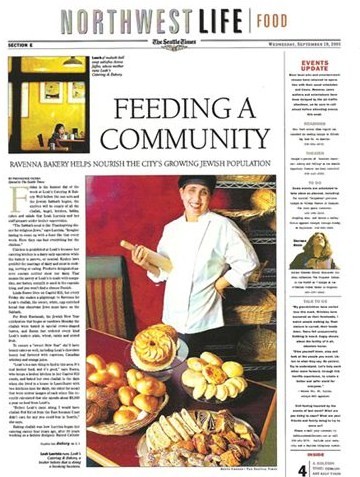 All aspects of Jewish life are expressed with food, both traditional and trendy. Kashrut adds layers of holiness and meaning. Join me in a community of Jewish cooks who are excited to share their regional specialties and global perspectives on food in a Jewish context. Become a Supporting Member ~ its' FREE! Build your profile, share your recipes and feel free to contact me with questions, requests and comments.
May we all be blessed for the love we share through food ~ Leah

Recommended Bench Scraper
Posted: November 21, 2011

Working on getting Thanksgiving recipes up....no blog tonight! However, Karen in NYC sends this link for a bench scraper: bonus....made in the USA! Looks sturdy. I always work with a bench scraper. Thanks, Karen!
http://www.amazon.com/gp/product/B00153AIEY/ref=oh_o01_s00_i00_details


Hermolis Kosher Airline Food
Posted: February 21, 2011

Clearing stacks of recipes and papers from various tables, I came across a mini brochure from Hermolis. They provided 5 of 6 kosher airline meals served on my flights to and from Bali. I have to give them a shout out for outstanding food. Flying Cathay Pacific is always a treat, even in coach. The Hermolis meals, especially when the entree was heated enough, were a welcome break from the tuna, rice crackers, almonds, fruit...and chocolate covered raisins I'd been eating for days.
Apparently, one can order Hermolis meals for hotels, etc. I'm going to keep that in mind. www.Hermolis.com
On the way from Bali to Hong Kong, I was lucky to have not only an empty seat next to me, but also a young woman from Canada on the aisle. At 28, she is my daughter's age. Jewish, we had a chance to talk about her external travels through Indonesia and her spiritual journey inward. Feeling a need to settle down, her Jewish identity was asking some tough questions of her. Coming from a small town, there isn't a community to support a rich Jewish lifestyle. As a foodie, "ninja princess" has many dietary restrictions for health and social issues. My kosher meal gave us the opportunity to talk about how kosher was another way to raise our consciousness about food and our connection to Judaism.
"Ninja Princess" is a very cool young woman and I want to find a nice Jewish young man for her. Smart, attractive, well traveled, willling to relocate and settle down...and cooks like a ninja! Let me know if you think of anyone.