We are consistently voted "The Best Kosher Caterer" by local JTNews readers. Since my Orthodox conversion 18 years ago, I am dedicated to elevating the expectations consumers have about kosher food. The community has been supportive of my catering service in a way that goes beyond business as usual.
It is my good fortune to be from Seattle, a city renown for its foodies and eclectic social conscience. Within this Jewish community, we have a long-standing Ashkenazi and Separdi blend of food and ritual. I learn from some of the best Jewish mothers in the city ~ young and old! Through the pages of this website and over time, I look forward to expanding my own learning of the foods Jews eat; classic and trendy, vegetarian and vegan, gluten-free and dairy free.....and, all kosher.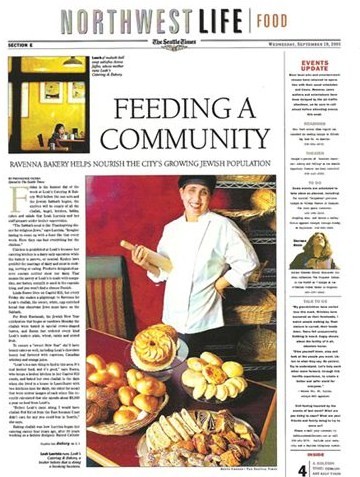 All aspects of Jewish life are expressed with food, both traditional and trendy. Kashrut adds layers of holiness and meaning. Join me in a community of Jewish cooks who are excited to share their regional specialties and global perspectives on food in a Jewish context. Become a Supporting Member ~ its' FREE! Build your profile, share your recipes and feel free to contact me with questions, requests and comments.
May we all be blessed for the love we share through food ~ Leah

Shana Tova and Thank You
Posted: September 15, 2012

Shabbat is just out. Since closing the bakery, Rosh Hashana baking madness is modulated. I'm empathetic to everyone in the food business erev yontif; it'll be a long night. I'm only cooking for 100 people tomorrow. Rarely feeling like going into work after Shabbat ends, tonight is no different. I can go in at 5:00 am and get done what needs to be done before yontif, HaShem willing. I'm looking forward to sitting with friends and family tomorrow night. Before that, I'm anticipating the wonderful smell of challah, honey cake and apple cakes I'm baking in the morning.
I'd like to thank all of my readers for using my recipes. A special thanks to those who write and tell me of their successes baking and cooking. My catering business has been crazy this past year; busy, busy. I appreciate that readers continue to check out the site even when my posts are less frequent. I hope the recent uploading of videos inspires many of you to bake. I'm having fun doing them.