We are consistently voted "The Best Kosher Caterer" by local JTNews readers. Since my Orthodox conversion 18 years ago, I am dedicated to elevating the expectations consumers have about kosher food. The community has been supportive of my catering service in a way that goes beyond business as usual.
It is my good fortune to be from Seattle, a city renown for its foodies and eclectic social conscience. Within this Jewish community, we have a long-standing Ashkenazi and Separdi blend of food and ritual. I learn from some of the best Jewish mothers in the city ~ young and old! Through the pages of this website and over time, I look forward to expanding my own learning of the foods Jews eat; classic and trendy, vegetarian and vegan, gluten-free and dairy free.....and, all kosher.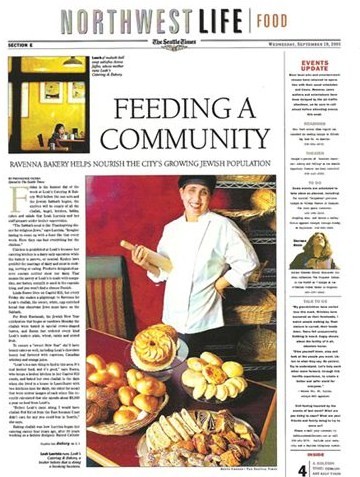 All aspects of Jewish life are expressed with food, both traditional and trendy. Kashrut adds layers of holiness and meaning. Join me in a community of Jewish cooks who are excited to share their regional specialties and global perspectives on food in a Jewish context. Become a Supporting Member ~ its' FREE! Build your profile, share your recipes and feel free to contact me with questions, requests and comments.
May we all be blessed for the love we share through food ~ Leah

QFC - University Village Kosher Spirits
Posted: January 5, 2013

I usually wander into liquor stores about once a year around Honey Cake season. I'm far too much of a control freak to let alcohol gain a foothold on my psyche. A little of the low alcohol content Bartenura's Moscato d'Asti now and then at shul is nice. But then, that whole designated walker thing is an issue when you live 2 miles away.
One couldn't even buy beer on Sunday between 2:00 am and noon or something crazy like that up until very recently. I find that out when I need beer for beer batter fish and chips. Brother. Feeling humiliated and demeaned as I'm chastized for attempting to purchase alcohol, it is unseemly to get belligerent. It has been said that sleep deprivation has the same affect as a high blood alcohol content. Hard to argue that I look like I do because I cooked all night....and, oh by the way where I go to pray everyone drinks and that was yesterday. Yes, I'm not much fun sober and I don't think it would be any better if I drank.