We are consistently voted "The Best Kosher Caterer" by local JTNews readers. Since my Orthodox conversion 18 years ago, I am dedicated to elevating the expectations consumers have about kosher food. The community has been supportive of my catering service in a way that goes beyond business as usual.
It is my good fortune to be from Seattle, a city renown for its foodies and eclectic social conscience. Within this Jewish community, we have a long-standing Ashkenazi and Separdi blend of food and ritual. I learn from some of the best Jewish mothers in the city ~ young and old! Through the pages of this website and over time, I look forward to expanding my own learning of the foods Jews eat; classic and trendy, vegetarian and vegan, gluten-free and dairy free.....and, all kosher.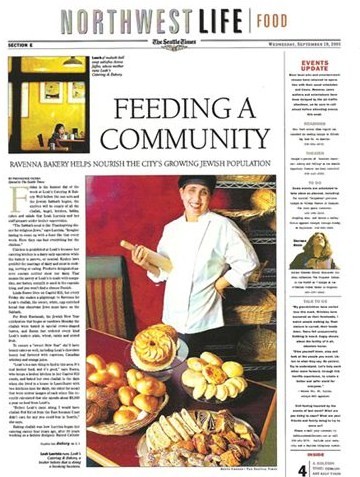 All aspects of Jewish life are expressed with food, both traditional and trendy. Kashrut adds layers of holiness and meaning. Join me in a community of Jewish cooks who are excited to share their regional specialties and global perspectives on food in a Jewish context. Become a Supporting Member ~ its' FREE! Build your profile, share your recipes and feel free to contact me with questions, requests and comments.
May we all be blessed for the love we share through food ~ Leah

Recommended Bench Scraper
Posted: November 21, 2011

Working on getting Thanksgiving recipes up....no blog tonight! However, Karen in NYC sends this link for a bench scraper: bonus....made in the USA! Looks sturdy. I always work with a bench scraper. Thanks, Karen!
http://www.amazon.com/gp/product/B00153AIEY/ref=oh_o01_s00_i00_details


Veteran's Day Shabbat
Posted: November 13, 2011

This past Shabbat, being Veteran's Day, we celebrated at Hillel with an all American themed dinner. Chicken noodle soup, BBQ chicken, glazed meatloaf, garlic mashed potatoes and, of course, apple pie. Comfort food at its core, I don't think I needed a recipe for anything. Just like mom used to make. I don't actually stick around for the dinner service. Judging by what I found in the refrigerator, nothing was leftover....except one piece of apple pie. Surely, it was saved for me, right? Tasted great!
As I understand it, a few Vets were invited to participate in the Shabbat dinner and share their stories. A very beautiful portable display featured accomplished Jewish troops from various eras, all looking quite dapper in uniform.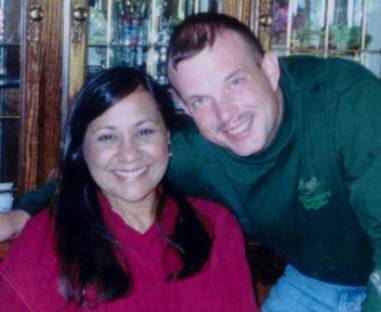 Sister Leilani (retired 1989, Air Force Master Sergeant)
and her husband Brent (retired 2008, Army Sergeant First Class)