The Chometz-mobile
Posted: March 29, 2011

I start thinking about Passover around Thanksgiving; wondering if I should buy lottery tickets or get on JDate in hopes of getting out of cooking for Passover for the community. I don't like the feeling of losing or being out of control....so, I don't buy tickets or renew my subscription to JDate. By December, the vendors are looking for orders for kosher for Passover ingredients. I then start bugging Kris about whether or not I'm doing the Passover program at Hillel. It is actually a very fun community event. A huge first night seder followed by chol moed lunches. Depending on how the holiday falls out, the number of lunches varies. This year is like last year, fairly easy. Only 1100 meals. By January, all the menus are done.


Seriously, another WAR?
Posted: March 23, 2011

I don't know. After a long day today, I get home and open the fridge. It's 9:00 pm, what is there around here to eat? Ah, foil containers of 'catering overruns' from the Purim seudah I catered on Sunday. What day is it today?
Nuking the teriyaki chicken and fried rice, I turn on cable news. I'm eating leftovers from the day after the LATEST war started. Brother. Got an email today from my anti-war protesting buddy, Sky. He did a roadtrip from Iowa to DC last weekend to join other Vets protesting the TWO wars that were going on. Add another. Brother.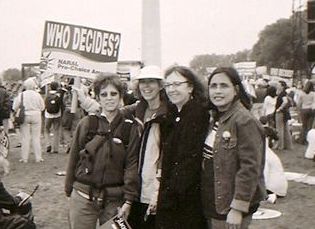 This is actually the Woman's March on Washington, 2004
I spent a lot of time protesting the wars in the early 2000's.
Lot of good it did.
Don't make me go back to DC!


Not Making Hamentachen
Posted: March 17, 2011

Last month, struggling with jet lag, I review my workload and conclude that I can't make hamentachen this year. I feel badly for my regular customers. Last year we make "Hamentachen for Haiti", joining forces with the Stroum Jewish Community Center. With their huge role as a community gathering center they serve as point of sale. Assessing the retail potential, I know we can sell our usual 13,000 hamentachen over the week of Purim. I employ my old Nordstrom buyer skills for merchandising: stack it deep and sell them (not so) cheap.
With the help of the community, we make our goal. But, with Passover on our heels, we never adequately acknowledge everyone for purchasing so much hamentachen. After covering expenses, we donate $3600 to earthquake relief by sending a check to the Chabad of the Dominican Republic to purchase supplies to truck to Haiti. I want to thank everyone now for their purchase and contribution to the cause.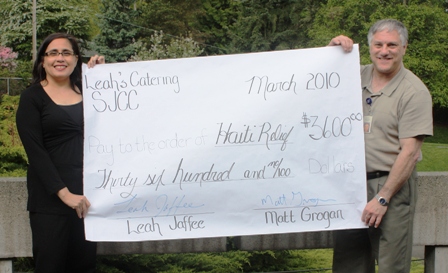 I can't believe that there is another huge earthquake/tsunami/nuclear reactor disaster in Japan.
I wish I had the time to do another fundraiser this Purim. I can only make what I need for my events.....I am not making hamentachen this year, only 2,000 of them.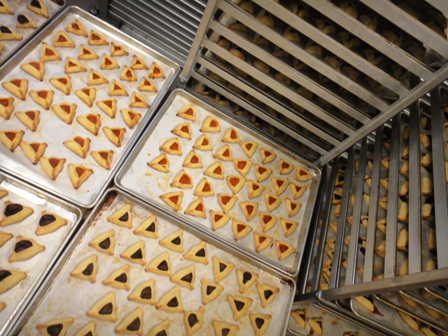 But, with or without hamentachen, I know the community is generous and supportive of those who have lost so much.
Wishing everyone a happy, fun and grateful Purim.


Status Update
Posted: March 17, 2011

Status update: I haven't forgotten all of you this week and I appreciate your patience! The situation in Japan has my attention and I find the usual spring in my step somewhat lacking. So much devastation to comprehend.
Juggling many balls as we roll into Purim and then Passover, lots of great recipes are coming your way. All my menus for Hillel are organized and I'll be sharing those ideas with you.
We are also tying up the final section of the website. Wowzers ~ stay tuned!


Almost Purim
Posted: March 13, 2011

My oldest daughter, Rebekah, is with two of her friends from junior high school. This picture is actually taken at Halloween as they were going to a party. Bekah was born before my conversion so she isn't Jewish. Her friend on the right, Allison is Jewish and now works for the State Department in Panama. These 3 girls will be tourists for 2 weeks starting this weekend.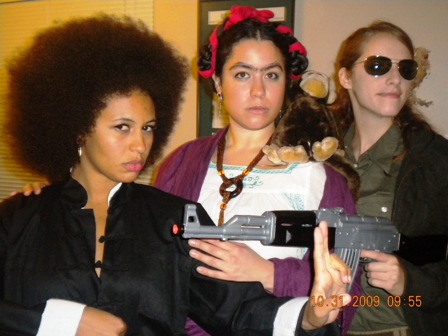 My motherly instincts are to be worried for their safety. Looking at this selection of costumes, maybe not......
Have fun Bekah, I love you!