We are consistently voted "The Best Kosher Caterer" by local JTNews readers. Since my Orthodox conversion 18 years ago, I am dedicated to elevating the expectations consumers have about kosher food. The community has been supportive of my catering service in a way that goes beyond business as usual.
It is my good fortune to be from Seattle, a city renown for its foodies and eclectic social conscience. Within this Jewish community, we have a long-standing Ashkenazi and Separdi blend of food and ritual. I learn from some of the best Jewish mothers in the city ~ young and old! Through the pages of this website and over time, I look forward to expanding my own learning of the foods Jews eat; classic and trendy, vegetarian and vegan, gluten-free and dairy free.....and, all kosher.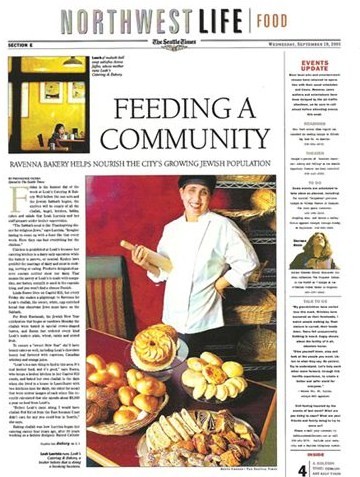 All aspects of Jewish life are expressed with food, both traditional and trendy. Kashrut adds layers of holiness and meaning. Join me in a community of Jewish cooks who are excited to share their regional specialties and global perspectives on food in a Jewish context. Become a Supporting Member ~ its' FREE! Build your profile, share your recipes and feel free to contact me with questions, requests and comments.
May we all be blessed for the love we share through food ~ Leah

Technical Difficulties
Posted: October 25, 2011

Just as everyone is scrambling to get a routine back after the holidays...or challah-daze, I am happy to report that I feel human again. Short work weeks and lots of cooking, LOTS of cooking, left me wondering where I was before the madness started. Taking stock of the unopened mail, unpaid bills, proposals sitting waiting to be done all the while juggling the 5 events I have this week, part of me wants to go back to bed.
Staying up until 2:30 am Monday morning, I do triage on the pressures pulling me all directions. Taxes and balancing accounts first, with Hillel expenses categorized, I can focus. My training at Nordstrom back in the day includes learning that balanced accounts clear the mind. Confirming details of my events this week, I know what I'm doing. What remains are proposals for January through June.....I need another week!
The website has suffered a bit through neglect. Not enough hours in a day, not enough days, my photo files sit waiting for me to upload recipes. I'll try to get one up next. I'm having some glitch uploading photos into the blog....hence, I've been quiet on the blog front for a few weeks. Got my guy on it now.
Working through my list, I know I'll be relieved when caught up.


Shofar So Good!
Posted: October 4, 2011

Well, it seems that I owe my readers wishes for a Happy, Healthy New Year.....and for an easy fast.....and, at the rate I'm going I should add in a Happy Chanukah and Kosher Passover. Three day yontifs are tough enough feeding family and guests. It was a fine situation I found myself in last week: tailgate party for 100, BBQ for 200, Rosh Hashana for 300 and Shabbat dinner for 120. Whoa! That left zero time for the website or getting my hair done......