We are consistently voted "The Best Kosher Caterer" by local JTNews readers. Since my Orthodox conversion 18 years ago, I am dedicated to elevating the expectations consumers have about kosher food. The community has been supportive of my catering service in a way that goes beyond business as usual.
It is my good fortune to be from Seattle, a city renown for its foodies and eclectic social conscience. Within this Jewish community, we have a long-standing Ashkenazi and Separdi blend of food and ritual. I learn from some of the best Jewish mothers in the city ~ young and old! Through the pages of this website and over time, I look forward to expanding my own learning of the foods Jews eat; classic and trendy, vegetarian and vegan, gluten-free and dairy free.....and, all kosher.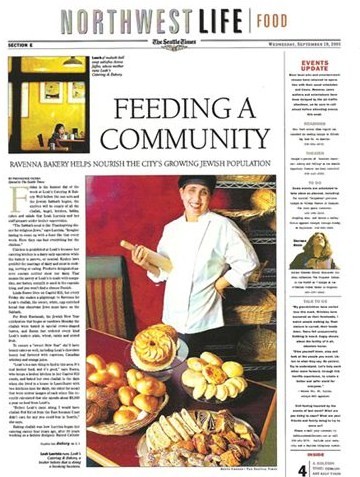 All aspects of Jewish life are expressed with food, both traditional and trendy. Kashrut adds layers of holiness and meaning. Join me in a community of Jewish cooks who are excited to share their regional specialties and global perspectives on food in a Jewish context. Become a Supporting Member ~ its' FREE! Build your profile, share your recipes and feel free to contact me with questions, requests and comments.
May we all be blessed for the love we share through food ~ Leah

Making Kosher Salads
Posted: April 23, 2013

One of the unexpected consequences of writing this blog is the incredible increase in the catering business (Thank G-d, thank you, customers). Originally, closing left the community without a bakery and erev Shabbat take-out counter. "What do we do now?" was more important than "What are you going to do now?" I thought that if I showed people how easy it is to cook and bake, if I gave them my recipes, if I made videos for some of the items, that everyone would be happy.
Since then, I've had the self-realization that very few people's happiness is dependent on what I do! In fact, some people's frustration is very dependent on what I don't do. For instance, the 7-layer cake isn't an attractive project unless I'm doing enough for 250 people as a dessert to a caterered dinner. The way I make it is too involved, too time consuming. Someone calls and asks if I will make one. I mention that the recipe and video are on my website. They reply that they know that and that is why they called. They don't want to make one and her friend from New York really loves 7-layer cake. She wants to give one to him for his birthday. I explain that it isn't cost effective to make just one cake. I'd have to charge a fortune. "How much is a fortune?" With all the Microsoft gazillionaires in Seattle, I think for all of 2 seconds....bottomline; I really can't make just one cake. I need some time to work on the website. Sigh, another dissatisfied almost-customer.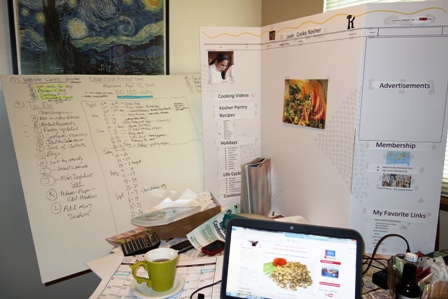 Taming the Great Outdoors
Posted: April 5, 2013

If you're like me, you are brisketed and chickened out. Trapped indoors for the month of March, I take Wednesday as a personal day. I can't focus on my backlog of event proposals, let alone tackle the invoicing and general bookkeeping. I'm outta here! Tony, my chef and ex-landscaper, is more than willing to pickup some hours after the erratic schedule during Passover. Apartment dweller that I am, all I need is an overgrown yard to tackle. Fresh air and exercise; I know just the place.