Maximus-Minimus
Posted: May 16, 2012 By: Leah Jaffee

Catering kosher in Seattle requires a ton of running around in a 12 mile loop. Smaller events need a little of this, a little more of that....all kosher, of course. Large events aren't much different. Food distributers don't carry much kosher. My shopping list is divided into 5 - 7 stops. Shopping is part of the process and, it takes a trained eye to always check for the hechsher. Benoit is great at all that running around especially when I need to be in the kitchen. Otherwise, my 'half day off' is spent in the van driving here and there in search of not only what I need, but new products.
A very special place in town is Pacific Food Importers. The owner is an older Italian who has been bringing foods from his homeland for decades. PFI is a distributer but I rarely need a truckload of anything. The warehouse, down the street from the retail outlet, is just another quick stop on the loop. The store is most understated fun and has morphed into a second-hand showcase of Italian/Mediterranean specialty foods. Their 30 foot cold case of exotic cheeses is impressive even if off limits.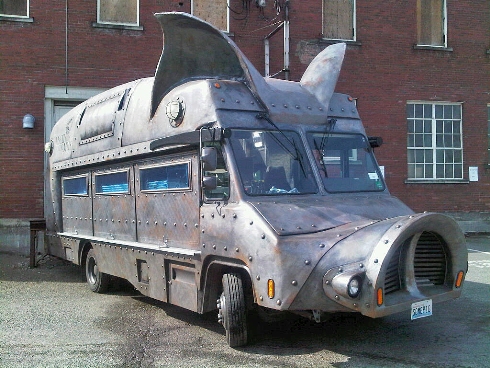 Maximus-Minimus
Located in a brick and mortar warehouse near the stadiums, it can be tricky to locate. The steep incline of the driveway is a challenge in the dark and rain. Construction of who knows what beyond a chain link fence that has dissected the parking lot makes manuevering my Express van a bit frustrating. That said, the PFI experience is unique and they've got what I need.
Loading my van with my haul, I check emails on my Blackberry. Making a call, I turn my head and see 'it'. Apparently, I'm one of the last people in town to get upfront and personal. I mutter into the phone that I have to go. Jumping out of the van, I make my way to the giant fiberglass pig. I love weird. I love people who dare to dream and then make it happen. There is no doubt about what this food truck is selling.....and, I ain't buyin'.
Jumping back into my white van, only distinguished from others of the same ilk by the grafitti Tim Burton-esque happy face someone spray painted on the side, I wonder what it would be like to drive a massive pig food truck down the highway at 60 miles an hour. Somehow, envisioning a "front-end-of-the-cow-kosher-food-truck" doesn't have the same horse power.