Cedar Plank Grilled Salmon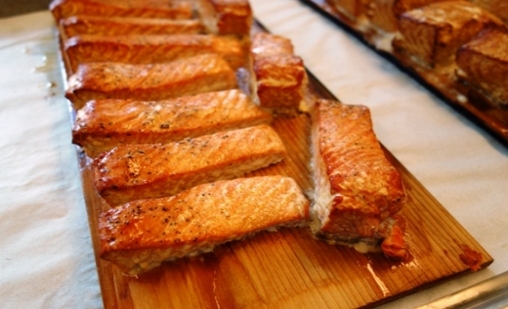 Fall is definitely in the air; cooler after weeks of bona fide summer. Knowing the grills will hibernate for the rest of the year, I think of all the salmon we cooked this past season. My honest reflection is that it took a few attempts to get perfectly grilled cedar plank salmon. In the end, the much less expensive farm raised Atlantic salmon worked best. It has a higher fat content then the wild king and sockeye I first used. The end result is very moist.
I say "I" in the corporate sense, meaning Cleo and Benoit perfect the technique. Our first issue was the fact that I didn't have any pareve or fish barbeque grills. Benoit assembles a couple of inexpensive table top models while the mashgiach takes the actual cooking racks to the lake to be toivelled. After the ritual immersion, the grills are ready to use. Cedar or alderwood planks are available at most stores in the area. They need to be soaked for a few hours before use. Their dampness combined with the hot charcoal create a smokey infusion of flavor during cooking. Knowing when to pull the plank from the grill is important. The hot plank continues to cook the salmon. I like 118', just until firm to the touch. A light glaze of agave syrup brings up the color and adds a luster to the cooked fish. Beautiful!
Cedar Plank Grilled Salmon is a blank canvas for any number of condiments. Mango peach salsa, heirloom tomato salsa with fresh basil or cool, creamy raita. Maybe there is still time for one last grilling.......
Kosher Status:
Parve
Number of servings:
6 - 8
Main Ingredient(s):
Salmon - Fresh
Preparation Time:
00:10
Cooking Time:
00:10
Skill Level:
1 - Easy

(1 Easy - 5 Hard)

Estimated POINT value:


Ingredients:


2 pounds, Atlantic salmon fillet, center cut and skinned, portioned

1 x 16" cedar plank

charcoal

agave syrup for glazing


Steps:


Soak the cedar planks.

Bone the salmon, portion and lightly salt and pepper.

Heat the charcoal until white and place evenly under the grill. Place the grill over the charcoal.

Place the salmon portions onto the cedar plank. Place the plank onto the grill. Grill with the lid ajar until the salmon is just firm to the touch. When done, carefully remove the plank of salmon and set aside to cool a bit before serving. Brush with agave syrup. Be careful, it's hot!


Recently viewed recipes:



Cedar Plank Grilled Salmon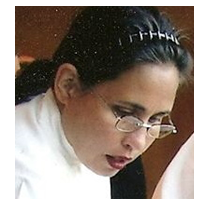 About Leah
Hi! Thank you for stopping by to watch me, Leah, cook kosher. I've been the owner operator of my boutique catering firm in Seattle, Leah's Catering, for the past 14 years.
Read more...
Leah's Blog

Aviva Makes Aliyah and The Sandwich Generation

Happy Chinese New Year! Happy Super Bowl! Go Hawks!

Tradition! Fun with the Seattle International Film Festival

Where Have I Been in My Life???

Making Kosher Salads

Blog Categories
Leah's Kosher Pantry

View what is in the pantry
Recipes

Appetizers
(44)

Appetizers - Dips and Sauces
(11)

Appetizers - Starter Courses
(10)

Beverages - Cold
(1)

Breads - Yeast
(10)

Breakfast Pastries
(7)

Dessert - Frostings
(6)

Desserts - Cakes
(13)

Desserts - Cookies and Brownies
(29)

Desserts - Dairy
(42)

Desserts - Pareve
(71)

Desserts - Pies and Tarts
(14)

Desserts - Tea Breads, Quick Breads
(8)

Desserts and Baked Goods - Gluten Free
(18)

Main Dish - Beef
(7)

Main Dish - Dairy
(3)

Main Dish - Eggs and Fritattas
(6)

Main Dish - Fish
(11)

Main Dish - Poultry
(14)

Main Dish - Vegetarian and Vegan
(9)

Salads - Dressing
(8)

Salads - Fruit
(4)

Salads - Grains & Legumes
(7)

Salads - Green
(1)

Salads - Pasta and Rice
(10)

Salads - Potatoes and Eggs
(5)

Salads - Vegetable
(15)

Side Dishes - Kugels and Souffles
(7)

Side Dishes - Potatoes and Vegetables
(17)

Side Dishes - Rice, Grains and Pasta
(7)

Soups, Stews and Cholent
(9)
Special Considerations

Dairy-Free Recipes
(230)

Gluten-Free Recipes
(134)

High Fiber Recipes
(18)

Low-fat Recipes
(11)

Nut-Free Desserts Recipes
(48)

Vegan Recipes
(101)

Vegetarian Recipes
(207)
Holidays

Rosh Hashana Recipes
(23)

Yom Kippur Recipes
(3)

Sukkot Recipes
(26)

Simchat Torah Recipes
(9)

Chanukah Recipes
(20)

Tu B'shevat Recipes
(16)

Purim Recipes
(9)

Passover Recipes
(44)

Lag Ba'omer Recipes
(6)

Shavuot Recipes
(24)

Shabbat Recipes
(34)
Cookbook Library

New Releases

Jewish Classics

Other Favorites
Kitchen Gadgets

Essentials

Small Appliances
Chef Of The Week

Barbara Williamson
Congratulations to our chef of the week.