WSJHS Italian Plum Shortbread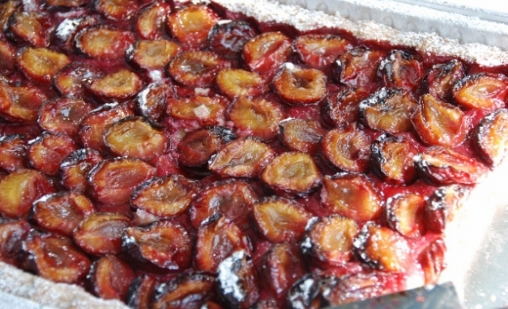 Cindy Masin, tireless editor and promoter of the Washington State Jewish Historical Society's cookbook, "Yesterday's Mavens, Today's Foodies" asks if I'd make a couple hundred samples of an item from the cookbook. These tidbits, to be given out at the Mercer Island Farmer's Market, emphasize local produce and local cookbook authors. The cookbook is a compilation of family favorites. I have to add that I've made many of the recipes for various promotions and every recipe is a real treat.
Slammed with weddings and other lifecycle events, I leave the decision to Cindy as to what we should make. She suggests the "Italian Plum Shortbread" recipe. I nod in approval; the Italian plum, sometimes called Italian prunes, is underappreciated. Growing up, we had numerous fruit trees in the yard. One, an Italian prune, was always laden with way more fruit than could be consumed by a single family. Another prune tree, at 36th Ave. NE and 62nd, a few houses from where Cleo lives, hangs heavy with prunes. Many scatter the sidewalk below and litter the street. Poor, underappreciated prunes.
I ask Cindy to bring plums/prunes by on Friday afternoon before the Sunday tasting. Inspecting, I empty the box into brown paper bags and roll them closed. 2 days in paper bag darkness will ripen and bring up the flavors. A restful Shabbat later, I won't be disappointed.
Cindy and I start making the bottom crust. Lots of butter signifies that this is serious shortbread. We form the dough into the bottom of large foil pans and refrigerate for Sunday's baking. I have a baby naming on Sunday, also. I'm hoping I can get the tarts into the oven fast enough that I don't have to come to work at 6:00 am.
Following the recipe to the letter; almost ~ I hurry and wash my perfectly ripened prunes. Making quick work of slicing them in half, I opt for a faster option to dipping each cut side into sugar. I put the halves into sugar and toss; much faster. Arranging prunes into 4 large pans, the sugared halves begin to let their juices ooze. Keeping an eye on the ovens as I go about doing my event, sweet and buttery aromas fill the kitchen.
Removing them from the oven, I sprinkle powdered sugar onto the warm tarts. Wowzers, looking good and I can't have any! Cindy and her husband pick them up warm to whisk them off to the Market. I let them go with a bit of longing; an adopted child taken from my arms. No time to bond.
I get the email later in the day; the tarts are a hit. Cookbooks have sold...it's a good day at the Market.
The recipe is submitted by Carol Starin whom I know from her work with the Jewish Education Council. Reading her introduction to the recipe, I nod in agreement. A perfect dessert for yontif this fall.
Kosher Status:
Dairy
Number of servings:
8 - 10, 11" round tart pan or 9" x 13" pan
Main Ingredient(s):
Prunes
Preparation Time:
00:30
Cooking Time:
00:40
Skill Level:
1 - Easy

(1 Easy - 5 Hard)

Estimated POINT value:


Ingredients:


2 cups butter (1 pound)

3/4 sugar plus more tossing with the plums (about another 1/2 cup)

4 cups flour

6 tablespoons rum (or 3 tablespoons vanilla extract)

2 egg yolks

1/2 teaspoon salt

30 - 40 ripe Italian plums/prunes

Powdered sugar for dusting


Steps:


Preheat the oven to 450'. YES; hot!

Grease a 9" x 13" pan or an 11" round tart pan with removeable bottom.
To make the crust, beat the butter and sugar until light and creamy. Add the flour, rum, egg yolks and salt and beat on low speed to combine. Mix with your hands if the dough is too stiff for your mixer.

Press the dough into the prepared pan.
Wash the plums. Slice them in half, remove the pits and put into a bowl with a little sugar. Toss the cut prunes and sugar. Arrange the prunes, cut side up, onto the crust slightly overlapping.

Bake for 15 minutes. Then, reduce the temperature to 350' and bake for another 30 minutes. Remove from the oven and cool. Dust with powdered sugar before serving.


Recently viewed recipes:



WSJHS Italian Plum Shortbread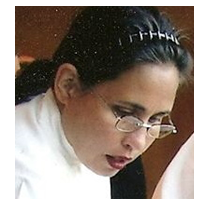 About Leah
Hi! Thank you for stopping by to watch me, Leah, cook kosher. I've been the owner operator of my boutique catering firm in Seattle, Leah's Catering, for the past 14 years.
Read more...
Leah's Blog

Aviva Makes Aliyah and The Sandwich Generation

Happy Chinese New Year! Happy Super Bowl! Go Hawks!

Tradition! Fun with the Seattle International Film Festival

Where Have I Been in My Life???

Making Kosher Salads

Blog Categories
Leah's Kosher Pantry

View what is in the pantry
Recipes

Appetizers
(44)

Appetizers - Dips and Sauces
(11)

Appetizers - Starter Courses
(10)

Beverages - Cold
(1)

Breads - Yeast
(10)

Breakfast Pastries
(7)

Dessert - Frostings
(6)

Desserts - Cakes
(13)

Desserts - Cookies and Brownies
(29)

Desserts - Dairy
(42)

Desserts - Pareve
(71)

Desserts - Pies and Tarts
(14)

Desserts - Tea Breads, Quick Breads
(8)

Desserts and Baked Goods - Gluten Free
(18)

Main Dish - Beef
(7)

Main Dish - Dairy
(3)

Main Dish - Eggs and Fritattas
(6)

Main Dish - Fish
(11)

Main Dish - Poultry
(14)

Main Dish - Vegetarian and Vegan
(9)

Salads - Dressing
(8)

Salads - Fruit
(4)

Salads - Grains & Legumes
(7)

Salads - Green
(1)

Salads - Pasta and Rice
(10)

Salads - Potatoes and Eggs
(5)

Salads - Vegetable
(15)

Side Dishes - Kugels and Souffles
(7)

Side Dishes - Potatoes and Vegetables
(17)

Side Dishes - Rice, Grains and Pasta
(7)

Soups, Stews and Cholent
(9)
Special Considerations

Dairy-Free Recipes
(230)

Gluten-Free Recipes
(134)

High Fiber Recipes
(18)

Low-fat Recipes
(11)

Nut-Free Desserts Recipes
(48)

Vegan Recipes
(101)

Vegetarian Recipes
(207)
Holidays

Rosh Hashana Recipes
(23)

Yom Kippur Recipes
(3)

Sukkot Recipes
(26)

Simchat Torah Recipes
(9)

Chanukah Recipes
(20)

Tu B'shevat Recipes
(16)

Purim Recipes
(9)

Passover Recipes
(44)

Lag Ba'omer Recipes
(6)

Shavuot Recipes
(24)

Shabbat Recipes
(34)
Cookbook Library

New Releases

Jewish Classics

Other Favorites
Kitchen Gadgets

Essentials

Small Appliances
Chef Of The Week

Barbara Williamson
Congratulations to our chef of the week.