Happy Chinese New Year! Happy Super Bowl! Go Hawks!
Posted: February 2, 2014 By: Leah Jaffee

I have tons of work to do. It is a gloriously sunny day, as opposed to the "cloud glare" of yesterday. That's my daughter's term for Seattle's bright sunless days....and, Happy Birthday, Rebekah! And, Happy Groundhog's Day....no wonder it feels like a national holiday here in the city. So much to celebrate. Happy Rosh Chodesh Adar!

Of course, the biggest to do in Seattle is over the Super Bowl game. Even people like me, who aren't avid fans, are nervous and doing whacky things like getting manicures with blue and green polish. Possibly the die-hard fans are resentful of the newly converted. Get over it!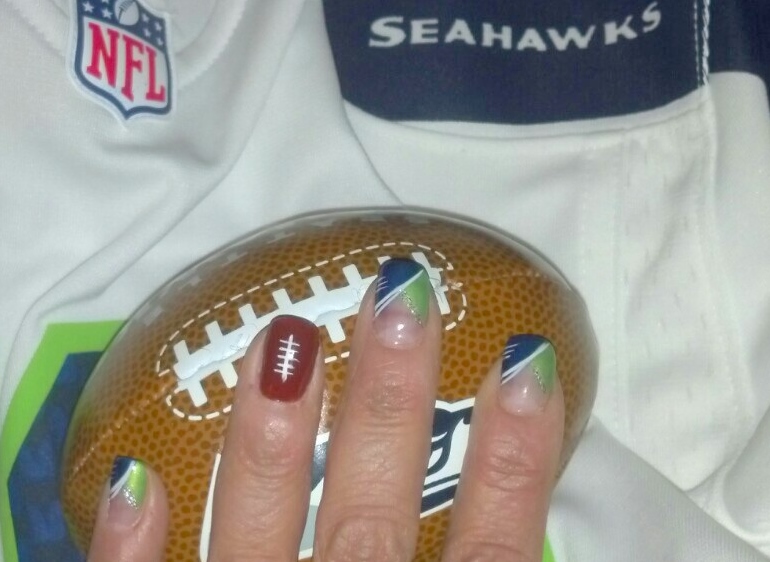 This is my sister Teri's hand.
We don't have a big family gathering planned. We have a lengthy text trail with everyone showing off their manicures. Even I ended up at ZUMBA this morning with a Seahawks hoodie and blue and green nails. The world has truly gone mad when I'm 1) at ZUMBA, 2) have nail polish on my fingers (it's against the health code in food prep!), and 3) am wearing a hoodie with a Seahawks logo. To be sure, it isn't blue - I don't wear blue. It's black like everything else I own. Definitely a counterfeit garment.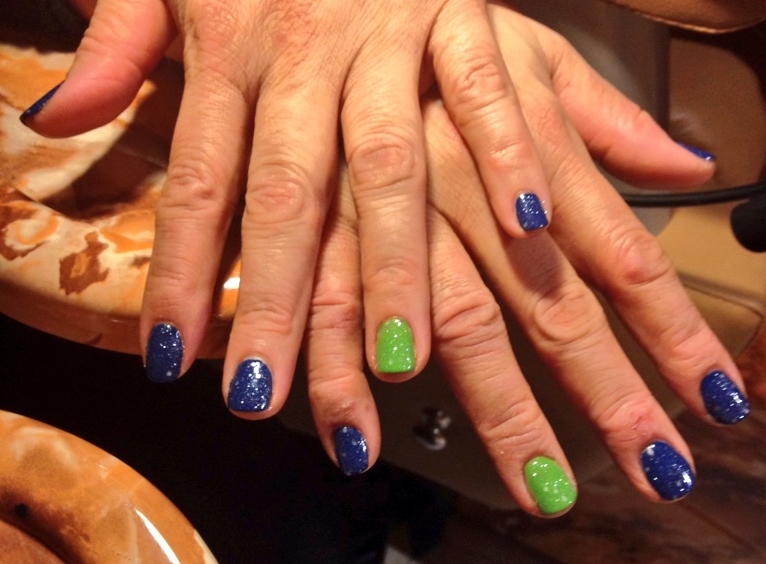 Leah's Glitter Nails

Stands have popped up everywhere selling anything that covers any body part. Nordstrom has its staff in jerseys. Cupcakes, cookies, you name it are blue and green. Every road looks like a motorcade is in route to somewhere important as 12th man flags whip in the breeze. Wait, it is important....a friend's bigger screen TV, a casino lounge or the neighborhood watering hole. As one friend put it, "Even women are jumping on the bandwagon!"Well, yeah....someone has to cook and bake!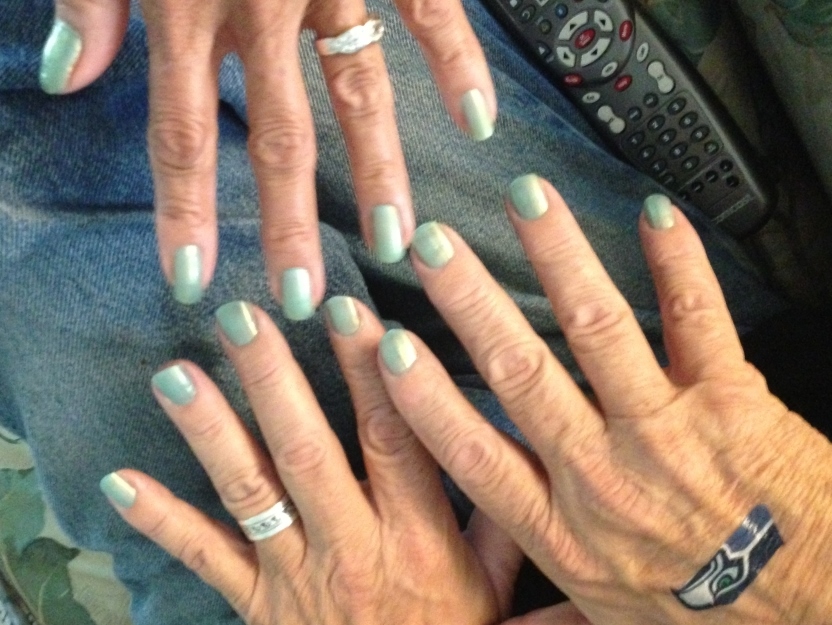 Jenny and Barney's Hands
But wait, it gets more weird. Even MEN are getting their nails done in blue and green. I get the costumes and wigs and bizarre hair cuts....nails? Whatever....go Hawks!
There is some semblance of normalcy in the city. Sunday is "Teen Feed" at Hillel when volunteers serve homeless youth in the dining room. A mashgiach was located to cover the absent regular supervisor. I assume there will be volunteers to cook. Maybe there will even be hungry youth to feed. I don't know....I have a clear view of the interstate freeway; virtually no traffic.
The sisterhood is having a Rosh Chodesh event overlapping with the game. I feel a bit guilty for not attending. But, if it wasn't Super Bowl Sunday with the Hawks, I would no doubt have an event to cater and wouldn't be there anyway. Yeah, keep telling myself that!
This is a food blog, though. My best friend Sue of 50 million years sent me this photo. She's watching the game at a Chinese New Year's celebration. Getting up at the crack of dawn, she has made blue and green fortune cookies. Inside, quotes from Marshawn Lynch. Wowzers.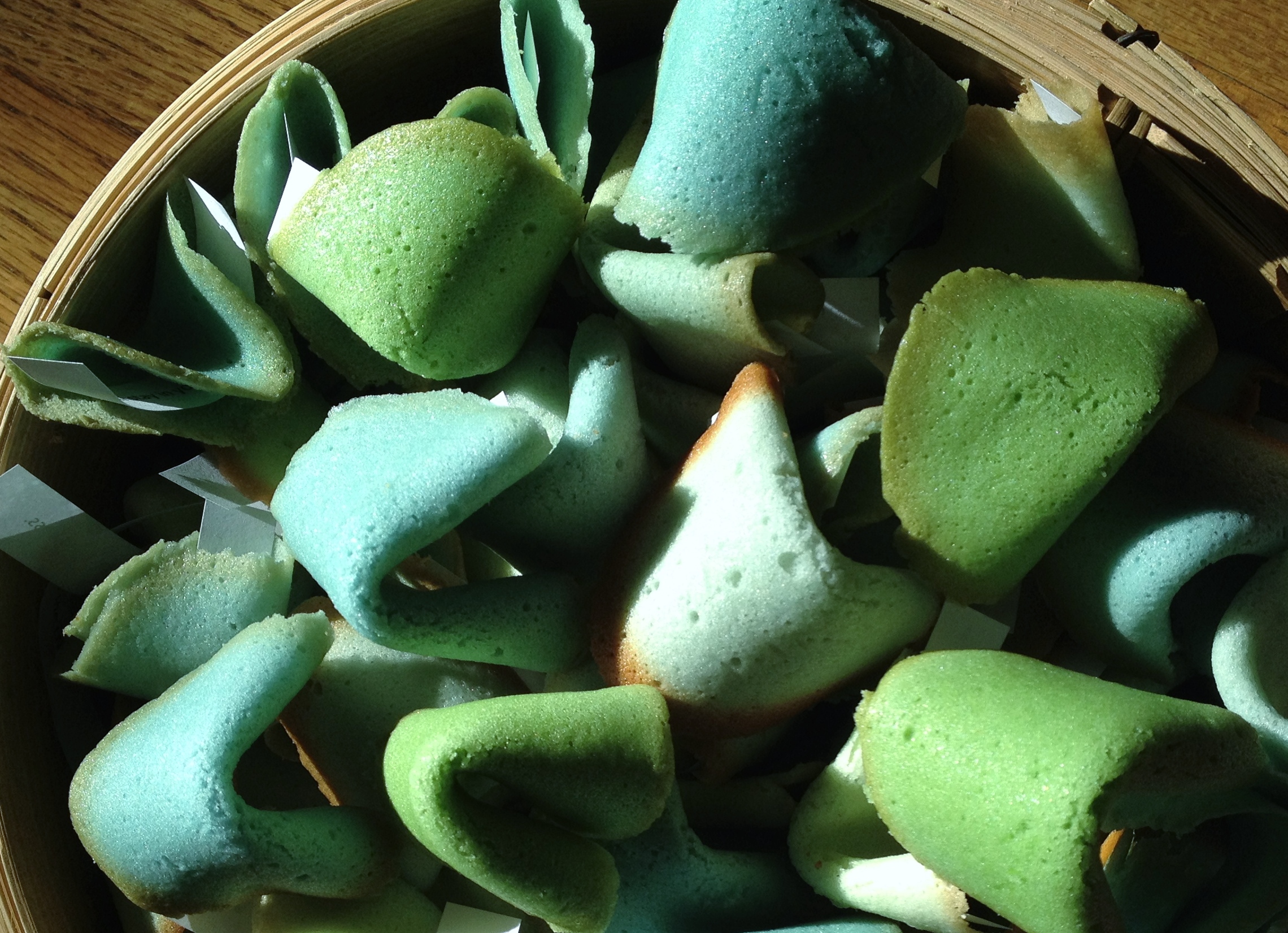 Oh boy, I'm getting nervous and anxious. I should really get to that paperwork. That is what tomorrow is for; meanwhile - go Hawks!