Where Have I Been in My Life???
Posted: October 17, 2013 By: Leah Jaffee

It's 11:30 pm but I told myself to get back into the groove. I thank you patient readers and faithful users of the website. What has happened these past 6 months? As an official AARP member of the sandwich generation, I have been catching up on life.
My daughter Aviva graduated high school and I've gotten her settled in film school.
My mother's Alzheimer's has worsened and I spent every day between yontif that I wasn't cooking moving her into a safe, beautiful assisted living facility.
After 2 1/2 years without a real vacation, I took a few weeks off this summer. A rare opportunity for recharging coincided with a break in my catering schedule so I jumped on it. Two weeks on Washington's beautiful Hood Canal, another week in Marin County north of San Francisco was indulgent and necessary.
My siblings and their spouses all pitched in and revamped my mother's home for sale. I don't know if a work ethic is genetic but to the extent each of us had time, we compulsively cleaned, painted, and gardened until the house sparkled. It looks great.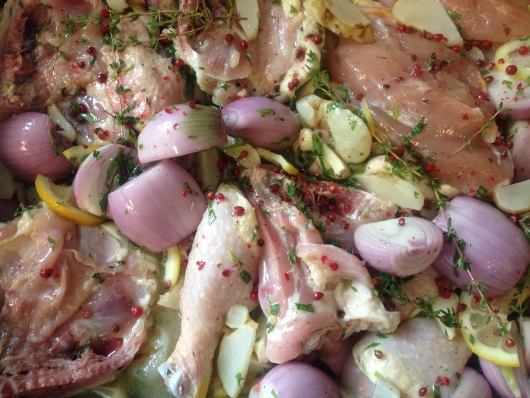 And, most of all, I've been cooking my eyeballs out. Noshway, a catering business that started a year after I did in the late 1990's, threw in the towel. I'm trying to adjust to the added workload while maintaining sanity. The above is a picture of a fabulous chicken recipe from "Jerusalem" - chicken with sun chokes, garlic, saffron, shallots and red pepper corns. Expensive. Beautiful. Pressure forces my "boutique" catering to "big box" proportions....but, I can't give up the fussy food. I have 600 to feed this weekend; how many are you cooking for this Shabbat?
Thanks for your continued interest!