Parve Spinach Noodle Kugel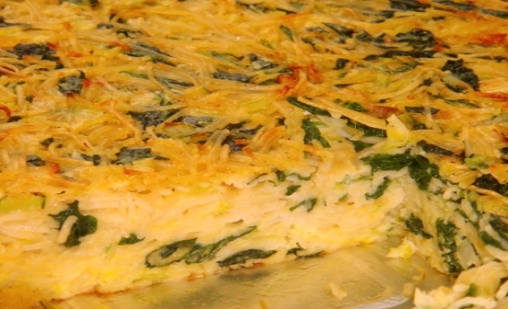 Over the years, spinach noodle kugel becomes our best selling kugel. I take it for granted. Knowing that my readers want this recipe, I decide to use it as my entry into the Kugel Throwdown. I need photos, they need a kugel. It's a win win situation. Over a couple of days, 80% of the entrants are making sweet noodle kugels with dairy. I start to feel uneasy.
It reminds me a time when I was a kid. A last minute invitation arrives for a Halloween party at the local community center. My older sisters decide they can whip up a costume for me in no time. Wearing my father's yard work clothes and a few coffee grounds on my face, I look like the perfect 'hobo', homeless person. Encouraged to participate in the contest, I'm in line flanked by princesses on one side and ballerinas on the other. I'm even taller than everyone else. Given I'm writing about this while blogging about spinach kugel tells you something; I need therapy!
At any rate, my spinach kugel is looking at sweet noodle kugels on one side and sweet noodle kugels on the other side. What can I say? I didn't want to really 'compete' since I believe that it is more fun when us professionals stay out of competitions. I thought my choice familiar, pedestrian even. One competitor commented, "I would never have dreamed of putting spinach and leeks into a kugel." I'm not wired to hear that as approbation. Feel free to add some feta cheese and milk....
Kosher Status:
Parve
Number of servings:
9" x 13" pan, 16 - 20 servings
Main Ingredient(s):
Pasta, Onions, Leeks, Eggs
Preparation Time:
00:30
Cooking Time:
00:30
Skill Level:
1 - Easy

(1 Easy - 5 Hard)

Estimated POINT value:
Average Rating:
5/5


Ingredients:


12 ounce package fine egg noodles

1 pound peeled and diced onions or washed and sliced leeks

2 tablespoons canola oil

1 pound spinach, wilted

8 eggs

3/4 cup canola oil

1 tablespoon salt

1/2 teaspoon black pepper


Steps:


| | |
| --- | --- |
| | In a large bowl, combine the eggs, oil, salt and pepper. Whisk well or use a wand blender. Set aside. |
| | |
| --- | --- |
| | Cook the noodles in lightly salted boiling water until just done. Rinse in cold water and drain. Add to the egg mixture. |
| | |
| --- | --- |
| | Saute the diced onions or sliced leeks, or a combination of both until tender. |
| | |
| --- | --- |
| | Add to the noodle and egg mixture. |
| | |
| --- | --- |
| | Wilt the spinach in a little water and drain well. Or, use thawed frozen spinach that is well drained. Add to the noodle mixture. |
| | |
| --- | --- |
| | Add the spinach to the noodle mixture and toss well. Grease an 9" x 13" pan well. Add the kugel mixture. Bake in a 350' oven until set and lightly golden brown. |
After the kugel is baked, let it rest for a few minutes. Slice and serve hot or at room temperature.

And that is how you make Kosher Pareve Spinach Noodle Kugel!


Recently viewed recipes:



Parve Spinach Noodle Kugel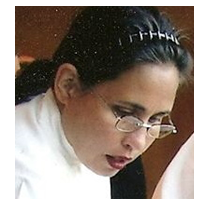 About Leah
Hi! Thank you for stopping by to watch me, Leah, cook kosher. I've been the owner operator of my boutique catering firm in Seattle, Leah's Catering, for the past 14 years.
Read more...
Leah's Blog

Aviva Makes Aliyah and The Sandwich Generation

Happy Chinese New Year! Happy Super Bowl! Go Hawks!

Tradition! Fun with the Seattle International Film Festival

Where Have I Been in My Life???

Making Kosher Salads

Blog Categories
Leah's Kosher Pantry

View what is in the pantry
Recipes

Appetizers
(44)

Appetizers - Dips and Sauces
(11)

Appetizers - Starter Courses
(10)

Beverages - Cold
(1)

Breads - Yeast
(10)

Breakfast Pastries
(7)

Dessert - Frostings
(6)

Desserts - Cakes
(13)

Desserts - Cookies and Brownies
(29)

Desserts - Dairy
(42)

Desserts - Pareve
(71)

Desserts - Pies and Tarts
(14)

Desserts - Tea Breads, Quick Breads
(8)

Desserts and Baked Goods - Gluten Free
(18)

Main Dish - Beef
(7)

Main Dish - Dairy
(3)

Main Dish - Eggs and Fritattas
(6)

Main Dish - Fish
(11)

Main Dish - Poultry
(14)

Main Dish - Vegetarian and Vegan
(9)

Salads - Dressing
(8)

Salads - Fruit
(4)

Salads - Grains & Legumes
(7)

Salads - Green
(1)

Salads - Pasta and Rice
(10)

Salads - Potatoes and Eggs
(5)

Salads - Vegetable
(15)

Side Dishes - Kugels and Souffles
(7)

Side Dishes - Potatoes and Vegetables
(17)

Side Dishes - Rice, Grains and Pasta
(7)

Soups, Stews and Cholent
(9)
Special Considerations

Dairy-Free Recipes
(230)

Gluten-Free Recipes
(134)

High Fiber Recipes
(18)

Low-fat Recipes
(11)

Nut-Free Desserts Recipes
(48)

Vegan Recipes
(101)

Vegetarian Recipes
(207)
Holidays

Rosh Hashana Recipes
(23)

Yom Kippur Recipes
(3)

Sukkot Recipes
(26)

Simchat Torah Recipes
(9)

Chanukah Recipes
(20)

Tu B'shevat Recipes
(16)

Purim Recipes
(9)

Passover Recipes
(44)

Lag Ba'omer Recipes
(6)

Shavuot Recipes
(24)

Shabbat Recipes
(34)
Cookbook Library

New Releases

Jewish Classics

Other Favorites
Kitchen Gadgets

Essentials

Small Appliances
Chef Of The Week

Barbara Williamson
Congratulations to our chef of the week.