Herb Crusted Rib Roast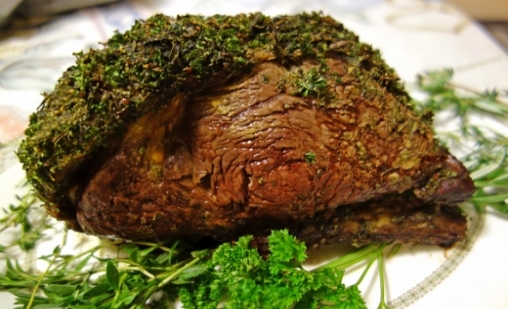 Working on a marathon event a few weeks back, I have 50# of ribeye roast to cook. I'm busy with baking and Cleo's on salads and sides. 2,000 meals is feeling like a lot. I call in Malika, a talented French Algerian chef whom I know makes a fabulous ribeye. I've known Malika since the beginning as she is a friend of Benoit's. Both, native French speakers, punctuate the air with elegance and style. And, if that ribeye had legs, it would strut across any Dior runway showing off a delicate Dijon mustard coat rolled in fresh herbs.
The event is moving at such a fast clip all my food photos are blurred. I have step-by-step photos without final food shots. All four giant roasts make their way to the carving station without posing for photos. I decide to make the roast at home for the website. My kitchen manager back-of-the-head eyeballs watched Malika prep the meat. She explained how she was going to cook the roast at the hotel. I think I've got it.
Last week, purchasing a smaller roast, I stare at the price tag and wonder if I can still trade it for my first born given she's lived away from home for ten years. $53.00 ~ wowzers! Adding fresh herbs to the cart and a jar of Dijon mustard, I consider if there is a market for a "Labor Intensive Meals for Just Over $100" cookbook. That said, I'm eager to give it a try.
Prepping the roast, it is actually simple to do. Washing the herbs, I realize how much I love to cook, love to try new things. Pulling the roast from the oven, the kitchen is alive with aromas of herbs and beef. It's gorgeous. Voila! - my college French returns as I strut from kitchen to table.
Kosher Status:
Meat
Number of servings:
4 pound roast with ribs, about 6 - 8
Main Ingredient(s):
Beef
Preparation Time:
00:30
Cooking Time:
01:30
Skill Level:
2

(1 Easy - 5 Hard)

Estimated POINT value:


Ingredients:


4# ribeye roast with bone

8 cloves of garlic

1/4 cup fresh finely chopped parsley + extra for roasting

2 tablespoons fresh finely chopped rosemary + extra for roasting

2 tablespoons fresh finely chopped thyme + extra for roasting

1/4 cup Dijon style mustard (enough for a thin coat over top of roast)

freshly ground black pepper


Steps:


| | |
| --- | --- |
| | Wash and chop the herbs. You can add as much as you want of your favorites. Just leave enough to create a bed to sit the roast on during cooking. |
| | |
| --- | --- |
| | With a very sharp knife, partially slice the ribs away from the roast. Don't cut all the through as we want to keep the bone attached at the edge. |
| | |
| --- | --- |
| | Poke slits into the top of the roast and push the whole garlic cloves into the slits. |
| | |
| --- | --- |
| | Slather the top of the roast with the mustard. We just want to put a coat on that will hold the herbs. |
| | |
| --- | --- |
| | Gently pat the chopped herbs onto the the mustard coating. Lift the roast away from the ribs and tuck in the remaining herbs. |
Place the roast into the roasting pan. Bake at 325' until cooked. I prefer medium rare roast, so I cook to 135'.

Remove from the oven when cooked and let rest about 10 minutes. Transfer to a serving platter and serve. Or, slice and put onto a platter.


Recently viewed recipes:



Herb Crusted Rib Roast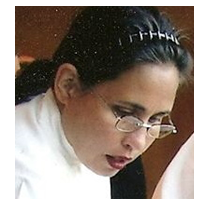 About Leah
Hi! Thank you for stopping by to watch me, Leah, cook kosher. I've been the owner operator of my boutique catering firm in Seattle, Leah's Catering, for the past 14 years.
Read more...
Leah's Blog

Aviva Makes Aliyah and The Sandwich Generation

Happy Chinese New Year! Happy Super Bowl! Go Hawks!

Tradition! Fun with the Seattle International Film Festival

Where Have I Been in My Life???

Making Kosher Salads

Blog Categories
Leah's Kosher Pantry

View what is in the pantry
Recipes

Appetizers
(44)

Appetizers - Dips and Sauces
(11)

Appetizers - Starter Courses
(10)

Beverages - Cold
(1)

Breads - Yeast
(10)

Breakfast Pastries
(7)

Dessert - Frostings
(6)

Desserts - Cakes
(13)

Desserts - Cookies and Brownies
(29)

Desserts - Dairy
(42)

Desserts - Pareve
(71)

Desserts - Pies and Tarts
(14)

Desserts - Tea Breads, Quick Breads
(8)

Desserts and Baked Goods - Gluten Free
(18)

Main Dish - Beef
(7)

Main Dish - Dairy
(3)

Main Dish - Eggs and Fritattas
(6)

Main Dish - Fish
(11)

Main Dish - Poultry
(14)

Main Dish - Vegetarian and Vegan
(9)

Salads - Dressing
(8)

Salads - Fruit
(4)

Salads - Grains & Legumes
(7)

Salads - Green
(1)

Salads - Pasta and Rice
(10)

Salads - Potatoes and Eggs
(5)

Salads - Vegetable
(15)

Side Dishes - Kugels and Souffles
(7)

Side Dishes - Potatoes and Vegetables
(17)

Side Dishes - Rice, Grains and Pasta
(7)

Soups, Stews and Cholent
(9)
Special Considerations

Dairy-Free Recipes
(230)

Gluten-Free Recipes
(134)

High Fiber Recipes
(18)

Low-fat Recipes
(11)

Nut-Free Desserts Recipes
(48)

Vegan Recipes
(101)

Vegetarian Recipes
(207)
Holidays

Rosh Hashana Recipes
(23)

Yom Kippur Recipes
(3)

Sukkot Recipes
(26)

Simchat Torah Recipes
(9)

Chanukah Recipes
(20)

Tu B'shevat Recipes
(16)

Purim Recipes
(9)

Passover Recipes
(44)

Lag Ba'omer Recipes
(6)

Shavuot Recipes
(24)

Shabbat Recipes
(34)
Cookbook Library

New Releases

Jewish Classics

Other Favorites
Kitchen Gadgets

Essentials

Small Appliances
Chef Of The Week

Barbara Williamson
Congratulations to our chef of the week.