Chocolate Buttercream Frosting (Dairy or Pareve)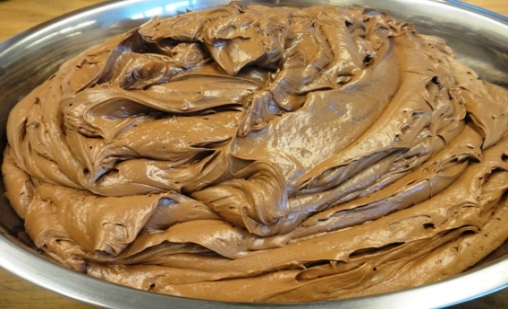 I reserve this frosting for very special occasions, for cakes like the Dacquoise or Dobos Torte, as it is a bit time consuming to make. Maybe it is easier making a small batch rather than enough for a few hundred desserts. Let me know! It is also a recipe I have made more often pareve than dairy using a high quality unsalted firm margarine. Don't use a soft whipped margarine as the frosting won't have the body to support the cake. And, if you go the dairy route, substitute some unsalted margarine with the butter to help stabilize the frosting.
This recipe requires making three components and then blending them together at the end; a sugar syrup, whipped butter/margarine and melted chocolate. You can't rush this frosting as temperature is everything. Make sure your candy themometer is handy and read the directions carefully. Rushing, without thermometer and neglecting to follow the directions yields not so great results. Ask me how I know that!
I use this as a filling and frosting for the Dacquoise and Dobos Torte under the chocolate ganache. It is light, not overly sweet and yummy. It can be used as a frosting for a regular decorated cake (but I usually use my Quick Buttercream Frosting).
Kosher Status:
Dairy
Number of servings:
Enough for an 8' or 9' layer cake
Main Ingredient(s):
Chocolate Chips
Preparation Time:
00:20
Cooking Time:
00:20
Skill Level:
3

(1 Easy - 5 Hard)

Estimated POINT value:
Average Rating:
5/5


Ingredients:


2 pounds unsalted butter or unsalted stick type margarine (not whipped)

2 2/3 cups sugar

1/3 cup water

1 tablespoon corn syrup

4 eggs

2 egg whites

1 teaspoon salt

1 teaspoon vanilla

1 1/2 pounds chocolate chips


Steps:


| | |
| --- | --- |
| | Put the softened butter/margarine into a mixing bowl. Beat until light and fluffy. With a rubber spatula, scrap butter/margarine into another bowl and set aside. Wash the mixing bowl. |
| | |
| --- | --- |
| | In a small sauce pan, combine the sugar, water and corn syrup. Stir and put onto a medium high heat. Bring to a boil until thermometer liquid reaches 240'. Do not stir the mixture, just let it come to temperature. Do not heat beyond 240'. |
| | |
| --- | --- |
| | In mixing bowl, whip eggs, egg whites, salt and vanilla just until blended. |
| | |
| --- | --- |
| | When the syrup reaches 240', remove from the heat and let it sit for about 20 seconds to cool a bit. In a slow steady stream, while the egg mixture is being whipped, pour the syrup into the eggs. Try to avoid the beaters as the syrup will splatter to the side of the mixing bowl, quickly harden and then not get into the frosting (yes, done that before). |
| | |
| --- | --- |
| | Whip the egg/sugar syrup mixture until it cools. This can take a while but it must be absolutely cooled. It'll be light and fluffy when it is done...and, absolutely without any heat left in the mixture. You may scrape the bowl lightly during the beating but don't chisel at any of the hard stuff. You don't want that in the frosting. |
| | |
| --- | --- |
| | As the egg/sugar sryup mixture is mixing, set the chocolate chips in a bowl. Set the bowl on top of a pot of hot water on the stove to melt the chips. Stir until the chips are melted and 110'. Remove from the heat to cool slightly. |
| | |
| --- | --- |
| | When the egg/sugar sryup mixture is cool, add the whipped butter/margarine and mix until blended. |
| | |
| --- | --- |
| | Add 1/3rd of the egg/margarine mixture to the tempered chocolate and stir. This will result in a beautifully smooth egg/margarine/chocolate mixture. |
| | |
| --- | --- |
| | Add the chocolate to the whipped butter/margarine mixture and mix until blended. Transfer the frosting to a clean bowl, without scraping all the splatters on the sides of the mixing bowl, and finish mixing any unblended chocolate by hand. |
| | |
| --- | --- |
| | As I said, this can seem like a hassle BUT it is the best frosting for the Dacquoise or Dobos Torte. And, with practice, it will become more familiar and easy to whip up. |


Recently viewed recipes:



Chocolate Buttercream Frosting (Dairy or Pareve)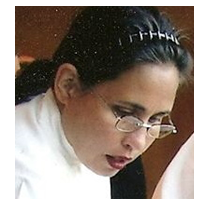 About Leah
Hi! Thank you for stopping by to watch me, Leah, cook kosher. I've been the owner operator of my boutique catering firm in Seattle, Leah's Catering, for the past 14 years.
Read more...
Leah's Blog

Aviva Makes Aliyah and The Sandwich Generation

Happy Chinese New Year! Happy Super Bowl! Go Hawks!

Tradition! Fun with the Seattle International Film Festival

Where Have I Been in My Life???

Making Kosher Salads

Blog Categories
Leah's Kosher Pantry

View what is in the pantry
Recipes

Appetizers
(44)

Appetizers - Dips and Sauces
(11)

Appetizers - Starter Courses
(10)

Beverages - Cold
(1)

Breads - Yeast
(10)

Breakfast Pastries
(7)

Dessert - Frostings
(6)

Desserts - Cakes
(13)

Desserts - Cookies and Brownies
(29)

Desserts - Dairy
(42)

Desserts - Pareve
(71)

Desserts - Pies and Tarts
(14)

Desserts - Tea Breads, Quick Breads
(8)

Desserts and Baked Goods - Gluten Free
(18)

Main Dish - Beef
(7)

Main Dish - Dairy
(3)

Main Dish - Eggs and Fritattas
(6)

Main Dish - Fish
(11)

Main Dish - Poultry
(14)

Main Dish - Vegetarian and Vegan
(9)

Salads - Dressing
(8)

Salads - Fruit
(4)

Salads - Grains & Legumes
(7)

Salads - Green
(1)

Salads - Pasta and Rice
(10)

Salads - Potatoes and Eggs
(5)

Salads - Vegetable
(15)

Side Dishes - Kugels and Souffles
(7)

Side Dishes - Potatoes and Vegetables
(17)

Side Dishes - Rice, Grains and Pasta
(7)

Soups, Stews and Cholent
(9)
Special Considerations

Dairy-Free Recipes
(230)

Gluten-Free Recipes
(134)

High Fiber Recipes
(18)

Low-fat Recipes
(11)

Nut-Free Desserts Recipes
(48)

Vegan Recipes
(101)

Vegetarian Recipes
(207)
Holidays

Rosh Hashana Recipes
(23)

Yom Kippur Recipes
(3)

Sukkot Recipes
(26)

Simchat Torah Recipes
(9)

Chanukah Recipes
(20)

Tu B'shevat Recipes
(16)

Purim Recipes
(9)

Passover Recipes
(44)

Lag Ba'omer Recipes
(6)

Shavuot Recipes
(24)

Shabbat Recipes
(34)
Cookbook Library

New Releases

Jewish Classics

Other Favorites
Kitchen Gadgets

Essentials

Small Appliances
Chef Of The Week

Barbara Williamson
Congratulations to our chef of the week.