Blueberry Muffins (Dairy or Pareve)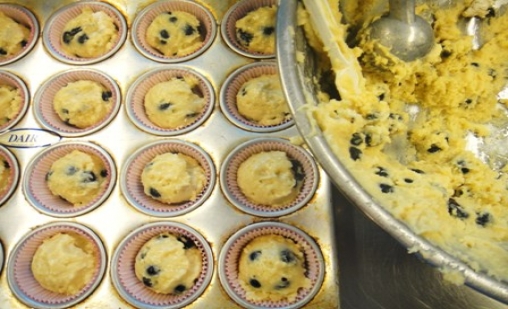 Back in the days of the bakery, we regularly make these muffins on Friday. The early morning crowd could hardly wait for them to come out of the oven. By mid-morning, they were usually gone.
The bakery was pareve so we lots of soy milk and margarine is used. These days, butter and milk take these muffins over the top. This time of year, blueberries begin to hit the stores. It is perfect blueberry muffin season.
I always remember Tova and David, Marty's niece and nephew, when I make these. Living in Baltimore, MY blueberry muffins were a real treat when they came to visit. They are all grown up now....and, hopefully, can make their own muffins.
Kosher Status:
Dairy
Number of servings:
12 regular or 6 jumbo muffins
Main Ingredient(s):
Flour - Unbleached All Purpose
Preparation Time:
00:20
Cooking Time:
00:20
Skill Level:
1 - Easy

(1 Easy - 5 Hard)

Estimated POINT value:


Ingredients:


2 1/4 cup flour

1 cup sugar

2 teaspoons baking powder

1/2 teaspoon salt

1 1/2 cups fresh or frozen blueberries

2/3 cups melted butter or margarine

1/2 cup milk or soy milk

1 egg

1 teaspoon vanilla extract


Steps:


| | |
| --- | --- |
| | Put flour, sugar, baking powder and salt into a large bowl. Add blueberries. |
| | |
| --- | --- |
| | Melt the margarine in a large measuring cup. Add milk, egg and vanilla. Whisk to blend. Add to flour mixture. Mix just until moistened. Do not overbeat or you'll end up with tennis balls! |
Put a muffin paper into the muffin cups. Fill to 2/3rds full. You should have 12 regular sized muffins or 6 jumbo muffins. Bake at 350' for about 15 minutes. Top should spring back when gently pressed. Serve warm or at room temperature.

You can freeze the muffins in the pans unbaked. Just toss pan into a hot oven to bake. No need to defrost.

And that is how you make Kosher Blueberry Muffins!


Recently viewed recipes:



Blueberry Muffins (Dairy or Pareve)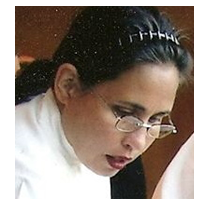 About Leah
Hi! Thank you for stopping by to watch me, Leah, cook kosher. I've been the owner operator of my boutique catering firm in Seattle, Leah's Catering, for the past 14 years.
Read more...
Leah's Blog

Aviva Makes Aliyah and The Sandwich Generation

Happy Chinese New Year! Happy Super Bowl! Go Hawks!

Tradition! Fun with the Seattle International Film Festival

Where Have I Been in My Life???

Making Kosher Salads

Blog Categories
Leah's Kosher Pantry

View what is in the pantry
Recipes

Appetizers
(44)

Appetizers - Dips and Sauces
(11)

Appetizers - Starter Courses
(10)

Beverages - Cold
(1)

Breads - Yeast
(10)

Breakfast Pastries
(7)

Dessert - Frostings
(6)

Desserts - Cakes
(13)

Desserts - Cookies and Brownies
(29)

Desserts - Dairy
(42)

Desserts - Pareve
(71)

Desserts - Pies and Tarts
(14)

Desserts - Tea Breads, Quick Breads
(8)

Desserts and Baked Goods - Gluten Free
(18)

Main Dish - Beef
(7)

Main Dish - Dairy
(3)

Main Dish - Eggs and Fritattas
(6)

Main Dish - Fish
(11)

Main Dish - Poultry
(14)

Main Dish - Vegetarian and Vegan
(9)

Salads - Dressing
(8)

Salads - Fruit
(4)

Salads - Grains & Legumes
(7)

Salads - Green
(1)

Salads - Pasta and Rice
(10)

Salads - Potatoes and Eggs
(5)

Salads - Vegetable
(15)

Side Dishes - Kugels and Souffles
(7)

Side Dishes - Potatoes and Vegetables
(17)

Side Dishes - Rice, Grains and Pasta
(7)

Soups, Stews and Cholent
(9)
Special Considerations

Dairy-Free Recipes
(230)

Gluten-Free Recipes
(134)

High Fiber Recipes
(18)

Low-fat Recipes
(11)

Nut-Free Desserts Recipes
(48)

Vegan Recipes
(101)

Vegetarian Recipes
(207)
Holidays

Rosh Hashana Recipes
(23)

Yom Kippur Recipes
(3)

Sukkot Recipes
(26)

Simchat Torah Recipes
(9)

Chanukah Recipes
(20)

Tu B'shevat Recipes
(16)

Purim Recipes
(9)

Passover Recipes
(44)

Lag Ba'omer Recipes
(6)

Shavuot Recipes
(24)

Shabbat Recipes
(34)
Cookbook Library

New Releases

Jewish Classics

Other Favorites
Kitchen Gadgets

Essentials

Small Appliances
Chef Of The Week

Barbara Williamson
Congratulations to our chef of the week.