Asian Noodle Salad with Oven Roasted Tofu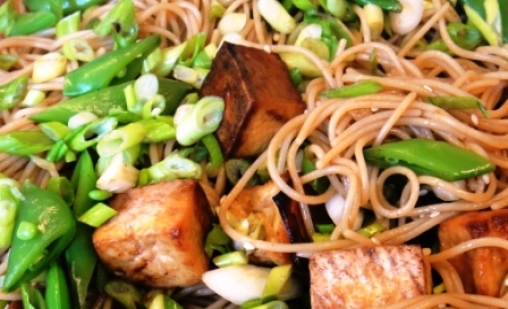 Since opening, this continues to be our most popular pasta salad. I can't imagine how many tons of this salad have been eaten! We use the Chinese style egg noodles and add green onions and toasted sesame seeds. I've started marinating cubes of extra firm tofu in the dressing before oven roasting and then add them to the pasta. Tossing snow or sugar peas on top just before serving keeps them looking bright and lively. The bit of hot sauce added to the dressing offers a little heat, although not enough to discourage kids from enjoying the pasta.
Kosher Status:
Parve
Number of servings:
6 - 8
Main Ingredient(s):
Noodles - Asian Style Egg Noodles
Preparation Time:
00:30
Cooking Time:
00:20
Skill Level:
1 - Easy

(1 Easy - 5 Hard)

Estimated POINT value:


Ingredients:


1 lb. Chinese style egg noodles

1/4 cup toasted sesame seeds

2/3 cup bias cut green onions

1 box of snow peas

1 pound extra firm tofu, cubed
Dressing:
3 tablespoons sesame oil

1/4 cup soy sauce

2 tablespoons sugar

1 1/2 tablespoons San-J Hot and Spicy Sauce

2 tablespoons Balsamic vinegar


Steps:


Boil the pasta in water until al dente. Rinse in cold water and drain. Mix the dressing ingredients together and pour unto the noodles. Toss to coat. Toast the sesame seeds until lightly browned by putting them in a small frying pan over medium heat. Toss them with the noodles and green onions. Just before serving, sprinkle with the snow peas.

If using the tofu, cut it into cubes and drain on paper towels. Toss with dressing and let sit a few minutes. Put on a parchment lined cookie sheet and bake in the oven on 350' until golden brown. Cool and toss into salad.


Recently viewed recipes:



Asian Noodle Salad with Oven Roasted Tofu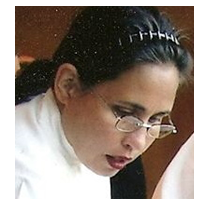 About Leah
Hi! Thank you for stopping by to watch me, Leah, cook kosher. I've been the owner operator of my boutique catering firm in Seattle, Leah's Catering, for the past 14 years.
Read more...
Leah's Blog

Aviva Makes Aliyah and The Sandwich Generation

Happy Chinese New Year! Happy Super Bowl! Go Hawks!

Tradition! Fun with the Seattle International Film Festival

Where Have I Been in My Life???

Making Kosher Salads

Blog Categories
Leah's Kosher Pantry

View what is in the pantry
Recipes

Appetizers
(44)

Appetizers - Dips and Sauces
(11)

Appetizers - Starter Courses
(10)

Beverages - Cold
(1)

Breads - Yeast
(10)

Breakfast Pastries
(7)

Dessert - Frostings
(6)

Desserts - Cakes
(13)

Desserts - Cookies and Brownies
(29)

Desserts - Dairy
(42)

Desserts - Pareve
(71)

Desserts - Pies and Tarts
(14)

Desserts - Tea Breads, Quick Breads
(8)

Desserts and Baked Goods - Gluten Free
(18)

Main Dish - Beef
(7)

Main Dish - Dairy
(3)

Main Dish - Eggs and Fritattas
(6)

Main Dish - Fish
(11)

Main Dish - Poultry
(14)

Main Dish - Vegetarian and Vegan
(9)

Salads - Dressing
(8)

Salads - Fruit
(4)

Salads - Grains & Legumes
(7)

Salads - Green
(1)

Salads - Pasta and Rice
(10)

Salads - Potatoes and Eggs
(5)

Salads - Vegetable
(15)

Side Dishes - Kugels and Souffles
(7)

Side Dishes - Potatoes and Vegetables
(17)

Side Dishes - Rice, Grains and Pasta
(7)

Soups, Stews and Cholent
(9)
Special Considerations

Dairy-Free Recipes
(230)

Gluten-Free Recipes
(134)

High Fiber Recipes
(18)

Low-fat Recipes
(11)

Nut-Free Desserts Recipes
(48)

Vegan Recipes
(101)

Vegetarian Recipes
(207)
Holidays

Rosh Hashana Recipes
(23)

Yom Kippur Recipes
(3)

Sukkot Recipes
(26)

Simchat Torah Recipes
(9)

Chanukah Recipes
(20)

Tu B'shevat Recipes
(16)

Purim Recipes
(9)

Passover Recipes
(44)

Lag Ba'omer Recipes
(6)

Shavuot Recipes
(24)

Shabbat Recipes
(34)
Cookbook Library

New Releases

Jewish Classics

Other Favorites
Kitchen Gadgets

Essentials

Small Appliances
Chef Of The Week

Barbara Williamson
Congratulations to our chef of the week.