Spinach Leek Frittata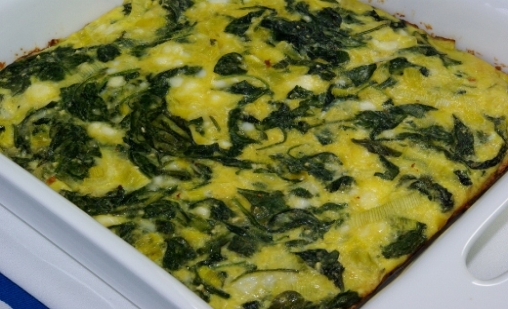 *Note ~ this has been on the homepage before. That said, great recipe for this time of year.
Spinach frittatas often appear at Shabbat Kiddush lunches, especially in the Sephardic synagogues. It teams well with the wonderful kippered salmon done by Dressel Collins here in Seattle. Borekas are a must to round out the buffet table and must be made in abundance. Yaprakes, brown eggs, and biscochos for dessert ~ it is a menu that defines a tradition in Seattle. I love it.
Years ago, Catherine Scharon shows me many of the Sephardic delicacies. One day after a Kiddush lunch we catered at her shul, she calls and says that the spinach frittata wasn't like hers. Nope, it wasn't ~ made it mine. Expecting a tip, Catherine surprises me by asking for MY recipe. I've arrived! ~ that is what I keep telling myself.
I was very honored a couple of years ago to cater an evening entitled "An Evening in Rhodes", the homeland of our local Sephardic community. Catherine keeps a watchful eye in the kitchen the day of the event. I love 'theme' parties and this event is fabulous. Dennis Warshal, local artist and event designer, creates an amazing walkway through the town square. Airbrushing floor to ceiling panels of 'stones', guests are transported to an island in the Mediterranean. Very cool. Very cool, indeed.
Kosher Status:
Dairy
Number of servings:
8" x 8" pan, about 12 - 16
Main Ingredient(s):
Eggs , Cheese - Parmesan and Romano, Cheese - Feta, Blue and Brie, Cheese - Cottage
Preparation Time:
00:30
Cooking Time:
00:30
Skill Level:
1 - Easy

(1 Easy - 5 Hard)

Estimated POINT value:
Average Rating:
4.5/5


Ingredients:


9 eggs

1 pound frozen spinach - thawed and drained (or wilt fresh spinach)

1 - 2 cups sliced leek, sauteed

2 tablespoons matzoh meal

1 cup grated Parmesan cheese

8 ounces feta cheese

1/2 cup cottage cheese

1/4 cup milk


Steps:


Preheat oven to 350'.

In a large bowl, beat the eggs well.
| | |
| --- | --- |
| | Prep the leeks and saute. Drain the defrosted spinach. If using fresh, wilt in a little water over high heat and drain. Add rest of ingredients and combine well. |
| | |
| --- | --- |
| | Mix ingredients well. Spread into a well sprayed sheet pan and bake at 350 degrees until just done and lightly browned. The center should be firm to the touch but not hard. This could take 30 - 40 minutes depending on your oven and the size of the pan. |
To serve, cut into 2" x 2" squares as a side dish.

And that is how you make Kosher Spinach Leek Frittata!


Recently viewed recipes:



Spinach Leek Frittata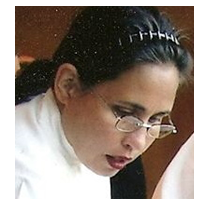 About Leah
Hi! Thank you for stopping by to watch me, Leah, cook kosher. I've been the owner operator of my boutique catering firm in Seattle, Leah's Catering, for the past 14 years.
Read more...
Leah's Blog

Aviva Makes Aliyah and The Sandwich Generation

Happy Chinese New Year! Happy Super Bowl! Go Hawks!

Tradition! Fun with the Seattle International Film Festival

Where Have I Been in My Life???

Making Kosher Salads

Blog Categories
Leah's Kosher Pantry

View what is in the pantry
Recipes

Appetizers
(44)

Appetizers - Dips and Sauces
(11)

Appetizers - Starter Courses
(10)

Beverages - Cold
(1)

Breads - Yeast
(10)

Breakfast Pastries
(7)

Dessert - Frostings
(6)

Desserts - Cakes
(13)

Desserts - Cookies and Brownies
(29)

Desserts - Dairy
(42)

Desserts - Pareve
(71)

Desserts - Pies and Tarts
(14)

Desserts - Tea Breads, Quick Breads
(8)

Desserts and Baked Goods - Gluten Free
(18)

Main Dish - Beef
(7)

Main Dish - Dairy
(3)

Main Dish - Eggs and Fritattas
(6)

Main Dish - Fish
(11)

Main Dish - Poultry
(14)

Main Dish - Vegetarian and Vegan
(9)

Salads - Dressing
(8)

Salads - Fruit
(4)

Salads - Grains & Legumes
(7)

Salads - Green
(1)

Salads - Pasta and Rice
(10)

Salads - Potatoes and Eggs
(5)

Salads - Vegetable
(15)

Side Dishes - Kugels and Souffles
(7)

Side Dishes - Potatoes and Vegetables
(17)

Side Dishes - Rice, Grains and Pasta
(7)

Soups, Stews and Cholent
(9)
Special Considerations

Dairy-Free Recipes
(230)

Gluten-Free Recipes
(134)

High Fiber Recipes
(18)

Low-fat Recipes
(11)

Nut-Free Desserts Recipes
(48)

Vegan Recipes
(101)

Vegetarian Recipes
(207)
Holidays

Rosh Hashana Recipes
(23)

Yom Kippur Recipes
(3)

Sukkot Recipes
(26)

Simchat Torah Recipes
(9)

Chanukah Recipes
(20)

Tu B'shevat Recipes
(16)

Purim Recipes
(9)

Passover Recipes
(44)

Lag Ba'omer Recipes
(6)

Shavuot Recipes
(24)

Shabbat Recipes
(34)
Cookbook Library

New Releases

Jewish Classics

Other Favorites
Kitchen Gadgets

Essentials

Small Appliances
Chef Of The Week

Barbara Williamson
Congratulations to our chef of the week.