Carob Almond 'Roca'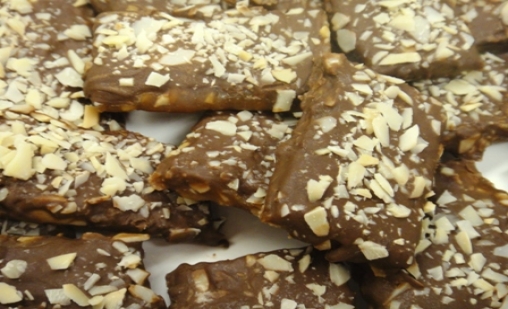 In the Northwest, we've grown up with Almond Roca; pink cans with gold foil wrapped candy stocked in every supermarket and corner drug store. They make me think of my mother who liked to keep a private stash on a shelf out of reach of us kids. A couple years ago, a client wanted almond 'roca' at his wedding. Traditionally dairy, the wedding was cholov Israel so I decided to make some. I thought it fabulous and decided that it would be a perfect Tu B'shevat candy, especially if brushed with melted carob chips.
I learned something while making this yesterday. I learned that an instant read thermometer doesn't really like being left in boiling butter. I also learned that a meat type thermometer doesn't really like being left in boiling butter. That might explain why experienced confectioners use a candy thermometer. I also decided that if I had went with my instincts based on the color of the caramelizing butter and sugar, I wouldn't have toss the first batch out. It went from caramel color to almost black in seconds! Embarrassed that I might smell up the entire building, I disposed of the burning mixture. I did taste some of it after it cooled and had another thought; burnt caramel with chocolate and coarse sea salt.....I should package it!
So, if you don't have a themometer, go for a rich caramel color and remove from the heat quickly and finish up the steps. Less cooking and the mixture will be more pliable, like caramel. More cooking, the mixture is more brittle. Either way, what could be bad...butter, butter and more butter! Yum.....
Kosher Status:
Dairy
Number of servings:
12 - 16
Main Ingredient(s):
Nuts - Almonds, Carob Chips, Butter
Preparation Time:
00:10
Cooking Time:
00:20
Skill Level:
1 - Easy

(1 Easy - 5 Hard)

Estimated POINT value:


Ingredients:


1 pound butter

2 cups sugar

6 tablespoons water

2 tablespoons light corn syrup

1 cup almonds, chopped

1 12 oz bag of carob chips


Steps:


| | |
| --- | --- |
| | Melt the butter in a saucepan, leaving enough room for the mixture to bubble up as it cooks. |
| | |
| --- | --- |
| | After the butter is melted, add corn syrup, 6 tablespoons of water and sugar. Cook to 290 degrees on a CANDY thermometer, or until it becomes the color of caramel. |
| | |
| --- | --- |
| | Remove from the heat and stir in 1/2 of the almonds. Pour onto a 9 x 13 cake pan that is lined with wax paper or parchment paper. After the mixture has cooled to the touch but is still warm, score the sizes of the pieces you'd like into the top of the brittle. |
| | |
| --- | --- |
| | Melt the carob chips in the microwave just until melted. Don't burn them up! Using an off-set spatula (see Kitchen Essentials section), smear the melted carob over the brittle. |
| | |
| --- | --- |
| | Sprinkle with the remaining nuts and set aside to cool. When the chocolate is almost set, lift the brittle from the baking pan and break along the scored lines. |
| | |
| --- | --- |
| | Platter and serve. |


Recently viewed recipes:



Carob Almond 'Roca'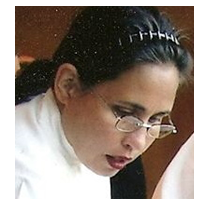 About Leah
Hi! Thank you for stopping by to watch me, Leah, cook kosher. I've been the owner operator of my boutique catering firm in Seattle, Leah's Catering, for the past 14 years.
Read more...
Leah's Blog

Aviva Makes Aliyah and The Sandwich Generation

Happy Chinese New Year! Happy Super Bowl! Go Hawks!

Tradition! Fun with the Seattle International Film Festival

Where Have I Been in My Life???

Making Kosher Salads

Blog Categories
Leah's Kosher Pantry

View what is in the pantry
Recipes

Appetizers
(44)

Appetizers - Dips and Sauces
(11)

Appetizers - Starter Courses
(10)

Beverages - Cold
(1)

Breads - Yeast
(10)

Breakfast Pastries
(7)

Dessert - Frostings
(6)

Desserts - Cakes
(13)

Desserts - Cookies and Brownies
(29)

Desserts - Dairy
(42)

Desserts - Pareve
(71)

Desserts - Pies and Tarts
(14)

Desserts - Tea Breads, Quick Breads
(8)

Desserts and Baked Goods - Gluten Free
(18)

Main Dish - Beef
(7)

Main Dish - Dairy
(3)

Main Dish - Eggs and Fritattas
(6)

Main Dish - Fish
(11)

Main Dish - Poultry
(14)

Main Dish - Vegetarian and Vegan
(9)

Salads - Dressing
(8)

Salads - Fruit
(4)

Salads - Grains & Legumes
(7)

Salads - Green
(1)

Salads - Pasta and Rice
(10)

Salads - Potatoes and Eggs
(5)

Salads - Vegetable
(15)

Side Dishes - Kugels and Souffles
(7)

Side Dishes - Potatoes and Vegetables
(17)

Side Dishes - Rice, Grains and Pasta
(7)

Soups, Stews and Cholent
(9)
Special Considerations

Dairy-Free Recipes
(230)

Gluten-Free Recipes
(134)

High Fiber Recipes
(18)

Low-fat Recipes
(11)

Nut-Free Desserts Recipes
(48)

Vegan Recipes
(101)

Vegetarian Recipes
(207)
Holidays

Rosh Hashana Recipes
(23)

Yom Kippur Recipes
(3)

Sukkot Recipes
(26)

Simchat Torah Recipes
(9)

Chanukah Recipes
(20)

Tu B'shevat Recipes
(16)

Purim Recipes
(9)

Passover Recipes
(44)

Lag Ba'omer Recipes
(6)

Shavuot Recipes
(24)

Shabbat Recipes
(34)
Cookbook Library

New Releases

Jewish Classics

Other Favorites
Kitchen Gadgets

Essentials

Small Appliances
Chef Of The Week

Barbara Williamson
Congratulations to our chef of the week.