Green and Red Coleslaw Slaw with Mandarin Oranges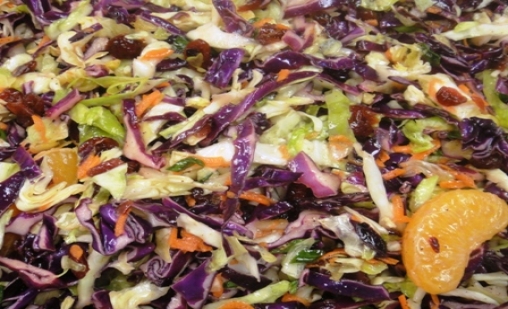 Given this recipe by a client for a Shabbat weekend of festivities, it looks like one I've made from the Kosher By Design series, Susie Fishbein's major contribution to kosher cooking. As usual, there is the written tradition and the oral tradition. This recipe is now another 'opinion' of the basic framework using the red and green cabbage to change up coleslaw.
In the photo steps, I show what I need to do to make coleslaw commercially. I have to bring in 'my personal mashgiach' to wash the cabbage. Actually, as per my contract with the Va'ad, I bring in my personal mashgiach to wash most of my vegetables. Lucky for me, my resident Rabbi Aryeh likes to cook. I teach him some of the subtle tips of baking and cooking, he gives me the latest in vegetable washing policy. He is happy to learn new tricks, I kick and rant about the latest raise of the kosher bar. NOT because I don't appreciate the nuance of kashrut, but because kicking and ranting is my usual response to lots of things. No one should take it personally and I'm working on being a kinder and gentler person. Ask how that is working out for me!
Where was I? Oh yeah, the cabbage...it needs to washed and checked for bugs. TIP: quarter the head and slice BEFORE washing. If the head is taken apart leaf by leaf, cutting takes forever. Ask me how I know that. No biggie if making a little at home, a shocker to see individual cabbage leaves for 300 in a huge pile! Can't remember who I put on that task....probably Rabbi Aryeh, he's such a good sport. We won't be making that mistake again, will we Rabbi? Yes, even better than learning from my mistakes is YOU learning from my mistakes!
I was strolling through Whole Foods looking at all the fruit and produce on my way to see if they had canned Mandarin oranges with a hechsher. It dawned on me that I had just passed no fewer than three varieties of fresh tangerines. I can be dense. Going back and grabbing the fresh ones, they work great in the salad; just peel, segment and toss them in!
Kosher Status:
Parve
Number of servings:
10 - 12
Main Ingredient(s):
Cabbage
Preparation Time:
00:20
Cooking Time:
00:00
Skill Level:
1 - Easy

(1 Easy - 5 Hard)

Estimated POINT value:


Ingredients:


1 small green cabbage, about 1 pound

1 small red cabbage, about 1 pound

1/2 cup green onions, sliced on the bias

1 medium carrot, grated

3/4 cup dried cranberries, softened in orange juice

1/2 cup pine nuts (very optional ~ have you seen the price?)

1 can mandarian oranges (reserve the juice) or 1 cup fresh mandarins, peeled
Dressing:
1/3 cup brown sugar

1 teaspoon salt

3/4 teaspoon black pepper

1/3 cup sweetened rice vinegar

3/4 cup canola oil

2 tablespoons reserved Mandarin orange juice or orange juice


Steps:


| | |
| --- | --- |
| | Remove wilted outer leaves of cabbage head. Discard. Quarter cabbage and cut away tough core at base. |
| | |
| --- | --- |
| | Slice the cabbage into 1/4" strips across the width. |
| | |
| --- | --- |
| | Put the cabbage into a large container to wash. |
| | |
| --- | --- |
| | Soak the cabbage with veggie wash. Refer to the Seattle Va'ad website for the produce washing requirements. |
| | |
| --- | --- |
| | Drain cabbage well in a colander and place into a large bowl. |
| | |
| --- | --- |
| | Grate the carrots and add to the cabbage. |
| | |
| --- | --- |
| | If using fresh tangarines, peel and segment. Add to salad. If using canned Mandarins, drain reserving the liquid, and add to the cabbage. |
| | |
| --- | --- |
| | Soak the dried cranberries in either the reserved canned Mandarin orange juice or fresh orange juice to cover. If you don't have fresh orange juice, moisten with a little warm water. We want to soften the cranberries a bit. Once softened, remove the cranberries from the juice and add to the salad. Keep the juice for use in the dressing. |
| | |
| --- | --- |
| | Slice the green onions and add to salad. Add toasted pine nuts if using. |
| | |
| --- | --- |
| | Make the dressing by combining the remaining ingredients. Whisk to blend. |
| | |
| --- | --- |
| | Pour dressing over all the ingredients and toss gently! Actually, leave the tangerine segments until the end so they don't break. Then toss gently....remember, romance it! |


Recently viewed recipes:



Green and Red Coleslaw Slaw with Mandarin Oranges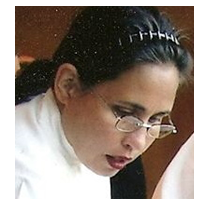 About Leah
Hi! Thank you for stopping by to watch me, Leah, cook kosher. I've been the owner operator of my boutique catering firm in Seattle, Leah's Catering, for the past 14 years.
Read more...
Leah's Blog

Aviva Makes Aliyah and The Sandwich Generation

Happy Chinese New Year! Happy Super Bowl! Go Hawks!

Tradition! Fun with the Seattle International Film Festival

Where Have I Been in My Life???

Making Kosher Salads

Blog Categories
Leah's Kosher Pantry

View what is in the pantry
Recipes

Appetizers
(44)

Appetizers - Dips and Sauces
(11)

Appetizers - Starter Courses
(10)

Beverages - Cold
(1)

Breads - Yeast
(10)

Breakfast Pastries
(7)

Dessert - Frostings
(6)

Desserts - Cakes
(13)

Desserts - Cookies and Brownies
(29)

Desserts - Dairy
(42)

Desserts - Pareve
(71)

Desserts - Pies and Tarts
(14)

Desserts - Tea Breads, Quick Breads
(8)

Desserts and Baked Goods - Gluten Free
(18)

Main Dish - Beef
(7)

Main Dish - Dairy
(3)

Main Dish - Eggs and Fritattas
(6)

Main Dish - Fish
(11)

Main Dish - Poultry
(14)

Main Dish - Vegetarian and Vegan
(9)

Salads - Dressing
(8)

Salads - Fruit
(4)

Salads - Grains & Legumes
(7)

Salads - Green
(1)

Salads - Pasta and Rice
(10)

Salads - Potatoes and Eggs
(5)

Salads - Vegetable
(15)

Side Dishes - Kugels and Souffles
(7)

Side Dishes - Potatoes and Vegetables
(17)

Side Dishes - Rice, Grains and Pasta
(7)

Soups, Stews and Cholent
(9)
Special Considerations

Dairy-Free Recipes
(230)

Gluten-Free Recipes
(134)

High Fiber Recipes
(18)

Low-fat Recipes
(11)

Nut-Free Desserts Recipes
(48)

Vegan Recipes
(101)

Vegetarian Recipes
(207)
Holidays

Rosh Hashana Recipes
(23)

Yom Kippur Recipes
(3)

Sukkot Recipes
(26)

Simchat Torah Recipes
(9)

Chanukah Recipes
(20)

Tu B'shevat Recipes
(16)

Purim Recipes
(9)

Passover Recipes
(44)

Lag Ba'omer Recipes
(6)

Shavuot Recipes
(24)

Shabbat Recipes
(34)
Cookbook Library

New Releases

Jewish Classics

Other Favorites
Kitchen Gadgets

Essentials

Small Appliances
Chef Of The Week

Barbara Williamson
Congratulations to our chef of the week.