Ginger Glazed Salmon Skewers or Fillets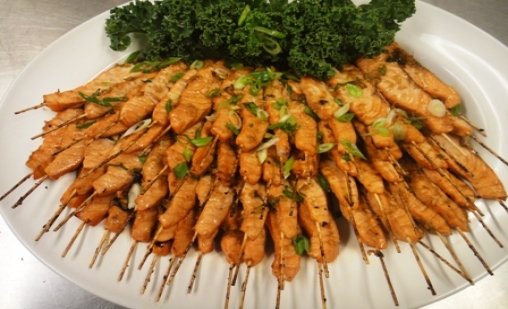 This is our famous ginger glaze recipe which we use on both skewers or fillets of salmon. It is quick and easy, both in the prep and cooking. It is a favorite with my clients and it isn't unusual to make hundreds at a time. A chef from the Caribbean I once employed showed me the easy technique for skewering fish. It is embarrassingly obvious but nobody ever seems to know it. Now you will ~ just go to the steps page and look at the photos. We bake the fish in a hot oven and the skewers only take a few minutes. They are great served at room temperature with a buffet of salads. We also serve portions of fillets as an entree.
Kosher Status:
Parve
Number of servings:
10 - 12
Main Ingredient(s):
Preparation Time:
00:20
Cooking Time:
00:10
Skill Level:
1 - Easy

(1 Easy - 5 Hard)

Estimated POINT value:
5 per 4 oz serving


Ingredients:


3 pounds salmon fillet, center cut and skinned

2 tablespoons canola oil

1/3 cup freshly grated ginger

1/2 cup green onions, sliced on the bias plus 1/4 cup for garnish

1/2 cup soy sauce or wheat-free tamari for gluten free

2 teaspoons sweetened rice wine vinegar

2 teaspoons toasted sesame oil

2 tablespoons sugar

1/4 teaspoons black pepper


Steps:


| | |
| --- | --- |
| | Peel the ginger and cut into chunks. |
| | |
| --- | --- |
| | Grind the ginger in the bowl of the food processor until very fine. |
| | |
| --- | --- |
| | Slice and wash the green onions, checking for bugs as required. |
| | |
| --- | --- |
| | Saute the ginger in a little oil over medium heat for only a minute. We want to cook the ginger to take the edge off but we don't want to burn it. |
| | |
| --- | --- |
| | Add the green onions and cook for a minute just to slightly wilt. Remove pan from heat. |
| | |
| --- | --- |
| | Add remaining ingredients and stir. Set aside. |
Remove bones from the salmon fillet by using a needle-nosed tweezers, generally available at your gourmet cooking store. I'll try to find a resource on line. Meanwhile, The Mrs. Cooks in University Village sells some shaped like salmon and they are the BEST! Also, it is easier to have the fishmonger skin the fish as that makes it easier to bone. To bone, gently run your palm over the fillet to feel the direction the bones are in the fillet. They aren't straight up and down, they are at an angle. Using the tweezers, grab the tip of the exposed bone and pull straight out in the same direction the bone is laying. This makes it both easier to come out and doesn't tear up the flesh of the fish.

Either cut into entree portions or skewer by sliding the bamboo skewer through the fillet. Put each skewer into fish about 1/2" apart.
| | |
| --- | --- |
| | Slice between the skewers. Spray a sheet pan lined with parchment paper with cooking spray. Lay skewers on their sides, all in the same direction, and pour glaze over the fish. |
| | |
| --- | --- |
| | If making entree portions, remove bones and cut into desired size - 4 to 6 ounces is plenty per person. |
| | |
| --- | --- |
| | If making skewers, lay them on their sides on a baking sheet lined with parchment and sprayed with cooking oil. If making larger portions, transfer to pans prepared as above. |
Pour glaze over fish and flip over to coat with glaze. I usually will pat the fish with the glaze to evenly spread the green onion and ginger. Marinate for about 5 minutes and turn piece over. Put into a 400 degree oven and cook skewers about 4 - 5 minutes, fillets for 8 - 10.

The fish is done when it feels firm. I cook it to 115 degree and remove from the oven and let sit a few minutes. The temperature will continue to rise for a few degrees. Don't cook it so long that all the fat starts oozing from the fish. It'll be hard and dry.
| | |
| --- | --- |
| | Remove to a serving platter and garnish with some of the sliced green onions. These were going to a friend who just had a new grandson born so I used a disposable foil pan. |


Recently viewed recipes:



Ginger Glazed Salmon Skewers or Fillets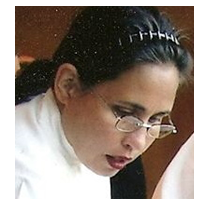 About Leah
Hi! Thank you for stopping by to watch me, Leah, cook kosher. I've been the owner operator of my boutique catering firm in Seattle, Leah's Catering, for the past 14 years.
Read more...
Leah's Blog

Aviva Makes Aliyah and The Sandwich Generation

Happy Chinese New Year! Happy Super Bowl! Go Hawks!

Tradition! Fun with the Seattle International Film Festival

Where Have I Been in My Life???

Making Kosher Salads

Blog Categories
Leah's Kosher Pantry

View what is in the pantry
Recipes

Appetizers
(44)

Appetizers - Dips and Sauces
(11)

Appetizers - Starter Courses
(10)

Beverages - Cold
(1)

Breads - Yeast
(10)

Breakfast Pastries
(7)

Dessert - Frostings
(6)

Desserts - Cakes
(13)

Desserts - Cookies and Brownies
(29)

Desserts - Dairy
(42)

Desserts - Pareve
(71)

Desserts - Pies and Tarts
(14)

Desserts - Tea Breads, Quick Breads
(8)

Desserts and Baked Goods - Gluten Free
(18)

Main Dish - Beef
(7)

Main Dish - Dairy
(3)

Main Dish - Eggs and Fritattas
(6)

Main Dish - Fish
(11)

Main Dish - Poultry
(14)

Main Dish - Vegetarian and Vegan
(9)

Salads - Dressing
(8)

Salads - Fruit
(4)

Salads - Grains & Legumes
(7)

Salads - Green
(1)

Salads - Pasta and Rice
(10)

Salads - Potatoes and Eggs
(5)

Salads - Vegetable
(15)

Side Dishes - Kugels and Souffles
(7)

Side Dishes - Potatoes and Vegetables
(17)

Side Dishes - Rice, Grains and Pasta
(7)

Soups, Stews and Cholent
(9)
Special Considerations

Dairy-Free Recipes
(230)

Gluten-Free Recipes
(134)

High Fiber Recipes
(18)

Low-fat Recipes
(11)

Nut-Free Desserts Recipes
(48)

Vegan Recipes
(101)

Vegetarian Recipes
(207)
Holidays

Rosh Hashana Recipes
(23)

Yom Kippur Recipes
(3)

Sukkot Recipes
(26)

Simchat Torah Recipes
(9)

Chanukah Recipes
(20)

Tu B'shevat Recipes
(16)

Purim Recipes
(9)

Passover Recipes
(44)

Lag Ba'omer Recipes
(6)

Shavuot Recipes
(24)

Shabbat Recipes
(34)
Cookbook Library

New Releases

Jewish Classics

Other Favorites
Kitchen Gadgets

Essentials

Small Appliances
Chef Of The Week

Barbara Williamson
Congratulations to our chef of the week.