Lemon Curd Tart with Fruit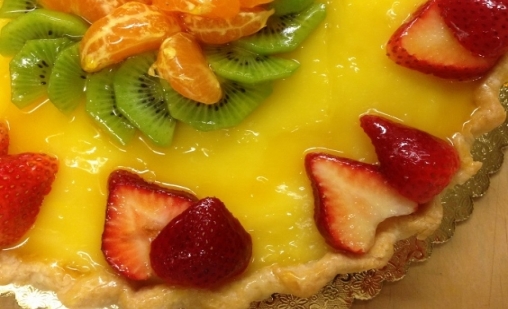 This is an updated post.
It's come to light that people love and remember my lemon curd tarts. I make them both full sized and in individual smaller shapes. My original post a few years ago was made with meringue and I leave the recipe that way. Meringue and the Seattle humidity don't always go together - the fluffy pillow of beaten egg whites soon tightens and weeps. I decide it isn't worth my nerves tightening and me weeping as a job goes out with meringue tart. So, I've switched to fruit.
To make the apricot glaze, heat some apricot jam in a small pot or in the microwave. Thin it with a little water if it is too thick. Smash down any chunks of fruit so you have a clear glaze. Prep your fruit and brush with glaze, then put it onto the tart. Glaze again to even the sheen. Expect many 'ahs' when you bring it to the table - where it should be served in all its glory!
December 30, 2010: During the winter months in Seattle, juicy navel oranges, grapefruit and lemons with their vitamin C help ward off winter colds. All through high school, selling fruits and vegetables at the open air Pike Place Market, I stack piles of citrus with freezing cold hands. Building pyramids of color against the neutral desert of brown potatoes and yellow onions, the oranges, grapefruit, tangerines and lemons are the only companions of apples and bananas. We refer to the citrus by their packing sizes; No. 113's, No. 48's, etc. Heavy fruit with smooth skins, 'innies' for navels, prove to be the best oranges of the crop.
These days, it seems we never lack for anything in Seattle, any time of year. I almost begin to think of lemon meringue pie as a summer dessert. Maybe it is on the other side of the hemisphere. I've never given it much thought. I do often think of what the 'eat local' movement means in Seattle. Only revisionists would think it a viable option during winter. We are too spoiled. We want more than apples and pears.
I've made this tart with Meyer lemons. My big box retailer has them so I thought I'd see what all the hype is about. I expect to pay extra for nothing more than attitude until I begin to zest the peel. The fragrant mist tickles my nostrils and I can feel the Florida sunshine. Closing my eyes, I inhale deeply, my mouth watering. My fingers rotate the smooth lemon, filaments of zest fall from the zester, lighter than the thick dermal scrapings of genetically engineered varieties. I am moved; a real lemon like the olden days. The juice is tangy but sweet, opening my sinuses as my taste buds do 'the wave'. I'm happy. I want to make a pie.
Kosher Status:
Parve
Number of servings:
12 - 16
Main Ingredient(s):
Eggs
Preparation Time:
01:00
Cooking Time:
00:30
Skill Level:
2

(1 Easy - 5 Hard)

Estimated POINT value:


Ingredients:


1/2 cup cornstarch

2 1/2 cups sugar

1/2 teaspoon salt

7 eggs, separated

1/2 cup lemon juice

2 1/2 tablespoons lemon zest

3 tablespoons margarine

1/2 teaspoon cream of tartar

3/4 cup sugar for meringue


Steps:


| | |
| --- | --- |
| | Prepare an 11" tart shell using the basic pie crust recipe. Chill. |
| | |
| --- | --- |
| | Line the chilled pie crust with foil and add pie weights, or dried beans as I do. Save the beans for future pie baking. Bake the crust at 425 degrees until it is lightly browned around the edge. Remove from the oven and set aside for 5 minutes. Remove the foil and pie weights and return to oven. |
| | |
| --- | --- |
| | Bake tart shell until lightly golden brown. The tart shell will continue to darken until it cools slightly. Better to remove shell from the oven slightly underdone than overdone. |
| | |
| --- | --- |
| | Combine the cornstarch, sugar, and salt in a saucepan. Add 2 1/4 cups water and whisk to combine. |
| | |
| --- | --- |
| | Wash and dry lemons |
| | |
| --- | --- |
| | Zest and juice the lemons, set aside. Set the margarine aside with the lemon zest and juice. Separate the eggs, set aside. |
| | |
| --- | --- |
| | Cook the cornstarch mixture and water over medium high heat, stirring constantly until the mixture is thick and clear. Remove from heat. |
| | |
| --- | --- |
| | Add 1/2 of the hot mixture to the egg yolks, whisking constantly. Add the egg mixture back to the pot and whisk to blend. Return to heat. |
| | |
| --- | --- |
| | Stir until combined and keep cooking until mixture thickens. |
| | |
| --- | --- |
| | Remove from heat and stir in lemon zest, juice and margarine. Stir until blended. Pour into baked tart shell. |
| | |
| --- | --- |
| | Make the meringue by combining the egg whites, cream of tartar and white sugar in a mixing bowl fitted with the whip attachment. Whip until the very stiff peaks form. |
| | |
| --- | --- |
| | Pile the meringue high on the tart while the filling is still hot. Pressing down on the meringue, smear it to the edge of the crust. We want to be sure that there aren't air bubbles beneath the meringue and we want a seal all the way to the crust. |
| | |
| --- | --- |
| | Swirl the meringue top evenly and pop into the hot oven, 400 degrees. It'll take about 15 - 20 minutes to get the even, golden brown color. We want the meringue to be totally set. Remove from the oven and let cool at room temperature. Refrigerate the tart once it is cool. |
| | |
| --- | --- |
| | When the tart is cooled, slice and serve. Tart is best eaten the same day. Sometimes the meringue will shrink if left in the refrigerator until the next day. |


Recently viewed recipes:



Lemon Curd Tart with Fruit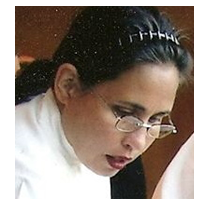 About Leah
Hi! Thank you for stopping by to watch me, Leah, cook kosher. I've been the owner operator of my boutique catering firm in Seattle, Leah's Catering, for the past 14 years.
Read more...
Leah's Blog

Aviva Makes Aliyah and The Sandwich Generation

Happy Chinese New Year! Happy Super Bowl! Go Hawks!

Tradition! Fun with the Seattle International Film Festival

Where Have I Been in My Life???

Making Kosher Salads

Blog Categories
Leah's Kosher Pantry

View what is in the pantry
Recipes

Appetizers
(44)

Appetizers - Dips and Sauces
(11)

Appetizers - Starter Courses
(10)

Beverages - Cold
(1)

Breads - Yeast
(10)

Breakfast Pastries
(7)

Dessert - Frostings
(6)

Desserts - Cakes
(13)

Desserts - Cookies and Brownies
(29)

Desserts - Dairy
(42)

Desserts - Pareve
(71)

Desserts - Pies and Tarts
(14)

Desserts - Tea Breads, Quick Breads
(8)

Desserts and Baked Goods - Gluten Free
(18)

Main Dish - Beef
(7)

Main Dish - Dairy
(3)

Main Dish - Eggs and Fritattas
(6)

Main Dish - Fish
(11)

Main Dish - Poultry
(14)

Main Dish - Vegetarian and Vegan
(9)

Salads - Dressing
(8)

Salads - Fruit
(4)

Salads - Grains & Legumes
(7)

Salads - Green
(1)

Salads - Pasta and Rice
(10)

Salads - Potatoes and Eggs
(5)

Salads - Vegetable
(15)

Side Dishes - Kugels and Souffles
(7)

Side Dishes - Potatoes and Vegetables
(17)

Side Dishes - Rice, Grains and Pasta
(7)

Soups, Stews and Cholent
(9)
Special Considerations

Dairy-Free Recipes
(230)

Gluten-Free Recipes
(134)

High Fiber Recipes
(18)

Low-fat Recipes
(11)

Nut-Free Desserts Recipes
(48)

Vegan Recipes
(101)

Vegetarian Recipes
(207)
Holidays

Rosh Hashana Recipes
(23)

Yom Kippur Recipes
(3)

Sukkot Recipes
(26)

Simchat Torah Recipes
(9)

Chanukah Recipes
(20)

Tu B'shevat Recipes
(16)

Purim Recipes
(9)

Passover Recipes
(44)

Lag Ba'omer Recipes
(6)

Shavuot Recipes
(24)

Shabbat Recipes
(34)
Cookbook Library

New Releases

Jewish Classics

Other Favorites
Kitchen Gadgets

Essentials

Small Appliances
Chef Of The Week

Barbara Williamson
Congratulations to our chef of the week.