Roasted Moroccan Yams with Roasted Kale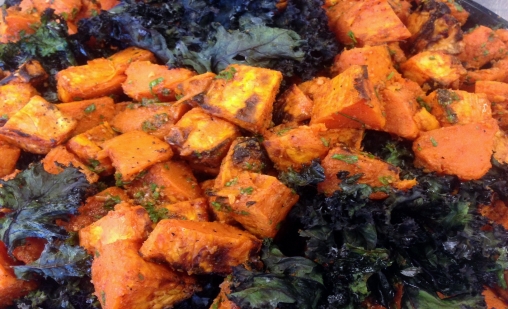 When I started this website, I wasn't a photographer. I'm still not a photographer. I got spoiled and intimidated by both my 'video guy' Gordon and my sister Dawn. I started with some easy Color Pix camera; blew through a couple of those - one even survived a pan of macaroni and cheese dumping on top of it. I tried the bigger 35mm and couldn't balance it and cook at the same time so many how-to step shots went by the wayside. I've now been reduced to the iPhone 5. A quick hero shot here and there; languishing in the camera roll ready to be exposed to the world.
This is one such recipe - and, it is even more abbreviated as I need to go to bed. The recipe is simple; peel yams and cut in whatever size you'd like. Cubes, fingers - whatever, just make them similar so they'll cook evenly. Toss in olive oil and sprinkle with salt and pepper. Roast in a hot 400' oven until just fork tender.
Wash and prep the kale, toss with a little olive oil, salt and pepper. Spread out on a baking pan and roast in the hot oven until light and crispy. Cool.
Meanwhile, go to the
Moroccan Carrot
recipe and make the same dressing. Coat the roasted yams with the dressing. Place the roasted kale on a platter, top with the yams and serve at room temperature. Yum! Earthy, tangy, spicy - I love it!
Kosher Status:
Parve
Number of servings:
4 - 8
Main Ingredient(s):
Yams
Preparation Time:
00:20
Cooking Time:
00:30
Skill Level:
1 - Easy

(1 Easy - 5 Hard)

Estimated POINT value:


Ingredients:


3 pounds of Yams
2 bunches of Kale
Olive Oil, Salt and Pepper
Moroccan Carrot Dressing



Steps:




Recently viewed recipes:



Roasted Moroccan Yams with Roasted Kale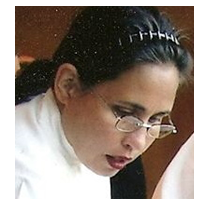 About Leah
Hi! Thank you for stopping by to watch me, Leah, cook kosher. I've been the owner operator of my boutique catering firm in Seattle, Leah's Catering, for the past 14 years.
Read more...
Leah's Blog

Aviva Makes Aliyah and The Sandwich Generation

Happy Chinese New Year! Happy Super Bowl! Go Hawks!

Tradition! Fun with the Seattle International Film Festival

Where Have I Been in My Life???

Making Kosher Salads

Blog Categories
Leah's Kosher Pantry

View what is in the pantry
Recipes

Appetizers
(44)

Appetizers - Dips and Sauces
(11)

Appetizers - Starter Courses
(10)

Beverages - Cold
(1)

Breads - Yeast
(10)

Breakfast Pastries
(7)

Dessert - Frostings
(6)

Desserts - Cakes
(13)

Desserts - Cookies and Brownies
(29)

Desserts - Dairy
(42)

Desserts - Pareve
(71)

Desserts - Pies and Tarts
(14)

Desserts - Tea Breads, Quick Breads
(8)

Desserts and Baked Goods - Gluten Free
(18)

Main Dish - Beef
(7)

Main Dish - Dairy
(3)

Main Dish - Eggs and Fritattas
(6)

Main Dish - Fish
(11)

Main Dish - Poultry
(14)

Main Dish - Vegetarian and Vegan
(9)

Salads - Dressing
(8)

Salads - Fruit
(4)

Salads - Grains & Legumes
(7)

Salads - Green
(1)

Salads - Pasta and Rice
(10)

Salads - Potatoes and Eggs
(5)

Salads - Vegetable
(15)

Side Dishes - Kugels and Souffles
(7)

Side Dishes - Potatoes and Vegetables
(17)

Side Dishes - Rice, Grains and Pasta
(7)

Soups, Stews and Cholent
(9)
Special Considerations

Dairy-Free Recipes
(230)

Gluten-Free Recipes
(134)

High Fiber Recipes
(18)

Low-fat Recipes
(11)

Nut-Free Desserts Recipes
(48)

Vegan Recipes
(101)

Vegetarian Recipes
(207)
Holidays

Rosh Hashana Recipes
(23)

Yom Kippur Recipes
(3)

Sukkot Recipes
(26)

Simchat Torah Recipes
(9)

Chanukah Recipes
(20)

Tu B'shevat Recipes
(16)

Purim Recipes
(9)

Passover Recipes
(44)

Lag Ba'omer Recipes
(6)

Shavuot Recipes
(24)

Shabbat Recipes
(34)
Cookbook Library

New Releases

Jewish Classics

Other Favorites
Kitchen Gadgets

Essentials

Small Appliances
Chef Of The Week

Barbara Williamson
Congratulations to our chef of the week.