Way Awesome Potato Knishes, Kasha Knishes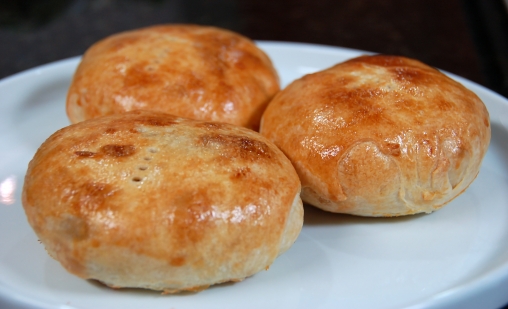 Posting the video for knishes last summer, I am struck that so many months have passed and I've yet to get this recipe posted. A cursory review of this past half year leaves me shrugging. It's been a year. Oh well, I'm here now.
The dough recipe originates with the Lubavitch cookbook Spice and Spirit. That said, it took Mama Knish to show us how to work the dough. Before the plethora of YouTube videos, one really had to learn from a master. Mama Knish is a master and she divulged her technique years ago to my crew.
The secret is to pull the dough very thin; pull and stretch - not roll. Yes, the old cliché of stretching the dough until you can read a Yiddish newspaper through it. Well, maybe YOU can read a Yiddish newspaper - with or without - the dough overlay. Me, nope. My predominately Hispanic staff; they couldn't read it either. We had to settle for "muy thin" - yeah, I'm no good with Spanish either.
Please watch the video for all the nuance involved in making knishes without, G-d forbid, store bought puff pastry dough. It's worth the effort. This recipe makes a large batch of knishes; cut it in half - or make the entire recipe and freeze the excess and bake them later.
(And, I apologize for the delay in uploading the recipe!)
Kosher Status:
Parve
Number of servings:
about 24 large knishes
Main Ingredient(s):
Potatoes - Russet, Potato Flakes - Pareve
Preparation Time:
00:10
Cooking Time:
00:00
Skill Level:
3

(1 Easy - 5 Hard)

Estimated POINT value:


Ingredients:


Dough:
5 large eggs

1 1/4 cup canola oil

2 cups water

2 tablespoons vinegar

1 1/4 teaspoon salt

9 cups flour
Potato Filling:
1# peeled Russet potatoes, cut into small cubes

3 1/4 cups water

1# diced yellow onions (about 2 large onions)

1/3 cup canola oil

1 tablespoon sugar

1/3 cup margarine

1 2/3 cups soymilk

1# potato flakes (pareve if you want pareve knishes)

1 1/2 teaspoon salt

1/2 teaspoon pepper
Kasha Filling:
Make Kasha filling as per the 13 oz. box of medium kasha. Or, double the Kasha Varnishkas recipe but leave out the pasta. Add about 5 cups of the potato filling above. Mix well. Taste for salt and pepper, adjust as necessary.


Steps:


| | |
| --- | --- |
| | test |


Recently viewed recipes:



Way Awesome Potato Knishes, Kasha Knishes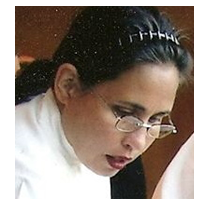 About Leah
Hi! Thank you for stopping by to watch me, Leah, cook kosher. I've been the owner operator of my boutique catering firm in Seattle, Leah's Catering, for the past 14 years.
Read more...
Leah's Blog

Aviva Makes Aliyah and The Sandwich Generation

Happy Chinese New Year! Happy Super Bowl! Go Hawks!

Tradition! Fun with the Seattle International Film Festival

Where Have I Been in My Life???

Making Kosher Salads

Blog Categories
Leah's Kosher Pantry

View what is in the pantry
Recipes

Appetizers
(44)

Appetizers - Dips and Sauces
(11)

Appetizers - Starter Courses
(10)

Beverages - Cold
(1)

Breads - Yeast
(10)

Breakfast Pastries
(7)

Dessert - Frostings
(6)

Desserts - Cakes
(13)

Desserts - Cookies and Brownies
(29)

Desserts - Dairy
(42)

Desserts - Pareve
(71)

Desserts - Pies and Tarts
(14)

Desserts - Tea Breads, Quick Breads
(8)

Desserts and Baked Goods - Gluten Free
(18)

Main Dish - Beef
(7)

Main Dish - Dairy
(3)

Main Dish - Eggs and Fritattas
(6)

Main Dish - Fish
(11)

Main Dish - Poultry
(14)

Main Dish - Vegetarian and Vegan
(9)

Salads - Dressing
(8)

Salads - Fruit
(4)

Salads - Grains & Legumes
(7)

Salads - Green
(1)

Salads - Pasta and Rice
(10)

Salads - Potatoes and Eggs
(5)

Salads - Vegetable
(15)

Side Dishes - Kugels and Souffles
(7)

Side Dishes - Potatoes and Vegetables
(17)

Side Dishes - Rice, Grains and Pasta
(7)

Soups, Stews and Cholent
(9)
Special Considerations

Dairy-Free Recipes
(230)

Gluten-Free Recipes
(134)

High Fiber Recipes
(18)

Low-fat Recipes
(11)

Nut-Free Desserts Recipes
(48)

Vegan Recipes
(101)

Vegetarian Recipes
(207)
Holidays

Rosh Hashana Recipes
(23)

Yom Kippur Recipes
(3)

Sukkot Recipes
(26)

Simchat Torah Recipes
(9)

Chanukah Recipes
(20)

Tu B'shevat Recipes
(16)

Purim Recipes
(9)

Passover Recipes
(44)

Lag Ba'omer Recipes
(6)

Shavuot Recipes
(24)

Shabbat Recipes
(34)
Cookbook Library

New Releases

Jewish Classics

Other Favorites
Kitchen Gadgets

Essentials

Small Appliances
Chef Of The Week

Barbara Williamson
Congratulations to our chef of the week.