(Gluten-free) Pasta with Sun-Dried Tomatoes and Roasted Broccoli Rabe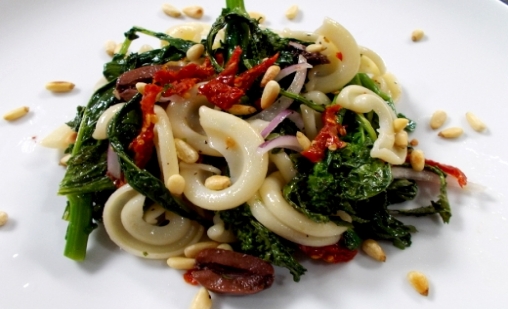 Whew. This is salad number 5 of the recipes my sister and I were playing with last week. Whittling away at the piles of ingredients we purchased, I'm down to a few simple ingredients. We've managed to confuse ourselves between a couple of the recipes. Nothing appears as the recipes opened in books before us and this salad is no different. I stare at a photo of farfalle (bowtie) pasta with sun-dried tomatoes and spinach.
I'm using a corn and rice pasta shaped like my daughter's ears minus the 3 piercings. I'm not thrilled about that issue but the pasta tastes great. Again, these gluten-free pastas don't get better overnight in the refrigerator. In fact, make the pasta just before serving unless you use traditional pasta. It is way, way better.
I taste roasted broccoli rabe earlier in the week and enjoy the bitterness. It's a good alternative to spinach. Sticking with only the pine nuts and sun-dried tomatoes afraid of heading down my Mediterranean Pasta Salad route again.
There are only a few ingredients in this salad, none a vinegar. Fresh oregano, olive oil, chopped chili pepper and garlic offer a flavor profile. A sprinkle of balsamic vinegar or fresh lemon juice before serving is a good idea to give the salad some pop. It's simple, uncomplicated and I like it. A great salad to play wingman to the main entree.
Kosher Status:
Parve
Number of servings:
8 - 10 servings
Main Ingredient(s):
Pasta
Preparation Time:
00:30
Cooking Time:
00:08
Skill Level:
1 - Easy

(1 Easy - 5 Hard)

Estimated POINT value:


Ingredients:


1 pound gluten-free or regular pasta

3 scallions, cut on the bias

1 3/4 oz. sun-dried tomatoes, sliced into thin strips

1 pound broccoli rabe

1/3 cup toasted pine nuts

1 tablespoon fresh oregano, finely chopped

1/4 cup olive oil + more for roasting broccoli rabe

1 teaspoon fresh chopped chili, or to taste

1 clove garlic, minced


Steps:


| | |
| --- | --- |
| | Boil the pasta as per manufacturer's directions until just tender. Drain, rinse in cool water, drain and put into a bowl. Toss a little olive oil into the pasta and toss. Set aside. If using gluten-free, make the pasta the day you are using it otherwise it will get gritty. |
| | |
| --- | --- |
| | Put the pine nuts into a small saute pan over a medium high heat. Toast until light golden brown. Remove from the heat and add to the pasta. |
| | |
| --- | --- |
| | Wash and check the broccoli rabe. Lay in single layer on baking sheet. Drizzle with olive oil and sprinkle with salt and pepper. |
| | |
| --- | --- |
| | Roast the broccoli rabe in a hot, 375' F oven until wilted and tender. Set aside to cool then cut in half across the stalks. Add to the pasta. |
Prep the sun-dried tomatoes and oregano and add to pasta.

Make the dressing by combining the remaining the ingredients. Whisk to mix well. Add to the pasta and vegetables and toss. Adjust seasoning, add a dash of balsamic vinegar or lemon juice if desired. Serve at room temperature.


Recently viewed recipes:



(Gluten-free) Pasta with Sun-Dried Tomatoes and Roasted Broccoli Rabe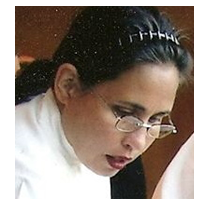 About Leah
Hi! Thank you for stopping by to watch me, Leah, cook kosher. I've been the owner operator of my boutique catering firm in Seattle, Leah's Catering, for the past 14 years.
Read more...
Leah's Blog

Aviva Makes Aliyah and The Sandwich Generation

Happy Chinese New Year! Happy Super Bowl! Go Hawks!

Tradition! Fun with the Seattle International Film Festival

Where Have I Been in My Life???

Making Kosher Salads

Blog Categories
Leah's Kosher Pantry

View what is in the pantry
Recipes

Appetizers
(44)

Appetizers - Dips and Sauces
(11)

Appetizers - Starter Courses
(10)

Beverages - Cold
(1)

Breads - Yeast
(10)

Breakfast Pastries
(7)

Dessert - Frostings
(6)

Desserts - Cakes
(13)

Desserts - Cookies and Brownies
(29)

Desserts - Dairy
(42)

Desserts - Pareve
(71)

Desserts - Pies and Tarts
(14)

Desserts - Tea Breads, Quick Breads
(8)

Desserts and Baked Goods - Gluten Free
(18)

Main Dish - Beef
(7)

Main Dish - Dairy
(3)

Main Dish - Eggs and Fritattas
(6)

Main Dish - Fish
(11)

Main Dish - Poultry
(14)

Main Dish - Vegetarian and Vegan
(9)

Salads - Dressing
(8)

Salads - Fruit
(4)

Salads - Grains & Legumes
(7)

Salads - Green
(1)

Salads - Pasta and Rice
(10)

Salads - Potatoes and Eggs
(5)

Salads - Vegetable
(15)

Side Dishes - Kugels and Souffles
(7)

Side Dishes - Potatoes and Vegetables
(17)

Side Dishes - Rice, Grains and Pasta
(7)

Soups, Stews and Cholent
(9)
Special Considerations

Dairy-Free Recipes
(230)

Gluten-Free Recipes
(134)

High Fiber Recipes
(18)

Low-fat Recipes
(11)

Nut-Free Desserts Recipes
(48)

Vegan Recipes
(101)

Vegetarian Recipes
(207)
Holidays

Rosh Hashana Recipes
(23)

Yom Kippur Recipes
(3)

Sukkot Recipes
(26)

Simchat Torah Recipes
(9)

Chanukah Recipes
(20)

Tu B'shevat Recipes
(16)

Purim Recipes
(9)

Passover Recipes
(44)

Lag Ba'omer Recipes
(6)

Shavuot Recipes
(24)

Shabbat Recipes
(34)
Cookbook Library

New Releases

Jewish Classics

Other Favorites
Kitchen Gadgets

Essentials

Small Appliances
Chef Of The Week

Barbara Williamson
Congratulations to our chef of the week.