Szechuan Gluten-free Quinoa Noodles (or regular pasta)

My sister Leilani, one of four sisters who are fabulous cooks, agrees to spend the day with me playing in the kitchen. The post-Passover lull has been a respite from catering deadlines and the accompanying barking of orders. I don't miss the sound of my own voice. It hasn't been a break from events on the horizon, events needing paperwork and new menus. The weather doesn't help to put me in a summer food mode and I procrastinate. Yes, an intervention is necessary - writer's block, cooking block - not a good thing!
Lani and I turn our attention to my hundreds of cookbooks. Salads, I want to make salads. I want to make vegetable salads, new pasta salads, a potato salad. Browsing cookbooks, my sister asks if I like scallops. She isn't Jewish and doesn't know that shellfish is off the list. Yeah, that bacon and cheese concoction is sort of off the list, too. What isn't forbidden is not available kosher certified, around here anyway. Champagne vinegar, sherry vinegar, hot chili oil.........
Toss in the fact that we are going to make use of these salads at our mother's gluten-free, dairy-free, and egg-free birthday party. This recipe fails the final hurdle, nut-free. Too bad, because with some work and a huge list of ingredients, we get a good pasta salad made. I use gluten and corn free quinoa pasta. The biggest issue is that this type of pasta has to be eaten soon after cooking. Refrigerated leftovers are only for those who's life depends upon it. That said, prepped veggies and dressing made in advance make for easy last minute assembly.
The original recipe, gleaned from "The Barefoot Contessa Cookbook", calls for 1/2 teaspoon hot chili oil. I can't find any kosher and no, I'm not going to make 1/2 teaspoon...that is up there with milking the cow. Finally, I remember the secret addition to my Asian noodle salad (posted on this website), San-J's Hot and Spicy Szechuan Sauce. I add enough to give the peanut and tehini base a pop. I'm not a fan of peanut, tehini or hot and spicy but this salad is really nice. The dressing would be a good dip for chicken satay, too.
Originally calling for only bell peppers and green onions, sugar snap peas, asparagus, green beans, fried tofu cutlets would be good additions. A friend suggests honey roasted peanuts for sweetened crunch. Yes, the best cure for cooking-block is to just get in the kitchen and cook. Solves the writing block issue, too, when you have a website to post ideas.
Kosher Status:
Parve
Number of servings:
8 - 10
Main Ingredient(s):
Pasta
Preparation Time:
00:30
Cooking Time:
00:14
Skill Level:
1 - Easy

(1 Easy - 5 Hard)

Estimated POINT value:
Average Rating:
5/5


Ingredients:


6 garlic cloves, chopped (about 2 tablespoons)

1/4 cup fresh ginger, peeled and chopped

1/2 cup vegetable oil

1/2 cup tahini (sesame paste)

1/2 cup smooth peanut butter

1/2 cup gluten-free tamari

1/4 cup red wine vinegar

1/4 cup honey

1/4 cup San-J Hot and Spicy Szechan Sauce

2 tablespoons toasted sesame oil

1/2 teaspoon black pepper

1/8 teaspoon cayenne pepper

1 pound spaghetti (gluten-free or not)

1 red pepper, julienned

1 yellow pepper, julienned

4 scallions, sliced on the bias - white and green parts


Steps:


| | |
| --- | --- |
| | Cook the pasta as per the package instuctions until just done. Drain and rinse, place into a large bowl and toss with a drop of oil. If you want to serve this dish hot, do the pasta last. Otherwise, cover and set aside. |
| | |
| --- | --- |
| | Slice the seeded yellow and red bell peppers very thinly. Set aside. |
| | |
| --- | --- |
| | Slice the green onions, white and green parts, on a long bias. Set aside. |
Put all the remaining ingredients into a food processor and blend until smooth.

Add enough dressing to the pasta to coat. You may have more than you need but the pasta will absorb it. This gives you extra if you need to add more. Add vegetables and toss well. Serve immediately. It is best to assemble this salad before serving. Store separately in the refrigerator and toss at the last minute.


Recently viewed recipes:



Szechuan Gluten-free Quinoa Noodles (or regular pasta)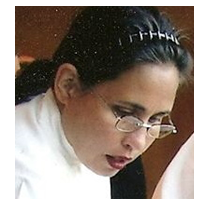 About Leah
Hi! Thank you for stopping by to watch me, Leah, cook kosher. I've been the owner operator of my boutique catering firm in Seattle, Leah's Catering, for the past 14 years.
Read more...
Leah's Blog

Aviva Makes Aliyah and The Sandwich Generation

Happy Chinese New Year! Happy Super Bowl! Go Hawks!

Tradition! Fun with the Seattle International Film Festival

Where Have I Been in My Life???

Making Kosher Salads

Blog Categories
Leah's Kosher Pantry

View what is in the pantry
Recipes

Appetizers
(44)

Appetizers - Dips and Sauces
(11)

Appetizers - Starter Courses
(10)

Beverages - Cold
(1)

Breads - Yeast
(10)

Breakfast Pastries
(7)

Dessert - Frostings
(6)

Desserts - Cakes
(13)

Desserts - Cookies and Brownies
(29)

Desserts - Dairy
(42)

Desserts - Pareve
(71)

Desserts - Pies and Tarts
(14)

Desserts - Tea Breads, Quick Breads
(8)

Desserts and Baked Goods - Gluten Free
(18)

Main Dish - Beef
(7)

Main Dish - Dairy
(3)

Main Dish - Eggs and Fritattas
(6)

Main Dish - Fish
(11)

Main Dish - Poultry
(14)

Main Dish - Vegetarian and Vegan
(9)

Salads - Dressing
(8)

Salads - Fruit
(4)

Salads - Grains & Legumes
(7)

Salads - Green
(1)

Salads - Pasta and Rice
(10)

Salads - Potatoes and Eggs
(5)

Salads - Vegetable
(15)

Side Dishes - Kugels and Souffles
(7)

Side Dishes - Potatoes and Vegetables
(17)

Side Dishes - Rice, Grains and Pasta
(7)

Soups, Stews and Cholent
(9)
Special Considerations

Dairy-Free Recipes
(230)

Gluten-Free Recipes
(134)

High Fiber Recipes
(18)

Low-fat Recipes
(11)

Nut-Free Desserts Recipes
(48)

Vegan Recipes
(101)

Vegetarian Recipes
(207)
Holidays

Rosh Hashana Recipes
(23)

Yom Kippur Recipes
(3)

Sukkot Recipes
(26)

Simchat Torah Recipes
(9)

Chanukah Recipes
(20)

Tu B'shevat Recipes
(16)

Purim Recipes
(9)

Passover Recipes
(44)

Lag Ba'omer Recipes
(6)

Shavuot Recipes
(24)

Shabbat Recipes
(34)
Cookbook Library

New Releases

Jewish Classics

Other Favorites
Kitchen Gadgets

Essentials

Small Appliances
Chef Of The Week

Barbara Williamson
Congratulations to our chef of the week.