French Potato Salad with Asparagus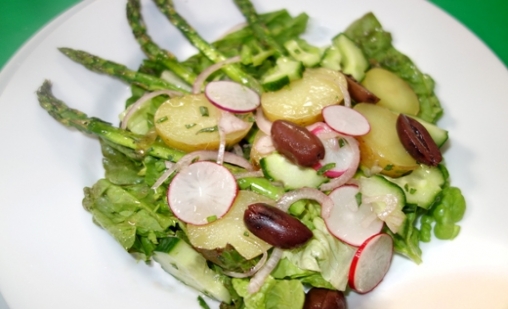 I notice this recipe, or rather one similar, in a magazine about grilling. It is a chopped mixture that reminds me of salad Nicoise. I think that is cool; dressing down the elegance of the traditional to a backyard variant of a green salad. Now that I sit to upload the recipe, I realize my photo doesn't resemble the magazine photo. Sometime between not having enough green beans and wanting to omit the chopped egg, I steer back toward the formal composition of the salad Nicoise with asparagus as the backdrop.
Sigh. The ingredients are different from my usual salad Nicoise. And, tossing everything together with chopped romaine does come closer to the original magazine recipe. In this form, not only ahi tuna, but grilled salmon and halibut are a natural pairing. Toss in a large bowl, it is casual outdoor dining with a fine china quality. I like the light, crisp cucumber with the well dressed roasted potatoes. The crunchy heat of the radish contrasts with the salty bitterness of the Kalamata olives. Fresh tarragon and a hint of Dijon mustard reminds me of a French countryside picnic....like I've ever been!
Some of these salads I make today are lighter on the acid. Other flavors take the driver's seat. It is spring, as least the calendar says so, and I want to lighten up. This is a way to get potato salad on the menu in a unique form.
Kosher Status:
Parve
Number of servings:
6 - 8 servings
Main Ingredient(s):
Potatoes - Yukon Gold
Preparation Time:
00:30
Cooking Time:
00:20
Skill Level:
1 - Easy

(1 Easy - 5 Hard)

Estimated POINT value:
Average Rating:
5/5


Ingredients:


8 oz yellow-flesh tiny new potatoes

1 pound asparagus

2 tablespoons red wine vinegar

2 tablespoons olive oil

1 tablespoon tarragon

1 teaspoon honey

1 teaspoon Dijon mustard

1/4 teaspoon salt

1/4 teaspoon pepper

4 cups chopped romaine

1/2 cup chopped English cucumber

1/4 cup pitted Kalamata olives, halved

4 radishes, thinly sliced

2 tablespoons shallots, thinly sliced


Steps:


| | |
| --- | --- |
| | Wash and check the tarragon, set aside. |
| | |
| --- | --- |
| | If the asparagus is large, peel the stalks removing the triangles. Soak, wash and rinse well. Set aside on paper towels. |
| | |
| --- | --- |
| | Place the aspargus onto a jelly roll pan. Drizzle with olive oil and sprinkle with salt and pepper. Roast at 400'F for 3 - 5 minutes until just tender. |
| | |
| --- | --- |
| | Wash the potatoes. Toss with a little olive oil and salt and pepper. Place onto a baking sheet and roast until just tender. Remove from the oven and cool slightly. |
| | |
| --- | --- |
| | Make the dressing by adding the vinegar, olive oil, snipped tarragon, honey, mustard, salt and pepper into a bowl and whisk. Slice the warm potatoes and add. Add the thinly sliced shallots. Cut the asparagus into 3" lengths if you are making a bowl of chopped salad. |
If you want to make a bowl of salad, chop the romaine and add to the bowl. Add remaining ingredients and toss gently.

If you want to compose a salad, place a bed of romaine onto the plates. Lay a few asparagus stalks on the lettuce, and top with the potato mixture.


Recently viewed recipes:



French Potato Salad with Asparagus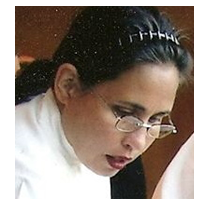 About Leah
Hi! Thank you for stopping by to watch me, Leah, cook kosher. I've been the owner operator of my boutique catering firm in Seattle, Leah's Catering, for the past 14 years.
Read more...
Leah's Blog

Aviva Makes Aliyah and The Sandwich Generation

Happy Chinese New Year! Happy Super Bowl! Go Hawks!

Tradition! Fun with the Seattle International Film Festival

Where Have I Been in My Life???

Making Kosher Salads

Blog Categories
Leah's Kosher Pantry

View what is in the pantry
Recipes

Appetizers
(44)

Appetizers - Dips and Sauces
(11)

Appetizers - Starter Courses
(10)

Beverages - Cold
(1)

Breads - Yeast
(10)

Breakfast Pastries
(7)

Dessert - Frostings
(6)

Desserts - Cakes
(13)

Desserts - Cookies and Brownies
(29)

Desserts - Dairy
(42)

Desserts - Pareve
(71)

Desserts - Pies and Tarts
(14)

Desserts - Tea Breads, Quick Breads
(8)

Desserts and Baked Goods - Gluten Free
(18)

Main Dish - Beef
(7)

Main Dish - Dairy
(3)

Main Dish - Eggs and Fritattas
(6)

Main Dish - Fish
(11)

Main Dish - Poultry
(14)

Main Dish - Vegetarian and Vegan
(9)

Salads - Dressing
(8)

Salads - Fruit
(4)

Salads - Grains & Legumes
(7)

Salads - Green
(1)

Salads - Pasta and Rice
(10)

Salads - Potatoes and Eggs
(5)

Salads - Vegetable
(15)

Side Dishes - Kugels and Souffles
(7)

Side Dishes - Potatoes and Vegetables
(17)

Side Dishes - Rice, Grains and Pasta
(7)

Soups, Stews and Cholent
(9)
Special Considerations

Dairy-Free Recipes
(230)

Gluten-Free Recipes
(134)

High Fiber Recipes
(18)

Low-fat Recipes
(11)

Nut-Free Desserts Recipes
(48)

Vegan Recipes
(101)

Vegetarian Recipes
(207)
Holidays

Rosh Hashana Recipes
(23)

Yom Kippur Recipes
(3)

Sukkot Recipes
(26)

Simchat Torah Recipes
(9)

Chanukah Recipes
(20)

Tu B'shevat Recipes
(16)

Purim Recipes
(9)

Passover Recipes
(44)

Lag Ba'omer Recipes
(6)

Shavuot Recipes
(24)

Shabbat Recipes
(34)
Cookbook Library

New Releases

Jewish Classics

Other Favorites
Kitchen Gadgets

Essentials

Small Appliances
Chef Of The Week

Barbara Williamson
Congratulations to our chef of the week.