Snow Peas and Edamame with Tarragon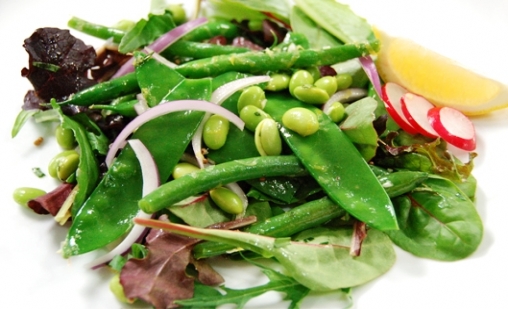 This salad is inspired by Yotam Ottolenghi's "Plenty", a beautiful vegetarian cookbook. The photos are vibrant and inspiring. My oldest daughter, Rebekah, born before my conversion, is a bit of a foodie and always eager to share new food experiences. She's given me this book, along with "Jerusalem", so spark my imagination.
In honor of my mother's 84th birthday, a gluten-free, egg-free, dairy-free celebration, I've brought an assortment of my salad experiments. Rebekah, looks at this salad and says, "Hmm, reminds me of a picture I've seen in 'Plenty'." So, if mimicking is a form of flattery, I take recognizing a counterfit as a compliment. The cookbook version is made from haricort verte, snow peas, and peas with nigella seeds (good luck finding those!). My version is haricort verte, snow peas, edamame and black sesame seeds. Of course, while taking the picture, I didn't have black sesame seeds on hand. They do add a finishing touch when serving the salad.
The salad has a fresh, crisp taste enhanced with coriander seeds, mustard seeds, mild chili and tarragon. There is lemon zest but no addition of any acid - the temptation is to want some lemon juice. I add the lemon wedge on the side. If I squeeze lemon juice onto the salad in advance of serving, I'll loose the vibrant green colors of the beans. I served this salad 2 days after making it; keeping the bean mixture separate of the greens. It looked beautiful and fresh as the day I made it. In the catering world, in the Shabbat and 2 day holiday world, this is a big plus.
I used baby field greens as the base of this salad. Without the greens, it is an interesting 3 bean salad of sorts.....add cubes of tofu cutlet and you have a different animal.
Kosher Status:
Parve
Number of servings:
10 - 12 servings
Main Ingredient(s):
Preparation Time:
00:30
Cooking Time:
00:05
Skill Level:
1 - Easy

(1 Easy - 5 Hard)

Estimated POINT value:


Ingredients:


1 1/4 cup haricort verte, trimmed (or green beans)

2 1/4 cup snow peas, trimmed

1 3/4 cups frozen edamame

2 teaspoons coriander seeds, roughly crushed with mortar and pestle

1 teaspoon mustard seeds

3 tablespoons olive oil

1/2 small red onion, slivered from top to bottom

1 mild fresh red chili, seeded and finely chopped

1 garlic clove

zest of lemon oil

2 tablespoon chopped tarragon

salt to taste

Mixed baby field greens (optional)


Steps:


| | |
| --- | --- |
| | Wash and trim the beans. |
| | |
| --- | --- |
| | Bring a small sauce pan of water to a boil. Add the green beans and blanch for about 4 minutes. Remove the beans from the water and put them into a bowl of ice water. This stops the cooking and crisps the beans. |
| | |
| --- | --- |
| | Boil more water and repeat the previous step with the snow peas except cook for only 1 minute. I tossed the edamame into the water with halfway through the cooking time. Strain and place into iced water to refresh. Drain again. |
| | |
| --- | --- |
| | Toss the beans, snow peas and edamame into a large bowl. Set aside. |
| | |
| --- | --- |
| | To make the dressing, put the olive oil into a small sauce pan and heat. Add the mustard seeds and coriander seeds, cover. When the seeds begin to pop, remove from the heat and pour over the bean mixture. |
| | |
| --- | --- |
| | Add all the remaining ingredients. |
| | |
| --- | --- |
| | Toss and taste, adjust salt. Serve on baby greens or as is. |


Recently viewed recipes:



Snow Peas and Edamame with Tarragon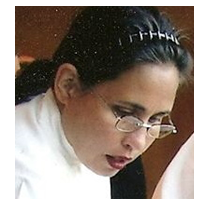 About Leah
Hi! Thank you for stopping by to watch me, Leah, cook kosher. I've been the owner operator of my boutique catering firm in Seattle, Leah's Catering, for the past 14 years.
Read more...
Leah's Blog

Aviva Makes Aliyah and The Sandwich Generation

Happy Chinese New Year! Happy Super Bowl! Go Hawks!

Tradition! Fun with the Seattle International Film Festival

Where Have I Been in My Life???

Making Kosher Salads

Blog Categories
Leah's Kosher Pantry

View what is in the pantry
Recipes

Appetizers
(44)

Appetizers - Dips and Sauces
(11)

Appetizers - Starter Courses
(10)

Beverages - Cold
(1)

Breads - Yeast
(10)

Breakfast Pastries
(7)

Dessert - Frostings
(6)

Desserts - Cakes
(13)

Desserts - Cookies and Brownies
(29)

Desserts - Dairy
(42)

Desserts - Pareve
(71)

Desserts - Pies and Tarts
(14)

Desserts - Tea Breads, Quick Breads
(8)

Desserts and Baked Goods - Gluten Free
(18)

Main Dish - Beef
(7)

Main Dish - Dairy
(3)

Main Dish - Eggs and Fritattas
(6)

Main Dish - Fish
(11)

Main Dish - Poultry
(14)

Main Dish - Vegetarian and Vegan
(9)

Salads - Dressing
(8)

Salads - Fruit
(4)

Salads - Grains & Legumes
(7)

Salads - Green
(1)

Salads - Pasta and Rice
(10)

Salads - Potatoes and Eggs
(5)

Salads - Vegetable
(15)

Side Dishes - Kugels and Souffles
(7)

Side Dishes - Potatoes and Vegetables
(17)

Side Dishes - Rice, Grains and Pasta
(7)

Soups, Stews and Cholent
(9)
Special Considerations

Dairy-Free Recipes
(230)

Gluten-Free Recipes
(134)

High Fiber Recipes
(18)

Low-fat Recipes
(11)

Nut-Free Desserts Recipes
(48)

Vegan Recipes
(101)

Vegetarian Recipes
(207)
Holidays

Rosh Hashana Recipes
(23)

Yom Kippur Recipes
(3)

Sukkot Recipes
(26)

Simchat Torah Recipes
(9)

Chanukah Recipes
(20)

Tu B'shevat Recipes
(16)

Purim Recipes
(9)

Passover Recipes
(44)

Lag Ba'omer Recipes
(6)

Shavuot Recipes
(24)

Shabbat Recipes
(34)
Cookbook Library

New Releases

Jewish Classics

Other Favorites
Kitchen Gadgets

Essentials

Small Appliances
Chef Of The Week

Barbara Williamson
Congratulations to our chef of the week.