Tri-colored Quinoa with Garbanzo Beans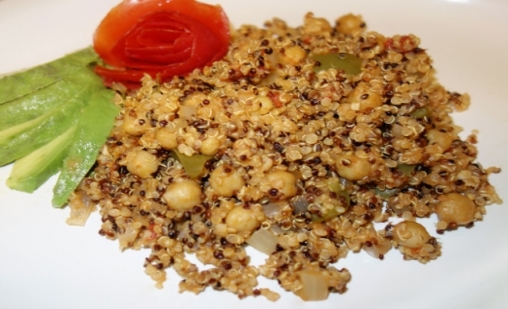 I need a quinoa side dish for a client that isn't too heavily sauced. They also want something with garbanzo beans, chickpeas, as they are sometimes called. The menu for 10 is already extensive. I want to roll this request into one dish that will complement the meat and chicken already prepared. I think of a wrap we make with bulgur wheat and chickpeas. A little tweaking of the recipe should give me what I want.
Three days out of Passover, this small dinner and another shiva meal, aren't enough to stress me into adrenaline over drive. Working through the baking of challah shaped liked keys, chocolate chip cookies and strawberry rhubarb tarts, I realize I need to hustle. Throwing pots onto the stove, I soon have wild rice, basmati rice, vegetable soup and quinoa on the burners. Making Shabbat so soon after Passover ends nudges me out of my vacation dreaming reverie. Riding the last wave out of Egypt with the rest of those in the food service industry, I'm imagining a desert oasis, palm trees, maybe a fruity cocktail. Benoit hands me chopped garlic and onions; we are definitely not wandering the desert.
This quinoa dish is simple and I like it. The "hero" of this story, what the photo above is referred to, doubles as my breakfast this morning. Two days since it was made, it needs a little more salt, a little more cumin and I'm thinking a little cilantro, some sweet corn kernels and a splash of lime. Yep, I thinking south of the border........way south with some grilled beef, chicken or fish chimichurri!
Kosher Status:
Parve
Number of servings:
6 - 8
Main Ingredient(s):
Quinoa
Preparation Time:
00:20
Cooking Time:
00:20
Skill Level:
1 - Easy

(1 Easy - 5 Hard)

Estimated POINT value:


Ingredients:


1 large onion, diced (about 1 1/2 - 2 cups)

1 large green bell pepper, cored and diced

2 teaspoons minced garlic

3 tablespoons olive oil

1 teaspoon cumin (more to taste)

2 cups tri-colored quinoa

1 x 14 oz. canned crushed tomatoes

1 x 15 oz. canned chickpeas + water to make 3 1/2 cups

2 - 3 tablespoons lemon or lime juice (optional)

2 - 3 tablespoons fresh chopped cilantro

1/2 cup sweet corn kernels (optional)

salt and pepper to taste


Steps:


In a large sauce pan, heat the olive oil. Add the onion, green pepper, garlic and cumin. Stir occasionally until the onion is clear and tender, about 5 minutes.

Add the quinoa, tomato and water, and salt. Stir in the chickpeas. Cover, bring to boil and then turn down the heat to low to gently steam the quinoa. When the water is absorbed, gently toss the mixture. Turn off the heat and add the corn. Return the lid and let steam until the quinoa is tender. If you need a little more liquid, add more water.

Before serving, adjust the salt and add lemon juice and cilantro. Serve hot or at room temperature.


Recently viewed recipes:



Tri-colored Quinoa with Garbanzo Beans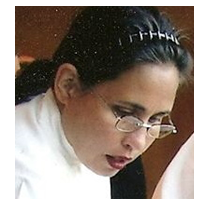 About Leah
Hi! Thank you for stopping by to watch me, Leah, cook kosher. I've been the owner operator of my boutique catering firm in Seattle, Leah's Catering, for the past 14 years.
Read more...
Leah's Blog

Aviva Makes Aliyah and The Sandwich Generation

Happy Chinese New Year! Happy Super Bowl! Go Hawks!

Tradition! Fun with the Seattle International Film Festival

Where Have I Been in My Life???

Making Kosher Salads

Blog Categories
Leah's Kosher Pantry

View what is in the pantry
Recipes

Appetizers
(44)

Appetizers - Dips and Sauces
(11)

Appetizers - Starter Courses
(10)

Beverages - Cold
(1)

Breads - Yeast
(10)

Breakfast Pastries
(7)

Dessert - Frostings
(6)

Desserts - Cakes
(13)

Desserts - Cookies and Brownies
(29)

Desserts - Dairy
(42)

Desserts - Pareve
(71)

Desserts - Pies and Tarts
(14)

Desserts - Tea Breads, Quick Breads
(8)

Desserts and Baked Goods - Gluten Free
(18)

Main Dish - Beef
(7)

Main Dish - Dairy
(3)

Main Dish - Eggs and Fritattas
(6)

Main Dish - Fish
(11)

Main Dish - Poultry
(14)

Main Dish - Vegetarian and Vegan
(9)

Salads - Dressing
(8)

Salads - Fruit
(4)

Salads - Grains & Legumes
(7)

Salads - Green
(1)

Salads - Pasta and Rice
(10)

Salads - Potatoes and Eggs
(5)

Salads - Vegetable
(15)

Side Dishes - Kugels and Souffles
(7)

Side Dishes - Potatoes and Vegetables
(17)

Side Dishes - Rice, Grains and Pasta
(7)

Soups, Stews and Cholent
(9)
Special Considerations

Dairy-Free Recipes
(230)

Gluten-Free Recipes
(134)

High Fiber Recipes
(18)

Low-fat Recipes
(11)

Nut-Free Desserts Recipes
(48)

Vegan Recipes
(101)

Vegetarian Recipes
(207)
Holidays

Rosh Hashana Recipes
(23)

Yom Kippur Recipes
(3)

Sukkot Recipes
(26)

Simchat Torah Recipes
(9)

Chanukah Recipes
(20)

Tu B'shevat Recipes
(16)

Purim Recipes
(9)

Passover Recipes
(44)

Lag Ba'omer Recipes
(6)

Shavuot Recipes
(24)

Shabbat Recipes
(34)
Cookbook Library

New Releases

Jewish Classics

Other Favorites
Kitchen Gadgets

Essentials

Small Appliances
Chef Of The Week

Barbara Williamson
Congratulations to our chef of the week.