Grandmother Sarah Mozersky's Farfel Puffs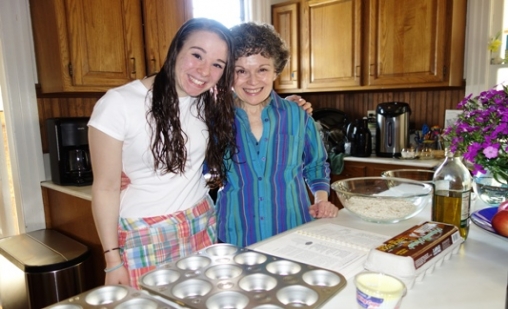 I have another question; how is this year different from all other years? We started the Passover kashering on March 10th, prep on March 13th, put the equipment back in storage on Friday and kashered the kitchen this morning. Done. Professionally, I'm done. I've fed about 1500 people, sat at seder, had Shabbat guests, and I'm sane; calm. Part of me thinks I should knock out a few recipes for the website. The more reasonable side of me drives a few 'catering overruns' to my friend Susan Marshall's where I'm having dinner tonight. Her home is spotless, Barry is gardening, Seattle weather cooperates with sun-shining glory. Too many answers to how this year is different from all others!
Walking into Susan's kitchen, she has mise en place for making something using muffin cups. I quickly realize that I can just sit and take pictures of Susan making something and post it on my website. Pulling my camera from my purse, I grab a stool and make myself at home (yet again). I coax a smile out of Susan with a mother and daughter, Laurel, shot. They smile, I smile and take pictures. Somebody else is doing the work ~ whoo-hoo, boo-ya, yesssss, or whatever else is said these days!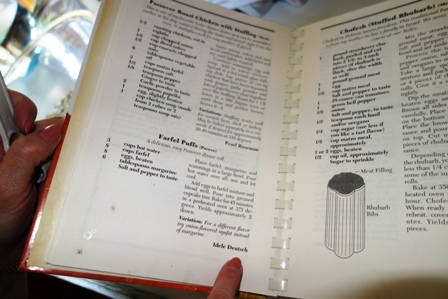 Susan has "California Kosher" open on the counter to the page featuring "Farfel Puffs". She says that she is making her grandmother's recipe. I'm confused until I remember that the spiral bound book is "A Collection of Recipes form the Women's League of Adat Ari El Synagogue, North Hollywood, California". I have this book but don't remember ever using it. This is really turning into a fortuitous visit. I ask if the noted contributor, Idele Deutsch, is her grandmother.
Nope, Idele Deutsch is Sarah Mozersky's daughter-in-law's sister (something like that, anyway - I lost track). This recipe is family legend with widespread appeal. I only assumed that Susan wouldn't mind sharing it! Yes, even wider spread appeal.
I stayed long enough to watch Susan assemble and scoop the puffs. Going about the rest of my errands, she is kind enough to send me a photo using her phone. I won't describe the taste until after yontif!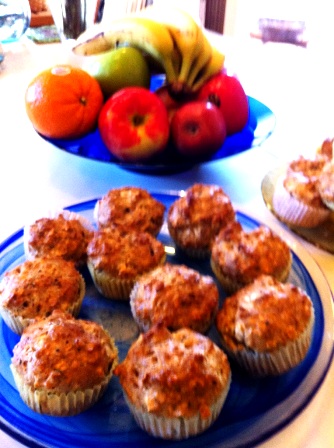 Kosher Status:
Parve
Number of servings:
Make 24 muffins
Main Ingredient(s):
Eggs
Preparation Time:
00:20
Cooking Time:
00:45
Skill Level:
1 - Easy

(1 Easy - 5 Hard)

Estimated POINT value:


Ingredients:


3 cups boiling water

8 cups farfel (broken matzoh bits, about the size of cornflakes)

8 eggs, beaten

6 tablespoons melted margarine (Susan uses olive oil)

salt and pepper to taste (I'd go with 1 1/2 teaspoons salt and 1/2 teaspoon pepper)
Optional ideas: Add sauteed mushrooms, celery, parsley - whatever!


Steps:


Preheat the oven to 375' F.

Line the muffin cups with paper liners. Set aside.

In a large bowl, combine the farfel, olive oil or margarine, salt and pepper.

Add the hot water, mix well and set aside to cool.

Check the eggs and add them to another large bowl. Add to the cooled mixture and mix well.
| | |
| --- | --- |
| | Scoop the mixture evenly into 24 muffin cups. They will puff up considerably. Bake until golden brown, about 45 minutes. |


Recently viewed recipes:



Grandmother Sarah Mozersky's Farfel Puffs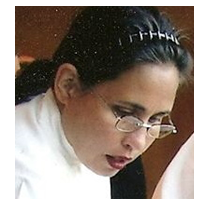 About Leah
Hi! Thank you for stopping by to watch me, Leah, cook kosher. I've been the owner operator of my boutique catering firm in Seattle, Leah's Catering, for the past 14 years.
Read more...
Leah's Blog

Aviva Makes Aliyah and The Sandwich Generation

Happy Chinese New Year! Happy Super Bowl! Go Hawks!

Tradition! Fun with the Seattle International Film Festival

Where Have I Been in My Life???

Making Kosher Salads

Blog Categories
Leah's Kosher Pantry

View what is in the pantry
Recipes

Appetizers
(44)

Appetizers - Dips and Sauces
(11)

Appetizers - Starter Courses
(10)

Beverages - Cold
(1)

Breads - Yeast
(10)

Breakfast Pastries
(7)

Dessert - Frostings
(6)

Desserts - Cakes
(13)

Desserts - Cookies and Brownies
(29)

Desserts - Dairy
(42)

Desserts - Pareve
(71)

Desserts - Pies and Tarts
(14)

Desserts - Tea Breads, Quick Breads
(8)

Desserts and Baked Goods - Gluten Free
(18)

Main Dish - Beef
(7)

Main Dish - Dairy
(3)

Main Dish - Eggs and Fritattas
(6)

Main Dish - Fish
(11)

Main Dish - Poultry
(14)

Main Dish - Vegetarian and Vegan
(9)

Salads - Dressing
(8)

Salads - Fruit
(4)

Salads - Grains & Legumes
(7)

Salads - Green
(1)

Salads - Pasta and Rice
(10)

Salads - Potatoes and Eggs
(5)

Salads - Vegetable
(15)

Side Dishes - Kugels and Souffles
(7)

Side Dishes - Potatoes and Vegetables
(17)

Side Dishes - Rice, Grains and Pasta
(7)

Soups, Stews and Cholent
(9)
Special Considerations

Dairy-Free Recipes
(230)

Gluten-Free Recipes
(134)

High Fiber Recipes
(18)

Low-fat Recipes
(11)

Nut-Free Desserts Recipes
(48)

Vegan Recipes
(101)

Vegetarian Recipes
(207)
Holidays

Rosh Hashana Recipes
(23)

Yom Kippur Recipes
(3)

Sukkot Recipes
(26)

Simchat Torah Recipes
(9)

Chanukah Recipes
(20)

Tu B'shevat Recipes
(16)

Purim Recipes
(9)

Passover Recipes
(44)

Lag Ba'omer Recipes
(6)

Shavuot Recipes
(24)

Shabbat Recipes
(34)
Cookbook Library

New Releases

Jewish Classics

Other Favorites
Kitchen Gadgets

Essentials

Small Appliances
Chef Of The Week

Barbara Williamson
Congratulations to our chef of the week.