Quinoa Treats (gluten-free and non-gebrokts)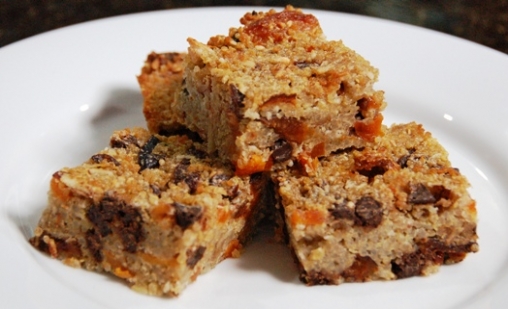 For my Passover baking demonstration a couple weeks back, I have this idea that I want to make some sort of quinoa cookie. Thinking of my toasted oatmeal cookie recipe, I figure I can wing it and start throwing things into a pot and other ingredients into a bowl. I have limited time and the process is not working exactly as I think it will. Toasting the quinoa in margarine raw doesn't soften the quinoa. The distinct stuck-in-my-teeth texture isn't right. I add water trying to soften the quinoa; not really working. I shrug and keep going.
Limited by the ingredients at hand because I haven't done any specific shopping, I add a few dried fruits that I know are available kosher for Passover. One of my chefs, Daniel, walks by the table where I'm frantically adding this and that and asks, "What is this? "Chopped?" The long running TV competition where contestants dream up creations with baskets of surprise ingredients within time constraints is a favorite of mine. But, no, this is not "Chopped", this is I have to give a presentation in an hour!
I bake off the cookie mixture. Tasting them, we think they are close. The quinoa is still a little crunchy but oh well. I had pondered baking the batter into a pan for bar cookies. That would have been better. That said, I have to go. I take them with me to the demonstration. Flanked by other baked goods, I figure I can explain my work in progress. Surprise, surprise ~ everyone wants to know what they are and where the recipe is. Finally, today I have a chance to whip up another batch.
I cooked the quinoa first this time. I think that I recommend cooking it with less water than required and for a shorter time. Having the quinoa a bit al dente leaves more texture. I added mini marshmallows and they melted so I wouldn't run out and buy any. If you like more nuts, add more nuts. They would give a bit more texture. All in all, a nice little protein hit with a trail mix touch. A great way to start the day!
Kosher Status:
Dairy-Parve
Number of servings:
9 x 13 pan, 24 squares
Main Ingredient(s):
Quinoa
Preparation Time:
00:20
Cooking Time:
00:15
Skill Level:
1 - Easy

(1 Easy - 5 Hard)

Estimated POINT value:
Average Rating:
5/5


Ingredients:


2 cups quinoa

3 cups of water

1/2 cup unsalted butter or margarine

1/2 cup brown sugar

2 eggs

3/4 cup potato starch

1 teaspoon vanilla

1 teaspoon cinnamon

1/2 teaspoon salt

1/2 cup coconut

1/2 cup sliced almonds

8 oz. bag of mixed fruit

3/4 cup chocolate chips

3/4 cups mini marshmallows (these ended up melting into the cookie)


Steps:


Preheat the oven to 350' F.

Spray a 9" x 13" baking pan with non-stick spray

Cook the quinoa in water by bringing it to a boil and turning it to simmer for about 10 minutes. Shut it off and let it steam, covered.
Melt the butter or margarine in a medium sized sauce pan.

Add the brown sugar and stir to melt.
| | |
| --- | --- |
| | Add the cooked quinoa and stir for a few minutes to "toast". It doesn't really toast but it does give the quinoa a nice flavor. |
| | |
| --- | --- |
| | In a large bowl, add the eggs, potato starch, vanilla and cinnamon. Stir to combine. |
| | |
| --- | --- |
| | Add the quinoa to the bowl and stir to combine. |
| | |
| --- | --- |
| | Add remaining ingredients and combine well. |
| | |
| --- | --- |
| | Put batter into the prepared pan and level with a spatula. |
Bake until golden brown, about 20 minutes.

Set aside to cool completely before cutting into squares.


Recently viewed recipes:



Quinoa Treats (gluten-free and non-gebrokts)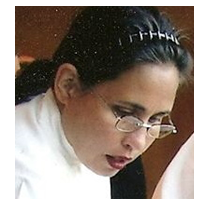 About Leah
Hi! Thank you for stopping by to watch me, Leah, cook kosher. I've been the owner operator of my boutique catering firm in Seattle, Leah's Catering, for the past 14 years.
Read more...
Leah's Blog

Aviva Makes Aliyah and The Sandwich Generation

Happy Chinese New Year! Happy Super Bowl! Go Hawks!

Tradition! Fun with the Seattle International Film Festival

Where Have I Been in My Life???

Making Kosher Salads

Blog Categories
Leah's Kosher Pantry

View what is in the pantry
Recipes

Appetizers
(44)

Appetizers - Dips and Sauces
(11)

Appetizers - Starter Courses
(10)

Beverages - Cold
(1)

Breads - Yeast
(10)

Breakfast Pastries
(7)

Dessert - Frostings
(6)

Desserts - Cakes
(13)

Desserts - Cookies and Brownies
(29)

Desserts - Dairy
(42)

Desserts - Pareve
(71)

Desserts - Pies and Tarts
(14)

Desserts - Tea Breads, Quick Breads
(8)

Desserts and Baked Goods - Gluten Free
(18)

Main Dish - Beef
(7)

Main Dish - Dairy
(3)

Main Dish - Eggs and Fritattas
(6)

Main Dish - Fish
(11)

Main Dish - Poultry
(14)

Main Dish - Vegetarian and Vegan
(9)

Salads - Dressing
(8)

Salads - Fruit
(4)

Salads - Grains & Legumes
(7)

Salads - Green
(1)

Salads - Pasta and Rice
(10)

Salads - Potatoes and Eggs
(5)

Salads - Vegetable
(15)

Side Dishes - Kugels and Souffles
(7)

Side Dishes - Potatoes and Vegetables
(17)

Side Dishes - Rice, Grains and Pasta
(7)

Soups, Stews and Cholent
(9)
Special Considerations

Dairy-Free Recipes
(230)

Gluten-Free Recipes
(134)

High Fiber Recipes
(18)

Low-fat Recipes
(11)

Nut-Free Desserts Recipes
(48)

Vegan Recipes
(101)

Vegetarian Recipes
(207)
Holidays

Rosh Hashana Recipes
(23)

Yom Kippur Recipes
(3)

Sukkot Recipes
(26)

Simchat Torah Recipes
(9)

Chanukah Recipes
(20)

Tu B'shevat Recipes
(16)

Purim Recipes
(9)

Passover Recipes
(44)

Lag Ba'omer Recipes
(6)

Shavuot Recipes
(24)

Shabbat Recipes
(34)
Cookbook Library

New Releases

Jewish Classics

Other Favorites
Kitchen Gadgets

Essentials

Small Appliances
Chef Of The Week

Barbara Williamson
Congratulations to our chef of the week.