Chocolate Mousse Tart (non-gebrokts, gluten-free)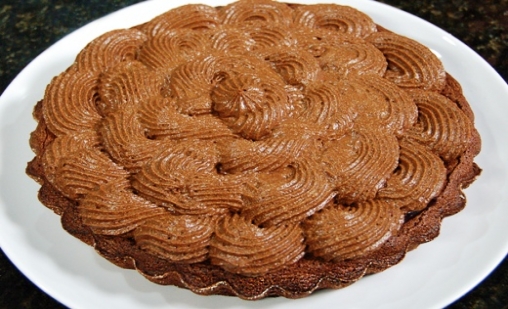 I found this recipe in Susie Fishbein's "Passover by Design". The series of cookbooks is quite lovely; I envy the cast of contributors who make the books so attractive. The photo of the mousse tart stopped me with mouth watering chocoholic desire.
I have never baked chocolate mousse so I'm surprised at how well it forms a crust. Puffing up in the oven, it deflates while chilled in the refrigerator forming a nice indentation to pile the mousse.
While doing a demonstration a couple of weeks ago, a woman mentions that this can be frozen. I wouldn't have guessed that assuming that egg whites are too temperamental. I love the conversations I have with people; I'm always learning new things.
I did make 1 1/2 times the recipe and use a tart shell with a removable bottom. My springform pans are all dairy and I make Passover desserts pareve. Yes, real dairy would make a big difference. And, Passover chocolate chips, available to most home cooks for projects like this, aren't always the best chocolate. That said, it's chocolate and it beats what we ate in Egypt!
I like the way the tart pan forms a scalloped edge on the crust. Piping the mousse onto the crust adds some texture. I did use a little cherry preserves spread on the crust before adding the mousse. Yum! Watch the video for instructions....I have to get back to the kitchen!
Kosher Status:
Dairy-Parve
Number of servings:
12 - 16 (it's rich!)
Main Ingredient(s):
Chocolate Chips
Preparation Time:
00:40
Cooking Time:
00:20
Skill Level:
2

(1 Easy - 5 Hard)

Estimated POINT value:


Ingredients:


This is 1 1/2 times the original recipe and I used a 10" tart pan.
nonstick cooking spray or margarine to coat the pan

1 tablespoon sugar for coating the pan

1/2 cup sugar, divided

18 ounces chocolate chips or good quality block semisweet chocolate, chopped

1 1/2 cup (3 sticks) unsalted butter or margarine

2 tablespoons vanilla extract

3/8 teaspoon salt

9 eggs, separated


Steps:




Recently viewed recipes:



Chocolate Mousse Tart (non-gebrokts, gluten-free)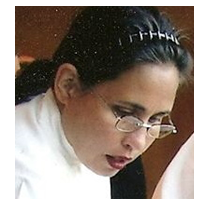 About Leah
Hi! Thank you for stopping by to watch me, Leah, cook kosher. I've been the owner operator of my boutique catering firm in Seattle, Leah's Catering, for the past 14 years.
Read more...
Leah's Blog

Aviva Makes Aliyah and The Sandwich Generation

Happy Chinese New Year! Happy Super Bowl! Go Hawks!

Tradition! Fun with the Seattle International Film Festival

Where Have I Been in My Life???

Making Kosher Salads

Blog Categories
Leah's Kosher Pantry

View what is in the pantry
Recipes

Appetizers
(44)

Appetizers - Dips and Sauces
(11)

Appetizers - Starter Courses
(10)

Beverages - Cold
(1)

Breads - Yeast
(10)

Breakfast Pastries
(7)

Dessert - Frostings
(6)

Desserts - Cakes
(13)

Desserts - Cookies and Brownies
(29)

Desserts - Dairy
(42)

Desserts - Pareve
(71)

Desserts - Pies and Tarts
(14)

Desserts - Tea Breads, Quick Breads
(8)

Desserts and Baked Goods - Gluten Free
(18)

Main Dish - Beef
(7)

Main Dish - Dairy
(3)

Main Dish - Eggs and Fritattas
(6)

Main Dish - Fish
(11)

Main Dish - Poultry
(14)

Main Dish - Vegetarian and Vegan
(9)

Salads - Dressing
(8)

Salads - Fruit
(4)

Salads - Grains & Legumes
(7)

Salads - Green
(1)

Salads - Pasta and Rice
(10)

Salads - Potatoes and Eggs
(5)

Salads - Vegetable
(15)

Side Dishes - Kugels and Souffles
(7)

Side Dishes - Potatoes and Vegetables
(17)

Side Dishes - Rice, Grains and Pasta
(7)

Soups, Stews and Cholent
(9)
Special Considerations

Dairy-Free Recipes
(230)

Gluten-Free Recipes
(134)

High Fiber Recipes
(18)

Low-fat Recipes
(11)

Nut-Free Desserts Recipes
(48)

Vegan Recipes
(101)

Vegetarian Recipes
(207)
Holidays

Rosh Hashana Recipes
(23)

Yom Kippur Recipes
(3)

Sukkot Recipes
(26)

Simchat Torah Recipes
(9)

Chanukah Recipes
(20)

Tu B'shevat Recipes
(16)

Purim Recipes
(9)

Passover Recipes
(44)

Lag Ba'omer Recipes
(6)

Shavuot Recipes
(24)

Shabbat Recipes
(34)
Cookbook Library

New Releases

Jewish Classics

Other Favorites
Kitchen Gadgets

Essentials

Small Appliances
Chef Of The Week

Barbara Williamson
Congratulations to our chef of the week.