Meat Cholent with Tomato and Za'atar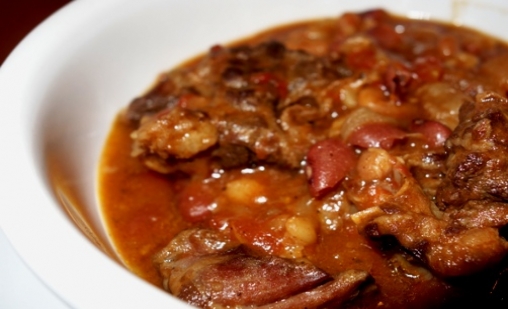 Cholent. It's one of those things that can be very hit or miss. Yet, hit or miss, it always gets eaten. Entrusted to the crock pot for 20 hours or so, a shrug of the shoulders says it is what it is; a hot meal at lunchtime on Shabbat. Whether chiseled from the pot, or too soupy it requires a ladle; every last bit is consumed at shul.
Congregation Sha'arei Tefillah Lubavitch serves cholent religiously. Twenty years ago, while drafting a promotional piece, Chaim Gray describes the shul's hamish Kiddush ritual as being "replete with cholent". Yes, Shabbat isn't Shabbat at CSTL without a cholent. That said, everyone knows that eating cholent on Tuesday isn't Shabbat.
Years ago, making cholent for shul, someone before Shabbat turns down the crock pot. Now, any temperature below 160' F is only going to ferment the contents of a slow cooker. Shabbat morning, the entire shul is ripe with the stench of rotting meat and beans. I'm laughing now but it wasn't funny then. No, now I tend to mostly cook everything before setting the pot for all night cooking. That was so bad.
I'm not a huge fan of cholent made with ketchups and copious amounts of msg laden soup mixes. I have to make cholent for a Kiddush lunch next week. I worry about plugging in 2 large cookers and blowing the fuses overnight. I worry that someone will tamper with the controls. I worry that it'll be too dry or too wet. It's just my nature. I'm sure it'll be fine; it's cholent!
Kosher Status:
Meat
Number of servings:
enough for a 6 quart crock pot
Main Ingredient(s):
Beef
Preparation Time:
00:30
Cooking Time:
00:00
Skill Level:
1 - Easy

(1 Easy - 5 Hard)

Estimated POINT value:


Ingredients:


1/4 cup oil

2 1/2# beef flanken

4 cups onions, sliced or chopped

1/4 cup sliced garlic

2 tablespoons za'atar

1 cup small red beans (rinsed and soaked overnight if you remember)

1 cup small white beans (rinsed and soaked overnight if you remember)

1/4 cup barley

2 tablespoons salt

1 tablespoon paprika

1 teaspoon black pepper

2 cups carrots, chunked

4 cups potatoes, peeled and cubed

2 tablespoons honey

1 x 29 oz. can crushed tomatoes

3 - 4 cups chicken stock


Steps:


| | |
| --- | --- |
| | In a heavy pot, heat the oil and brown the meat. Add the onions and continue to cook until the onions wilt. Add meat and onions to the crock pot. |
Add the remaining ingredients to the stock pot. The chicken stock should cover the ingredients. Set the cooker to high and bring the temperature up so the contents are cooking. Before Shabbat starts, turn the cooker down to a medium heat, between 185' F and 200' F. Cross your fingers. The prohibition against cooking on Shabbat means that the cholent is not to be stirred or otherwise disturbed.

My Cruisinart slow cooker is great. I can brown the meat right in the unit, add the ingredients and lower the heat with a set timer. Pretty awesome!


Recently viewed recipes:



Meat Cholent with Tomato and Za'atar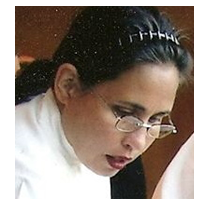 About Leah
Hi! Thank you for stopping by to watch me, Leah, cook kosher. I've been the owner operator of my boutique catering firm in Seattle, Leah's Catering, for the past 14 years.
Read more...
Leah's Blog

Aviva Makes Aliyah and The Sandwich Generation

Happy Chinese New Year! Happy Super Bowl! Go Hawks!

Tradition! Fun with the Seattle International Film Festival

Where Have I Been in My Life???

Making Kosher Salads

Blog Categories
Leah's Kosher Pantry

View what is in the pantry
Recipes

Appetizers
(44)

Appetizers - Dips and Sauces
(11)

Appetizers - Starter Courses
(10)

Beverages - Cold
(1)

Breads - Yeast
(10)

Breakfast Pastries
(7)

Dessert - Frostings
(6)

Desserts - Cakes
(13)

Desserts - Cookies and Brownies
(29)

Desserts - Dairy
(42)

Desserts - Pareve
(71)

Desserts - Pies and Tarts
(14)

Desserts - Tea Breads, Quick Breads
(8)

Desserts and Baked Goods - Gluten Free
(18)

Main Dish - Beef
(7)

Main Dish - Dairy
(3)

Main Dish - Eggs and Fritattas
(6)

Main Dish - Fish
(11)

Main Dish - Poultry
(14)

Main Dish - Vegetarian and Vegan
(9)

Salads - Dressing
(8)

Salads - Fruit
(4)

Salads - Grains & Legumes
(7)

Salads - Green
(1)

Salads - Pasta and Rice
(10)

Salads - Potatoes and Eggs
(5)

Salads - Vegetable
(15)

Side Dishes - Kugels and Souffles
(7)

Side Dishes - Potatoes and Vegetables
(17)

Side Dishes - Rice, Grains and Pasta
(7)

Soups, Stews and Cholent
(9)
Special Considerations

Dairy-Free Recipes
(230)

Gluten-Free Recipes
(134)

High Fiber Recipes
(18)

Low-fat Recipes
(11)

Nut-Free Desserts Recipes
(48)

Vegan Recipes
(101)

Vegetarian Recipes
(207)
Holidays

Rosh Hashana Recipes
(23)

Yom Kippur Recipes
(3)

Sukkot Recipes
(26)

Simchat Torah Recipes
(9)

Chanukah Recipes
(20)

Tu B'shevat Recipes
(16)

Purim Recipes
(9)

Passover Recipes
(44)

Lag Ba'omer Recipes
(6)

Shavuot Recipes
(24)

Shabbat Recipes
(34)
Cookbook Library

New Releases

Jewish Classics

Other Favorites
Kitchen Gadgets

Essentials

Small Appliances
Chef Of The Week

Barbara Williamson
Congratulations to our chef of the week.