Tu B'Shevat Banana Bread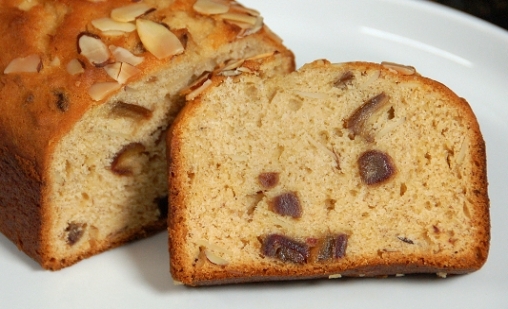 Noticing that I don't have a banana bread recipe in my tea bread collection I figure I'd better get on it. In an ideal world, this would be posted sooner than now. Catering has definitely kept me running non-stop for weeks. That said, better last minute than never!
My thoughts about banana bread are that I love the old-fashioned loaf. I'd say that it's the type my mom made when I was a kid but I think it's the type I made when I was a kid that my mom enjoyed. Store bought loaves are devoid of 'the love'; that magical ingredient that takes everything to the next level. Almost rotten bananas help, too.
Feeling the pressure of feeding 500 people last week and 500 this weekend, I need to address a new recipe and Tu B'Shevat. Forget the walnuts traditionally peppering a banana loaf. Let's go with almonds; at least I'm not allergic to those! And, let's throw in a few chopped dates. Heck, add a little honey (feel like I'm pushing the health food envelope here!)....and, where's that container of "barley malt extract" I bought? What is it anyway? Ah, Aunt Patty's brand testifies that it contains maltose, a sugar derived from barley that is absorbed into the blood stream slower. Works for me.....
Boy, does it ever. I only use enough to fulfill some weird notion of a mitzvah in my head. The loaves (yes, I ended up with 4 so I'll cut the recipe again!) are similar to what I've always made but there is a little nod, bordering on tilt of the head, to something a bit more healthy and a heck of a lot more interesting. Yum! Great color to surround with dried fruits and nuts.
This only takes 1/2 hour to whip up.....you still have time!
Kosher Status:
Parve
Number of servings:
2 x 8" loaves
Main Ingredient(s):
Preparation Time:
00:30
Cooking Time:
00:40
Skill Level:
1 - Easy

(1 Easy - 5 Hard)

Estimated POINT value:
Average Rating:
5/5


Ingredients:


1/2 cup unsalted butter or margarine

3/4 cup sugar

1/4 cup brown sugar

2 tablespoons honey

1/2 cup barley malt extract

1 egg

2 - 3 very ripe bananas (about 1/2 pound peeled weight)

1/2 cup milk or soy milk

2 1/2 cups flour

1 tablespoon baking powder

1/2 teaspoon salt

1/2 cup chopped dates

1/2 cup slivered or chopped almonds


Steps:


Preheat the oven to 350' F.

Combine the flour, baking powder and salt set aside.
| | |
| --- | --- |
| | In a mixing bowl, cream the butter or margarine, sugars, honey and barley malt extract until smooth. Add egg and beat until smooth. |
| | |
| --- | --- |
| | Mash the bananas and set aside. Add to the creamed mixture. |
| | |
| --- | --- |
| | Add the dry ingredients and mix just until smooth. |
| | |
| --- | --- |
| | Stir in the nuts and dates. |
| | |
| --- | --- |
| | Pour into prepared pans. Sprinkle with sliced almonds if desired. |
Bake for about 35 - 40 minutes OR until the loaf springs back when pressed with a finger. These loaves, depending on the oven, take time to bake.

When done, let rest for 10 minutes. Turn onto wire rack to cool.


Recently viewed recipes:



Tu B'Shevat Banana Bread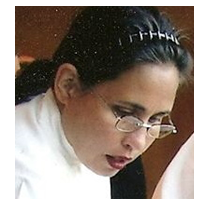 About Leah
Hi! Thank you for stopping by to watch me, Leah, cook kosher. I've been the owner operator of my boutique catering firm in Seattle, Leah's Catering, for the past 14 years.
Read more...
Leah's Blog

Aviva Makes Aliyah and The Sandwich Generation

Happy Chinese New Year! Happy Super Bowl! Go Hawks!

Tradition! Fun with the Seattle International Film Festival

Where Have I Been in My Life???

Making Kosher Salads

Blog Categories
Leah's Kosher Pantry

View what is in the pantry
Recipes

Appetizers
(44)

Appetizers - Dips and Sauces
(11)

Appetizers - Starter Courses
(10)

Beverages - Cold
(1)

Breads - Yeast
(10)

Breakfast Pastries
(7)

Dessert - Frostings
(6)

Desserts - Cakes
(13)

Desserts - Cookies and Brownies
(29)

Desserts - Dairy
(42)

Desserts - Pareve
(71)

Desserts - Pies and Tarts
(14)

Desserts - Tea Breads, Quick Breads
(8)

Desserts and Baked Goods - Gluten Free
(18)

Main Dish - Beef
(7)

Main Dish - Dairy
(3)

Main Dish - Eggs and Fritattas
(6)

Main Dish - Fish
(11)

Main Dish - Poultry
(14)

Main Dish - Vegetarian and Vegan
(9)

Salads - Dressing
(8)

Salads - Fruit
(4)

Salads - Grains & Legumes
(7)

Salads - Green
(1)

Salads - Pasta and Rice
(10)

Salads - Potatoes and Eggs
(5)

Salads - Vegetable
(15)

Side Dishes - Kugels and Souffles
(7)

Side Dishes - Potatoes and Vegetables
(17)

Side Dishes - Rice, Grains and Pasta
(7)

Soups, Stews and Cholent
(9)
Special Considerations

Dairy-Free Recipes
(230)

Gluten-Free Recipes
(134)

High Fiber Recipes
(18)

Low-fat Recipes
(11)

Nut-Free Desserts Recipes
(48)

Vegan Recipes
(101)

Vegetarian Recipes
(207)
Holidays

Rosh Hashana Recipes
(23)

Yom Kippur Recipes
(3)

Sukkot Recipes
(26)

Simchat Torah Recipes
(9)

Chanukah Recipes
(20)

Tu B'shevat Recipes
(16)

Purim Recipes
(9)

Passover Recipes
(44)

Lag Ba'omer Recipes
(6)

Shavuot Recipes
(24)

Shabbat Recipes
(34)
Cookbook Library

New Releases

Jewish Classics

Other Favorites
Kitchen Gadgets

Essentials

Small Appliances
Chef Of The Week

Barbara Williamson
Congratulations to our chef of the week.