Marzipan (uncooked method)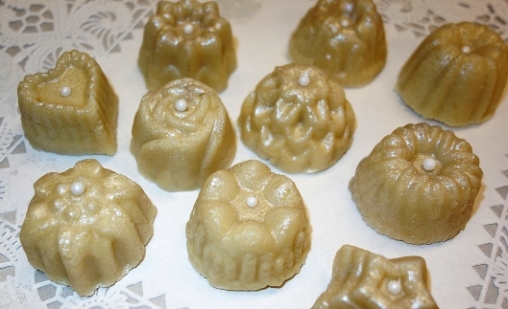 Marzipan is especially popular in our Sephardic community. Making some for a recent wedding, I hunt for my pan of tiny majestic shapes. For years, the pan has been moved from right to left in storage. This is the perfect opportunity to use it.
The recipe is a quick food processing endeavor. It takes a bit more effort for me to figure out how to pull the marzipan from the mold. A little loosening with a skewer does the trick. I decide to brush the surface with Wilton's Silver Dust to add a slight luster and top them off with a Wilton Silver Pearl. Simple. Elegant. Beautiful on a wedding buffet or Tu B'Shevat seder table.
Marzipan does include a raw egg so if anyone is sensitive they should be warned before eating. Marzipan is very sweet and a little goes a long way. The traditional way to form it in Seattle is to roll a long rope and cut the ends at a diagonal. Whether molded or rolled, marzipan is a beautiful accent to a platter of dried fruit and nuts.
Kosher Status:
Parve
Number of servings:
About 75 pieces, depending on the size
Main Ingredient(s):
Almonds - Blanched
Preparation Time:
00:10
Cooking Time:
00:00
Skill Level:
1 - Easy

(1 Easy - 5 Hard)

Estimated POINT value:
Average Rating:
5/5


Ingredients:


2 cups whole or slivered blanched almonds

1 3/4 cups powdered sugar (kosher for Passover if necessary)

1 egg white

1 - 2 tablespoons water (only enough to make pliable)


Steps:


| | |
| --- | --- |
| | Place the almonds into the bowl of the food processor and pulse until chopped. Add the powdered sugar and pulse to a fine powder. While running, pour the egg down the chute. Follow with a little water at a time until it starts to come together. |
Empty the marzipan onto the work surface. Knead to mix well. Add a little more water if necessary to hold it together. Don't make it wet.

Shape as desired.
| | |
| --- | --- |
| | Store in an airtight container. If you want to freeze, refrigerate to set. Then freeze. |


Recently viewed recipes:



Marzipan (uncooked method)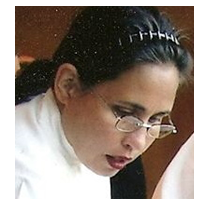 About Leah
Hi! Thank you for stopping by to watch me, Leah, cook kosher. I've been the owner operator of my boutique catering firm in Seattle, Leah's Catering, for the past 14 years.
Read more...
Leah's Blog

Aviva Makes Aliyah and The Sandwich Generation

Happy Chinese New Year! Happy Super Bowl! Go Hawks!

Tradition! Fun with the Seattle International Film Festival

Where Have I Been in My Life???

Making Kosher Salads

Blog Categories
Leah's Kosher Pantry

View what is in the pantry
Recipes

Appetizers
(44)

Appetizers - Dips and Sauces
(11)

Appetizers - Starter Courses
(10)

Beverages - Cold
(1)

Breads - Yeast
(10)

Breakfast Pastries
(7)

Dessert - Frostings
(6)

Desserts - Cakes
(13)

Desserts - Cookies and Brownies
(29)

Desserts - Dairy
(42)

Desserts - Pareve
(71)

Desserts - Pies and Tarts
(14)

Desserts - Tea Breads, Quick Breads
(8)

Desserts and Baked Goods - Gluten Free
(18)

Main Dish - Beef
(7)

Main Dish - Dairy
(3)

Main Dish - Eggs and Fritattas
(6)

Main Dish - Fish
(11)

Main Dish - Poultry
(14)

Main Dish - Vegetarian and Vegan
(9)

Salads - Dressing
(8)

Salads - Fruit
(4)

Salads - Grains & Legumes
(7)

Salads - Green
(1)

Salads - Pasta and Rice
(10)

Salads - Potatoes and Eggs
(5)

Salads - Vegetable
(15)

Side Dishes - Kugels and Souffles
(7)

Side Dishes - Potatoes and Vegetables
(17)

Side Dishes - Rice, Grains and Pasta
(7)

Soups, Stews and Cholent
(9)
Special Considerations

Dairy-Free Recipes
(230)

Gluten-Free Recipes
(134)

High Fiber Recipes
(18)

Low-fat Recipes
(11)

Nut-Free Desserts Recipes
(48)

Vegan Recipes
(101)

Vegetarian Recipes
(207)
Holidays

Rosh Hashana Recipes
(23)

Yom Kippur Recipes
(3)

Sukkot Recipes
(26)

Simchat Torah Recipes
(9)

Chanukah Recipes
(20)

Tu B'shevat Recipes
(16)

Purim Recipes
(9)

Passover Recipes
(44)

Lag Ba'omer Recipes
(6)

Shavuot Recipes
(24)

Shabbat Recipes
(34)
Cookbook Library

New Releases

Jewish Classics

Other Favorites
Kitchen Gadgets

Essentials

Small Appliances
Chef Of The Week

Barbara Williamson
Congratulations to our chef of the week.