Rugelach ~ Chocolate, Cinnamon Walnut or Jam (Parve or Dairy)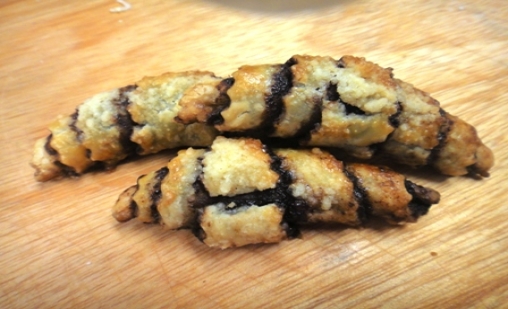 We don't have a sign reading "over a billion sold" but we have certainly made many, many rugelach. Thumbing through "The 2nd Avenue Deli Cookbook" while looking for the falafel recipe a couple weeks back, I happen upon a rugelach recipe. I realize that this is the one I use for my dough; replete with Tofutti cream cheese. My mother's handwriting in the margin notes the addition of vanilla extract. So, kudos to this great cookbook and memoir. If you don't own a copy, it's a fun book to read.
My adaptation yields over 350 cookies, made parve using Tofutti Cream Cheese. I'm going to scale it back to the original but add the vanilla extract. As far as fillings go, I always use Hero jams for the filling. The jam costs a fortune these days, even wholesale 3 buckets cost almost $400. That is 3 - 4 times what other brands might cost. I just find the flavor superior with the fabulous burst of condensed fruit intensity. For the chocolate, I love using a dark cocoa and sugar blend. And finally, the cinnamon walnut blend is our babka filling taken down further in the food processor. I'm thinking that is a Gil Mark's recipe. I need to dig around to find my original source.
There are a couple of ways to roll a rugelach. A circle cut into pie shaped wedges yields the layered crescent shape. Making one long log and cutting pieces is a faster technique and the one we use for mass production. I like lots of thin layers of dough between the filling. I like rugelach. No, I love rugelach....fabulous, over-the-top, tasty rugelach. I'm spoiled by my rugelach and won't buy anybody else's. Life is full of disappointments, why pay money for the inevitable letdown?
Kosher Status:
Parve
Number of servings:
6 dozen triangles
Main Ingredient(s):
Cocoa, Cheese - Tofutti Cream
Preparation Time:
00:30
Cooking Time:
00:20
Skill Level:
2

(1 Easy - 5 Hard)

Estimated POINT value:


Ingredients:


The dough:
8 ounces Tofutti cream cheese (or real cream cheese for dairy)

8 ounces unsalted margarine (or unsalted butter for dairy)

2 cups flour

1/8 teaspoon salt

1 teaspoon vanilla extract
Fillings:
Chocolate:
3/4 cup dark cocoa

3/4 cup sugar

canola oil for brushing
Jam:
A good quality jam that isn't too lumpy. Otherwise, food process the lumps out.
Cinnamon Walnut:
1/2 cup brown sugar

3 tablespoons sugar

1 cup chopped walnuts

1/2 teaspoon cinnamon

1/2 cup unsalted margarine (or unsalted butter for dairy)
Crumb topping:
2/3 cup sugar

1 2/3 cups flour

2/3 cup unsalted margarine (or unsalted butter for dairy)

beaten egg for brushing on cookies


Steps:


To make the dough, put the cream cheese and margarine into the mixer bowl. Mix just until blended. Add the remaining ingredients and mix to combine making sure the dough doesn't have lumps of margarine or cream cheese.

Turn dough onto work surface and divide into 3 balls. Wrap with plastic and refrigerate for 30 minutes.
| | |
| --- | --- |
| | To make the chocolate filling, mix the cocoa and sugar together. Set aside. |
| | |
| --- | --- |
| | To make the crumb topping, put the ingredients into a mixing bowl and beat with a hand-held mixer. Or, you can make the crumb with a pastry blender. I think a flat beater makes the topping too much like a dough. Better, if you don't have any of the above, to use your finger tips to incorporate the margarine into the flour mixture. |
| | |
| --- | --- |
| | To make the rugelach, take a ball of dough and flatten it on the lightly floured work surface. |
| | |
| --- | --- |
| | Roll into a very think 15" circle. If dough sticks, lift and scrape off the table while you get a little more flour onto the table. I just read that you can use powdered sugar instead of flour. Who knew? |
| | |
| --- | --- |
| | Brush the circle with canola oil. |
| | |
| --- | --- |
| | Sift the cocoa mixture onto the rolled dough. |
| | |
| --- | --- |
| | Cut the circle into 12 equal wedges. I like to use a pastry wheel with a scallop edge. |
| | |
| --- | --- |
| | Roll cookie from the wide end and then place on a parchment lined cookie sheet. Brush with beaten egg and sprinkle the crumb topping on top. |
Bake until golden brown at 350'. Depending on how large you rolled your cookies, this could be 8 - 12 minutes. Best to check during the last few minutes and judge by the color. The bottom will be lightly browned, too.

The rugelach can also be frozen unbaked and then just tossed into the oven when you need them.
| | |
| --- | --- |
| | To make the cinnamon walnut filling, combine all the ingredients in the bowl of a food processor and blend until very fine. If the nuts are too large, the rugelach dough will tear as you roll them. Brush with beaten egg and sprinkle with crumb topping before baking. |
| | |
| --- | --- |
| | To use jam, spread the jam directly onto the rolled dough, cut and then roll up the rugelach. Brush with egg and sprinkle with crumb topping before baking. |


Recently viewed recipes:



Rugelach ~ Chocolate, Cinnamon Walnut or Jam (Parve or Dairy)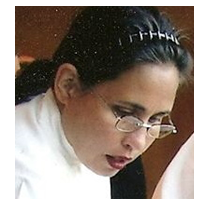 About Leah
Hi! Thank you for stopping by to watch me, Leah, cook kosher. I've been the owner operator of my boutique catering firm in Seattle, Leah's Catering, for the past 14 years.
Read more...
Leah's Blog

Aviva Makes Aliyah and The Sandwich Generation

Happy Chinese New Year! Happy Super Bowl! Go Hawks!

Tradition! Fun with the Seattle International Film Festival

Where Have I Been in My Life???

Making Kosher Salads

Blog Categories
Leah's Kosher Pantry

View what is in the pantry
Recipes

Appetizers
(44)

Appetizers - Dips and Sauces
(11)

Appetizers - Starter Courses
(10)

Beverages - Cold
(1)

Breads - Yeast
(10)

Breakfast Pastries
(7)

Dessert - Frostings
(6)

Desserts - Cakes
(13)

Desserts - Cookies and Brownies
(29)

Desserts - Dairy
(42)

Desserts - Pareve
(71)

Desserts - Pies and Tarts
(14)

Desserts - Tea Breads, Quick Breads
(8)

Desserts and Baked Goods - Gluten Free
(18)

Main Dish - Beef
(7)

Main Dish - Dairy
(3)

Main Dish - Eggs and Fritattas
(6)

Main Dish - Fish
(11)

Main Dish - Poultry
(14)

Main Dish - Vegetarian and Vegan
(9)

Salads - Dressing
(8)

Salads - Fruit
(4)

Salads - Grains & Legumes
(7)

Salads - Green
(1)

Salads - Pasta and Rice
(10)

Salads - Potatoes and Eggs
(5)

Salads - Vegetable
(15)

Side Dishes - Kugels and Souffles
(7)

Side Dishes - Potatoes and Vegetables
(17)

Side Dishes - Rice, Grains and Pasta
(7)

Soups, Stews and Cholent
(9)
Special Considerations

Dairy-Free Recipes
(230)

Gluten-Free Recipes
(134)

High Fiber Recipes
(18)

Low-fat Recipes
(11)

Nut-Free Desserts Recipes
(48)

Vegan Recipes
(101)

Vegetarian Recipes
(207)
Holidays

Rosh Hashana Recipes
(23)

Yom Kippur Recipes
(3)

Sukkot Recipes
(26)

Simchat Torah Recipes
(9)

Chanukah Recipes
(20)

Tu B'shevat Recipes
(16)

Purim Recipes
(9)

Passover Recipes
(44)

Lag Ba'omer Recipes
(6)

Shavuot Recipes
(24)

Shabbat Recipes
(34)
Cookbook Library

New Releases

Jewish Classics

Other Favorites
Kitchen Gadgets

Essentials

Small Appliances
Chef Of The Week

Barbara Williamson
Congratulations to our chef of the week.