Ukrainian Poppy Seed Loaf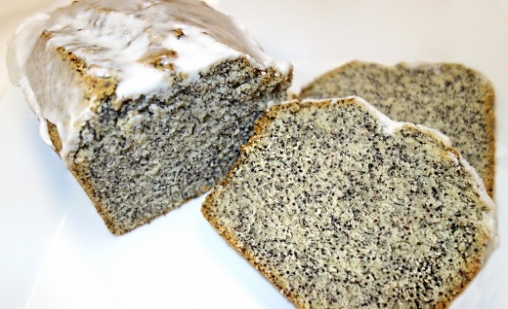 I really like to give credit when credit is due. Many of the recipes we've used for years have been copied without source notations. Who knew I'd be typing a blog about food on motzei Shabbat some dark and rainy night 15 years in the future? Ha! Even I thought my life would look differently. Could be worse; I could be writing about really, really bad food! Luckily, I have my standards. I won't eat or write about food that isn't worth the effort or calories. Where was I....
Oh yeah, Ukrainian Poppy Seed Loaf; until opening the bakery, I had no clue what is was. And, like all foods culturally Jewish, someone has to tell me about it and then cross their fingers that I'll find the most awesome recipe. I believe I did coming across this recipe from a 1989 cookbook called "A Piece of Cake" by Susan G. Purdy. Rose Levy Beranbaum gives the book a thumbs up so I can trust it. When I read a recipe, I like to climb around inside and get a feel for what is going on, what it is similar to and what the odds are that I can translate it into larger quantities. It is one thing to grind a few poppy seeds; it's another to grind 5 or 10 pounds. And, it is something else entirely to hire someone else to do it.
This recipe has me at just that point. Grinding the poppy seeds and then cooking them in milk (I use soy milk) for an hour captures my attention. I have pretty good instincts. More work is more time to spread the love. This is a wonderful loaf with a light, flavorful crumb. I like to top it with an easy lemon glaze. Simple, simple ~ make more than one loaf and keep some in the freezer. I do; great for last minute events from a bris to a funeral. Elegant, classic and always enjoyable.
Kosher Status:
Parve
Number of servings:
2 x 8" loaf pans
Main Ingredient(s):
Poppy Seeds
Preparation Time:
00:30
Cooking Time:
00:30
Skill Level:
1 - Easy

(1 Easy - 5 Hard)

Estimated POINT value:
Average Rating:
4/5


Ingredients:


1 cup poppy seeds, grind in a coffee bean grinder

1 cup soy milk (or milk for dairy)

1 cup unsalted margarine (or butter for dairy)

1 1/2 cups sugar

3 large eggs, separated

2 teaspoons vanilla extract

2 cups flour

1/2 teaspoon salt

2 1/2 teaspoons baking powder
Glaze:
2 cups confectioner's sugar

1/4 cup fresh lemon juice (enough to spread but not too thin)


Steps:


Preheat the oven to 350' F.

Spray the 2 loaf pans with non-stick spray.

Grind the poppy seeds and add them to a small sauce pan. Add the soy milk (or milk). Bring to a boil over medium heat. Remove from the heat and set aside for 1 hour. YES - allow enough time for the mixture to thicken and cool.
In the bowl of an electric mixter, beat the sugar and margarine (or butter) until light and fluffy over medium high heat.

Add the egg yolks one at a time, beating well after each addition.
| | |
| --- | --- |
| | Add the cooled poppy seed mixture and the vanilla. Mix until blended. |
| | |
| --- | --- |
| | Add the flour a little at a time and mix until blended. Don't overbeat as you'll get a tall dome on the loaf. |
| | |
| --- | --- |
| | In a clean bowl with clean beaters, beat the egg whites until stiff but not dry. (I'll admit that I'm lazy and I do this step first, empty the egg whites into another bowl and set them aside. Then, I use the bowl to mix the rest of the ingredients as above.) |
| | |
| --- | --- |
| | Add the egg whites to the batter and fold until well blended. |
Put the batter in the 2 loaf pans. Bake for 45 - 50 minutes until done. Loaf should spring back when pressed with a finger.

Cool in the pans for about 10 minutes. Remove to a wire rack. When slightly warm, mix the confectioner's sugar with the lemon juice and spread over the loaf.

Cool completely. To freeze, wrap well.


Recently viewed recipes:



Ukrainian Poppy Seed Loaf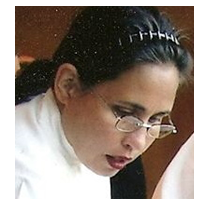 About Leah
Hi! Thank you for stopping by to watch me, Leah, cook kosher. I've been the owner operator of my boutique catering firm in Seattle, Leah's Catering, for the past 14 years.
Read more...
Leah's Blog

Aviva Makes Aliyah and The Sandwich Generation

Happy Chinese New Year! Happy Super Bowl! Go Hawks!

Tradition! Fun with the Seattle International Film Festival

Where Have I Been in My Life???

Making Kosher Salads

Blog Categories
Leah's Kosher Pantry

View what is in the pantry
Recipes

Appetizers
(44)

Appetizers - Dips and Sauces
(11)

Appetizers - Starter Courses
(10)

Beverages - Cold
(1)

Breads - Yeast
(10)

Breakfast Pastries
(7)

Dessert - Frostings
(6)

Desserts - Cakes
(13)

Desserts - Cookies and Brownies
(29)

Desserts - Dairy
(42)

Desserts - Pareve
(71)

Desserts - Pies and Tarts
(14)

Desserts - Tea Breads, Quick Breads
(8)

Desserts and Baked Goods - Gluten Free
(18)

Main Dish - Beef
(7)

Main Dish - Dairy
(3)

Main Dish - Eggs and Fritattas
(6)

Main Dish - Fish
(11)

Main Dish - Poultry
(14)

Main Dish - Vegetarian and Vegan
(9)

Salads - Dressing
(8)

Salads - Fruit
(4)

Salads - Grains & Legumes
(7)

Salads - Green
(1)

Salads - Pasta and Rice
(10)

Salads - Potatoes and Eggs
(5)

Salads - Vegetable
(15)

Side Dishes - Kugels and Souffles
(7)

Side Dishes - Potatoes and Vegetables
(17)

Side Dishes - Rice, Grains and Pasta
(7)

Soups, Stews and Cholent
(9)
Special Considerations

Dairy-Free Recipes
(230)

Gluten-Free Recipes
(134)

High Fiber Recipes
(18)

Low-fat Recipes
(11)

Nut-Free Desserts Recipes
(48)

Vegan Recipes
(101)

Vegetarian Recipes
(207)
Holidays

Rosh Hashana Recipes
(23)

Yom Kippur Recipes
(3)

Sukkot Recipes
(26)

Simchat Torah Recipes
(9)

Chanukah Recipes
(20)

Tu B'shevat Recipes
(16)

Purim Recipes
(9)

Passover Recipes
(44)

Lag Ba'omer Recipes
(6)

Shavuot Recipes
(24)

Shabbat Recipes
(34)
Cookbook Library

New Releases

Jewish Classics

Other Favorites
Kitchen Gadgets

Essentials

Small Appliances
Chef Of The Week

Barbara Williamson
Congratulations to our chef of the week.