Lemon Walnut Tea Bread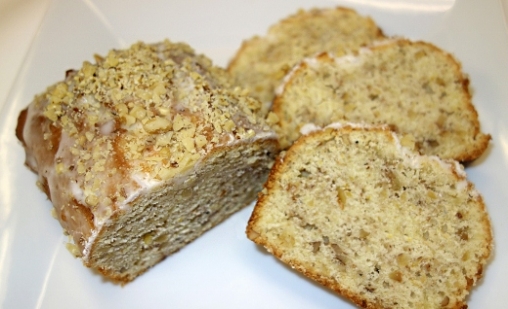 I need 'cake' for a tish last week and decide this is the perfect opportunity to make tea breads for the website. Not only will I have an assortment of beautiful loaves, I'll have some new photos to upload. Tea breads are simple and fast to make. Probably faster than writing about making them. And, they are great to stash in the freezer for unexpected company, an easy Shabbat dessert or a breakfast treat.
Rediscovering the "Ukrainian Poppy Seed Loaf" in Susan G. Purdy's "A Piece of Cake", I judge by the shambles the book is in that I used it for more than one cake. Yep, when I scale back the recipe if lines up with her Lemon Tea Cake 1. This is a beautiful loaf with a light crumb and fresh lemon scent. I can't eat walnuts anymore, can't even touch them but I am resistant to substituting the nuts. Walnuts are the perfect match for the lemon.
As a fashion designer, we'd develop lines with a core of traditional basics, add a few pieces with interesting twists and maybe top it all off with something a bit more upscale. This is upscale with the fresh lemon juice and zest, chopped walnuts and delicate double lemon glaze. Classic quality and timeless elegance - this is no bargain basement lemon loaf. This is NOT mass produced lemon loaf. Nor is it cake mix lemon loaf. So, before you yawn and move along; consider making this Lemon Walnut Tea Bread.
Kosher Status:
Parve
Number of servings:
2 x 8" loaves
Main Ingredient(s):
Juice - Lemon
Preparation Time:
00:30
Cooking Time:
00:50
Skill Level:
1 - Easy

(1 Easy - 5 Hard)

Estimated POINT value:


Ingredients:


1 cup unsalted margarine (or butter for dairy)

1 1/8 cup sugar

5 tablespoons grated lemon zest

3 tablespoons lemon juice

3 eggs

2 cups flour

1 1/4 teaspoons baking powder

1/2 teaspoon salt

1/2 cup soy milk (or milk for dairy)

1 1/4 cups chopped walnuts
Hot Glaze:
2/3 cup sugar

3/4 cup fresh lemon juice
Lemon Glaze:
1 1/2 cup confectioner's sugar

2 - 3 tablespoons lemon juice

1/2 cup chopped walnuts for topping


Steps:


Preheat the oven to 350' F.

Spray 2 x 8" loaf pans with non-stick spray. Set aside.

Prep lemon zest and lemon juice for the loaves and the glazes. Set aside.
In a mixing bowl, cream the margarine and sugar until light and fluffy, about 5 minutes.

Meanwhile, combine the flour, baking powder and salt in a bowl. Whisk to combine and set aside.
| | |
| --- | --- |
| | Add the eggs one at a time beating well after each addition. Add the lemon juice and lemon zest. Mix well. |
Add the flour in 1/4ths and the soy milk in 1/3rds, alternating beginning and ending with the flour.

Scrape the bowl and add the chopped walnuts.
Bake the loaves for about 40 - 45 minutes. The loaf should spring back when pressed with a finger.

As the loaves bake, make the Hot Lemon Glaze by combining the sugar and lemon juice in a small sauce pan. Heat over medium heat and stir until the sugar dissolves.

When the loaves are baked, remove from the oven and place on wire cooling racks. Poke some holes on the top with a skewer. Brush the loaves with 1/2 of the Hot Lemon Glaze. Let sink into the top and brush with the remaining glaze.
| | |
| --- | --- |
| | Make the Lemon Glaze. Spread on the slightly warm loaves. Sprinkle with the additional chopped walnuts. Cool and remove from the pans. To freeze, wrap well. |


Recently viewed recipes:



Lemon Walnut Tea Bread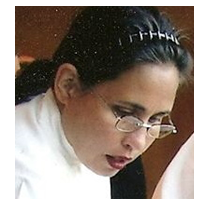 About Leah
Hi! Thank you for stopping by to watch me, Leah, cook kosher. I've been the owner operator of my boutique catering firm in Seattle, Leah's Catering, for the past 14 years.
Read more...
Leah's Blog

Aviva Makes Aliyah and The Sandwich Generation

Happy Chinese New Year! Happy Super Bowl! Go Hawks!

Tradition! Fun with the Seattle International Film Festival

Where Have I Been in My Life???

Making Kosher Salads

Blog Categories
Leah's Kosher Pantry

View what is in the pantry
Recipes

Appetizers
(44)

Appetizers - Dips and Sauces
(11)

Appetizers - Starter Courses
(10)

Beverages - Cold
(1)

Breads - Yeast
(10)

Breakfast Pastries
(7)

Dessert - Frostings
(6)

Desserts - Cakes
(13)

Desserts - Cookies and Brownies
(29)

Desserts - Dairy
(42)

Desserts - Pareve
(71)

Desserts - Pies and Tarts
(14)

Desserts - Tea Breads, Quick Breads
(8)

Desserts and Baked Goods - Gluten Free
(18)

Main Dish - Beef
(7)

Main Dish - Dairy
(3)

Main Dish - Eggs and Fritattas
(6)

Main Dish - Fish
(11)

Main Dish - Poultry
(14)

Main Dish - Vegetarian and Vegan
(9)

Salads - Dressing
(8)

Salads - Fruit
(4)

Salads - Grains & Legumes
(7)

Salads - Green
(1)

Salads - Pasta and Rice
(10)

Salads - Potatoes and Eggs
(5)

Salads - Vegetable
(15)

Side Dishes - Kugels and Souffles
(7)

Side Dishes - Potatoes and Vegetables
(17)

Side Dishes - Rice, Grains and Pasta
(7)

Soups, Stews and Cholent
(9)
Special Considerations

Dairy-Free Recipes
(230)

Gluten-Free Recipes
(134)

High Fiber Recipes
(18)

Low-fat Recipes
(11)

Nut-Free Desserts Recipes
(48)

Vegan Recipes
(101)

Vegetarian Recipes
(207)
Holidays

Rosh Hashana Recipes
(23)

Yom Kippur Recipes
(3)

Sukkot Recipes
(26)

Simchat Torah Recipes
(9)

Chanukah Recipes
(20)

Tu B'shevat Recipes
(16)

Purim Recipes
(9)

Passover Recipes
(44)

Lag Ba'omer Recipes
(6)

Shavuot Recipes
(24)

Shabbat Recipes
(34)
Cookbook Library

New Releases

Jewish Classics

Other Favorites
Kitchen Gadgets

Essentials

Small Appliances
Chef Of The Week

Barbara Williamson
Congratulations to our chef of the week.