Spicy Chicken Wingettes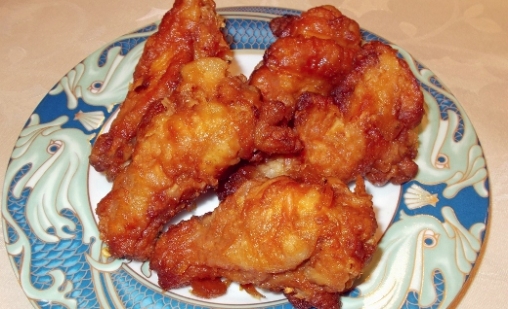 I've resigned myself to the fact that 2012, like 2011, is vacation-less. Doesn't stop me of dreaming of Maui, Oahu or even that tall plastic leaved palm tree that used to sit in Butte, Montana. The closest thing I'm getting to a tropical getaway is Sam Choy's, "Island Flavors Cookbook." This is one of those cookbooks, albeit mostly treif, full of basic recipes for sauces and stir-frys. It has been an inspiration in many of these recent uploaded recipes. My sister, Leilani, who like my mother, also owns this cookbook, helps me out by sending photos of "Spicy Chicken Wingettes" made for her husband's potluck at work.
Lani emails me last week step-by-step photos saying she knows how busy I am. She'd like to share her cooking results if I care to use them on the website. Ha! Send them over....I know she's a fabulous cook and I could use the help. These wingettes are a staple for her potluck's as they disappear quickly sitting next to less inspired contributions. An absolutely delicious finger food for parties.
Earlier in this website project, I blogged about a children's book called "The Five Chinese Brothers." Yet again, I'm reminded of my four sisters and our cooking skills. Indeed, I think we are all interchangeable with similar skill sets in the kitchen. And, like the children's book, one sister substitutes for another when the going gets tough! Thank you, Lani ~ I appreciate your cooking and sending me photos knowing I'm so busy. Love you!
Kosher Status:
Meat
Number of servings:
4-5
Main Ingredient(s):
Chicken - Wings
Preparation Time:
00:20
Cooking Time:
00:10
Skill Level:
1 - Easy

(1 Easy - 5 Hard)

Estimated POINT value:


Ingredients:


Marinade:
½ cup soy sauce

½ teaspoon white pepper

1 tablespoon minced fresh garlic

½ teaspoon peeled and minced fresh ginger

1 cup sherry

3 pounds chicken wing drumettes (the meaty first joints) rinsed and dried
Flour Mixture:
1 cup all-purpose flour

½ cup mochiko (Japanese glutinous white rice flour)

½ cup cornstarch
Vegetable oil for deep-frying
Spicy Chicken Sauce:
2 cups soy sauce

1 cup water

1 cup pineapple juice or ( 1 can, 15 ounces, crushed pineapple)

1 ½ cups granulated sugar

1 cup minced scallions or green onions

1 teaspoon peeled and minced fresh ginger

1 tablespoon red chili pepper flakes

1 tablespoon sesame oil


Steps:


| | |
| --- | --- |
| | In a large bowl or plastic ziplock bag, mix together the soy sauce, white pepper, garlic, ginger, and sherry. Add the chicken to the soy sauce mixture and marinate for 1 hour. (Note: See hint below to prepare ginger). |
| | |
| --- | --- |
| | Hint: It is very easy to peel the skin off of ginger. Instead of cutting it off with a knife, scrape it off with a spoon. |
| | |
| --- | --- |
| | Prepare the Spicy Chicken Sauce and set aside: In a large mixing bowl, combine all ingredients and whisk until the sugar has completely dissolved. |
| | |
| --- | --- |
| | In a bowl, plastic or paper bag, mix together the flour, mochiko rice flour, and cornstarch. |
| | |
| --- | --- |
| | Remove the chicken from the marinade and dredge in the flour mixture until coated, or shake the pieces in a bag containing the flour mixture. I like to place the chicken on a cooling rack after dredging to let the excess flour fall through. |
| | |
| --- | --- |
| | Get ready to fry. It's easier when you are organized. Line up your dredged chicken, your hot frying oil, your spicy sauce, and a cooling rack with a pan underneath to catch the excess sauce. |
| | |
| --- | --- |
| | Use a deep fryer, or heat 2 ½ to 3 inches of oil in a wok or a deep, heavy pot over medium-high heat until it registers 350oF on a deep-fry thermometer. Add the chicken pieces a few at a time and fry for 3 to 4 minutes, or until golden brown. Do not drain the wingettes after frying; instead, lift them with tongs and place directly in the spicy chicken sauce for about a half minute. Note: If you find that your chicken wings aren't cooked through, just place them in a 350o oven for about 5-7 minutes. |
| | |
| --- | --- |
| | Remove the fried chicken wingettes from the sauce, place them on a rack to allow them to drain. |
| | |
| --- | --- |
| | Remove from draining rack and arrange on a serving platter. |


Recently viewed recipes:



Spicy Chicken Wingettes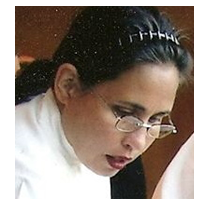 About Leah
Hi! Thank you for stopping by to watch me, Leah, cook kosher. I've been the owner operator of my boutique catering firm in Seattle, Leah's Catering, for the past 14 years.
Read more...
Leah's Blog

Aviva Makes Aliyah and The Sandwich Generation

Happy Chinese New Year! Happy Super Bowl! Go Hawks!

Tradition! Fun with the Seattle International Film Festival

Where Have I Been in My Life???

Making Kosher Salads

Blog Categories
Leah's Kosher Pantry

View what is in the pantry
Recipes

Appetizers
(44)

Appetizers - Dips and Sauces
(11)

Appetizers - Starter Courses
(10)

Beverages - Cold
(1)

Breads - Yeast
(10)

Breakfast Pastries
(7)

Dessert - Frostings
(6)

Desserts - Cakes
(13)

Desserts - Cookies and Brownies
(29)

Desserts - Dairy
(42)

Desserts - Pareve
(71)

Desserts - Pies and Tarts
(14)

Desserts - Tea Breads, Quick Breads
(8)

Desserts and Baked Goods - Gluten Free
(18)

Main Dish - Beef
(7)

Main Dish - Dairy
(3)

Main Dish - Eggs and Fritattas
(6)

Main Dish - Fish
(11)

Main Dish - Poultry
(14)

Main Dish - Vegetarian and Vegan
(9)

Salads - Dressing
(8)

Salads - Fruit
(4)

Salads - Grains & Legumes
(7)

Salads - Green
(1)

Salads - Pasta and Rice
(10)

Salads - Potatoes and Eggs
(5)

Salads - Vegetable
(15)

Side Dishes - Kugels and Souffles
(7)

Side Dishes - Potatoes and Vegetables
(17)

Side Dishes - Rice, Grains and Pasta
(7)

Soups, Stews and Cholent
(9)
Special Considerations

Dairy-Free Recipes
(230)

Gluten-Free Recipes
(134)

High Fiber Recipes
(18)

Low-fat Recipes
(11)

Nut-Free Desserts Recipes
(48)

Vegan Recipes
(101)

Vegetarian Recipes
(207)
Holidays

Rosh Hashana Recipes
(23)

Yom Kippur Recipes
(3)

Sukkot Recipes
(26)

Simchat Torah Recipes
(9)

Chanukah Recipes
(20)

Tu B'shevat Recipes
(16)

Purim Recipes
(9)

Passover Recipes
(44)

Lag Ba'omer Recipes
(6)

Shavuot Recipes
(24)

Shabbat Recipes
(34)
Cookbook Library

New Releases

Jewish Classics

Other Favorites
Kitchen Gadgets

Essentials

Small Appliances
Chef Of The Week

Barbara Williamson
Congratulations to our chef of the week.