Vegetarian Fried Spring Rolls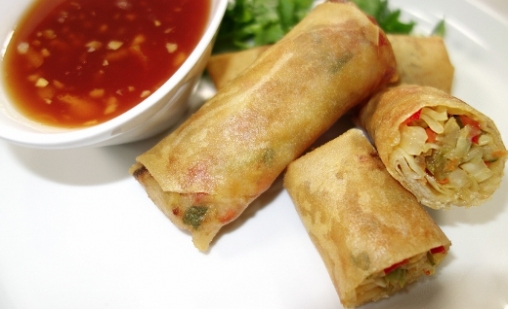 I've been wanting to make spring rolls for a long time. Actually, I've been wanting to make Filipino lumpia for a long time. Similar, the wrapper is different; lighter. I tried making my own but the results were not great. The recipe warned of potential cracking while rolling. Yeah, so why put the recipe in the book? It didn't work; plenty of cracking. I shelved the idea until I came across these Golden Bowl spring roll wrappers in the kosher frozen section of the store.
Egg roll wrappers, pot sticker wrappers and wonton wrappers are all heavier; more noodle like. These wrappers are bigger, lighter, whiter and have a very interesting texture. They are wonderful! Excited, I get busy prepping random vegetables which I like in a spring roll. Use whatever vegetables you prefer. They get wilted in a wok or frying pan before use. You'll need about 1/4 cup of filling for each spring roll.
I made the Sweet and Sour Sauce to go with the fried spring rolls. Both, much more fabulous than any kosher (and probably non-kosher) restaurant, is worth making at home. With 8 nights of Chanukah, change it up again and fry some spring rolls!
Kosher Status:
Parve
Number of servings:
18 spring rolls
Main Ingredient(s):
Asian Wrappers - Spring Roll, Wonton Gyoza
Preparation Time:
00:30
Cooking Time:
00:10
Skill Level:
2

(1 Easy - 5 Hard)

Estimated POINT value:


Ingredients:


1/2 cup thinly sliced fresh shiitake mushrooms

1 tablespoon finely minced garlic

2 teaspoons finely minced ginger

1/2 cup thinly bias cut green onions

1/2 cup thinly bias cut celery

1 cup thinly sliced red pepper, about 1" lengths

3/4 cup grated carrot

1 cup thinly sliced white onion

4 cups of thinly shredded cabbage

1/3 cup vegetable oil for wilting the vegetables

1/2 teaspoon black pepper, or to taste

2 tablespoons soy sauce

2 tablespoons corn starch

fry oil for frying spring rolls, about 2 1/2" in a heavy pot or deep fryer
1 package "Golden Bowl" Spring Roll Wrappers (available frozen)


Steps:


| | |
| --- | --- |
| | Prep vegetables as noted in ingredient list. You can add bean sprouts, bamboo shoots, water chestnuts, etc. Whatever you like! |
| | |
| --- | --- |
| | Heat the oil in the wok or frying pan. Add the vegetables that require the most time to wilt first. Cook over medium high heat for a few minutes. |
Add the remaining vegetables that require less cooking time, like cabbage and green onions.

While the vegetables cook, mix the soy sauce and cornstarch together. Add to the wilted vegetables with the pepper. Cook for about 30 seconds. The cornstarch will thicken any juices the vegetables may have created.
| | |
| --- | --- |
| | Open the spring roll wrappers and gently peel a few apart. |
| | |
| --- | --- |
| | Place on the work surface. Add about 1/4 cup of filling to the lower corner. |
| | |
| --- | --- |
| | Fold the lower corner up over the filling. |
| | |
| --- | --- |
| | Fold the sides in making sure the top is even, or slightly narrower, than the width of the spring roll. |
Roll up the spring roll. Set aside while you make the rest.

Set the spring rolls in the freezer while you heat the oil. The oil needs to be 375'F for best results.
| | |
| --- | --- |
| | When the oil is ready, take a few spring rolls and gently add to the hot oil. Cook until light golden brown. |
Drain on paper towels and repeat. You can also keep some of the egg rolls frozen for future use. Just wrap them well.

Keep the spring rolls warm in the oven on low while you finish making the rest. Serve warm with Sweet and Sour Sauce.


Recently viewed recipes:



Vegetarian Fried Spring Rolls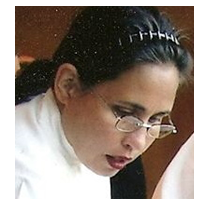 About Leah
Hi! Thank you for stopping by to watch me, Leah, cook kosher. I've been the owner operator of my boutique catering firm in Seattle, Leah's Catering, for the past 14 years.
Read more...
Leah's Blog

Aviva Makes Aliyah and The Sandwich Generation

Happy Chinese New Year! Happy Super Bowl! Go Hawks!

Tradition! Fun with the Seattle International Film Festival

Where Have I Been in My Life???

Making Kosher Salads

Blog Categories
Leah's Kosher Pantry

View what is in the pantry
Recipes

Appetizers
(44)

Appetizers - Dips and Sauces
(11)

Appetizers - Starter Courses
(10)

Beverages - Cold
(1)

Breads - Yeast
(10)

Breakfast Pastries
(7)

Dessert - Frostings
(6)

Desserts - Cakes
(13)

Desserts - Cookies and Brownies
(29)

Desserts - Dairy
(42)

Desserts - Pareve
(71)

Desserts - Pies and Tarts
(14)

Desserts - Tea Breads, Quick Breads
(8)

Desserts and Baked Goods - Gluten Free
(18)

Main Dish - Beef
(7)

Main Dish - Dairy
(3)

Main Dish - Eggs and Fritattas
(6)

Main Dish - Fish
(11)

Main Dish - Poultry
(14)

Main Dish - Vegetarian and Vegan
(9)

Salads - Dressing
(8)

Salads - Fruit
(4)

Salads - Grains & Legumes
(7)

Salads - Green
(1)

Salads - Pasta and Rice
(10)

Salads - Potatoes and Eggs
(5)

Salads - Vegetable
(15)

Side Dishes - Kugels and Souffles
(7)

Side Dishes - Potatoes and Vegetables
(17)

Side Dishes - Rice, Grains and Pasta
(7)

Soups, Stews and Cholent
(9)
Special Considerations

Dairy-Free Recipes
(230)

Gluten-Free Recipes
(134)

High Fiber Recipes
(18)

Low-fat Recipes
(11)

Nut-Free Desserts Recipes
(48)

Vegan Recipes
(101)

Vegetarian Recipes
(207)
Holidays

Rosh Hashana Recipes
(23)

Yom Kippur Recipes
(3)

Sukkot Recipes
(26)

Simchat Torah Recipes
(9)

Chanukah Recipes
(20)

Tu B'shevat Recipes
(16)

Purim Recipes
(9)

Passover Recipes
(44)

Lag Ba'omer Recipes
(6)

Shavuot Recipes
(24)

Shabbat Recipes
(34)
Cookbook Library

New Releases

Jewish Classics

Other Favorites
Kitchen Gadgets

Essentials

Small Appliances
Chef Of The Week

Barbara Williamson
Congratulations to our chef of the week.