Easy to Work Empanada Dough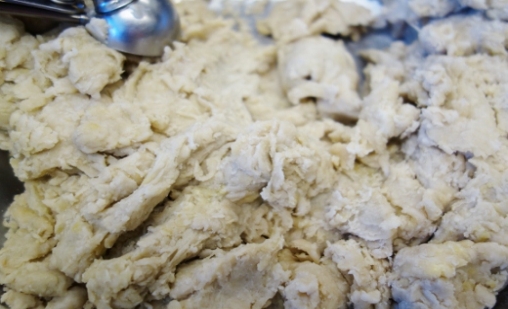 I first made empanadas last spring, using a black bean and green plantain filling to great reviews. My most recent curried vegetable empanadas are fabulous. Both are encased with this wonderful dough recipe.
The dough is super easy to handle so shaping is a breeze. The egg yolk in the recipe makes this a little more dense than a pie crust dough. That said, it is still really tender and capable of soaking up any liquid from a filling. The shaggy appearance of the chilled dough is what you're looking to make. It will flatten out nice and smooth. Again, I use my portion scoops for consistent sizing.
I close mine like the Sephardic borekas as I'm a control freak and like uniformity. Using the tines of a fork works but the end result is not as even. The dough is significantly different from the Sephardic boreka dough. So, know your audience ~ it's okay to make an empanada look like a boreka if the crowd doesn't think it's a boreka. For a Sephardic crowd, I'd probably use the fork; an empanada is fabulous but it is not a boreka. No point in confusing anyone at the risk of my boreka reputation!
Kosher Status:
Parve
Number of servings:
makes about 24 empanadas
Main Ingredient(s):
Flour - Unbleached All Purpose
Preparation Time:
00:20
Cooking Time:
00:00
Skill Level:
1 - Easy

(1 Easy - 5 Hard)

Estimated POINT value:
Average Rating:
5/5


Ingredients:


4 cups of flour

1 teaspoon salt

2 tablespoons sugar

2 tablespoons margarine

3/4 cup vegetable shortening

1 cup water

2 egg yolks


Steps:


Place the flour, salt and sugar into a medium sized mixing bowl. Cut in the margarine and shortening with a pastry cutter, just as you would make pie dough.

Whisk the water and the egg yolks together. Start by adding 1/2 of the liquid to the flour mixture. Gently toss to blend, adding more liquid, until the dough is shaggy but moistened. If you need a little more water, add it. Set aside to chill.

Shape as for Sephardic Borekas (see the archive for recipe and video instructions).


Recently viewed recipes:



Easy to Work Empanada Dough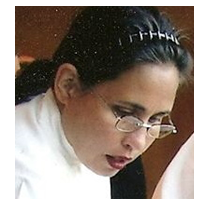 About Leah
Hi! Thank you for stopping by to watch me, Leah, cook kosher. I've been the owner operator of my boutique catering firm in Seattle, Leah's Catering, for the past 14 years.
Read more...
Leah's Blog

Aviva Makes Aliyah and The Sandwich Generation

Happy Chinese New Year! Happy Super Bowl! Go Hawks!

Tradition! Fun with the Seattle International Film Festival

Where Have I Been in My Life???

Making Kosher Salads

Blog Categories
Leah's Kosher Pantry

View what is in the pantry
Recipes

Appetizers
(44)

Appetizers - Dips and Sauces
(11)

Appetizers - Starter Courses
(10)

Beverages - Cold
(1)

Breads - Yeast
(10)

Breakfast Pastries
(7)

Dessert - Frostings
(6)

Desserts - Cakes
(13)

Desserts - Cookies and Brownies
(29)

Desserts - Dairy
(42)

Desserts - Pareve
(71)

Desserts - Pies and Tarts
(14)

Desserts - Tea Breads, Quick Breads
(8)

Desserts and Baked Goods - Gluten Free
(18)

Main Dish - Beef
(7)

Main Dish - Dairy
(3)

Main Dish - Eggs and Fritattas
(6)

Main Dish - Fish
(11)

Main Dish - Poultry
(14)

Main Dish - Vegetarian and Vegan
(9)

Salads - Dressing
(8)

Salads - Fruit
(4)

Salads - Grains & Legumes
(7)

Salads - Green
(1)

Salads - Pasta and Rice
(10)

Salads - Potatoes and Eggs
(5)

Salads - Vegetable
(15)

Side Dishes - Kugels and Souffles
(7)

Side Dishes - Potatoes and Vegetables
(17)

Side Dishes - Rice, Grains and Pasta
(7)

Soups, Stews and Cholent
(9)
Special Considerations

Dairy-Free Recipes
(230)

Gluten-Free Recipes
(134)

High Fiber Recipes
(18)

Low-fat Recipes
(11)

Nut-Free Desserts Recipes
(48)

Vegan Recipes
(101)

Vegetarian Recipes
(207)
Holidays

Rosh Hashana Recipes
(23)

Yom Kippur Recipes
(3)

Sukkot Recipes
(26)

Simchat Torah Recipes
(9)

Chanukah Recipes
(20)

Tu B'shevat Recipes
(16)

Purim Recipes
(9)

Passover Recipes
(44)

Lag Ba'omer Recipes
(6)

Shavuot Recipes
(24)

Shabbat Recipes
(34)
Cookbook Library

New Releases

Jewish Classics

Other Favorites
Kitchen Gadgets

Essentials

Small Appliances
Chef Of The Week

Barbara Williamson
Congratulations to our chef of the week.