Curried Vegetable Empanadas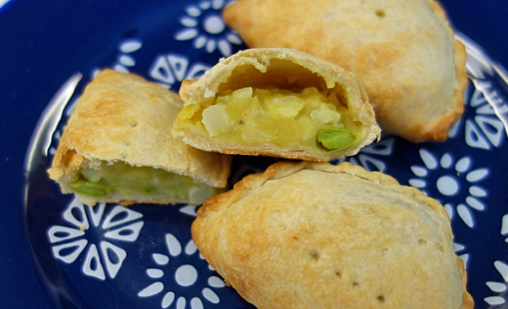 A couple of weeks ago, we started serving a 4 day marathon of meals at a local hotel. The first evening's buffet reception boasted an array of foods representing our diverse Northwest cuisine. From my urban perch, I can see Thai, Chinese, Italian, Mexican, Japanese and Indian food eateries. It's not just about salmon, anymore.
Given the intense schedule of meals, what could be made in advance and frozen was done between our numerous holidays. Pulling my production list, I see "Curried Vegetable Empanadas".....huh? Logistics don't allow for deep frying so I must have opted for baking empanadas over samosas. I have a fabulous empanada dough recipe (look for it in the archives - will post next) and I guess I still wanted to include the Indian influence. That said, I form empanadas as I do the Sephardic borekas, with the beautiful crimped edge. Fusion on steroids!
My next issue is that I don't have a curried vegetable filling recipe. We made a wonderful curried vegetable side dish earlier in the summer and I'd like to capture those flavors. However, the recipe doesn't really translate as a filling. Looking online, I find nothing. I'm on my own.
Stopping into the market, I grab a cauliflower and a bag of frozen peas and carrots. I don't know if I've ever purchased frozen peas and carrots in my life. Back at the kitchen, I don't see any canned coconut milk. It's Sunday and I'm not going to find any at my general supermarket. Spying my bag of leftover Passover dessicated coconut, I pour boiling water over it and strain. Voila! Coconut milk.
Taking my giant Russet potato, I cut mini-cubes that complement the peas and carrots. Simmering the diced potato in coconut milk, I sprinkle in a little saffron. The color is subtle, the aroma fragrant. I slowly incorporate all the other ingredients, guessing at amounts. I know what I want, not sure I'm on the correct path.
Benoit stops into the kitchen and sees my giant bowl of filling. After all, I'm making 150 empanadas. I give him a spoonful. He likes it; no suggestions. It's good stuff!
Kosher Status:
Parve
Number of servings:
makes about 24 empanadas
Main Ingredient(s):
Potatoes - Russet
Preparation Time:
00:40
Cooking Time:
00:30
Skill Level:
2

(1 Easy - 5 Hard)

Estimated POINT value:


Ingredients:


1 recipe empanada dough (see archives under pies and tarts, appetizers)
Filling:
1 pound of Russet potatoes (1 - 2 medium, 1 giant)

8 oz. frozen peas and carrots

3/4 pound cauliflower

1 cup diced onions (about 1 medium onion)

1 cup coconut milk

pinch of saffron

1/4 teaspoon ground cumin

1 teaspoon curry powder

1/4 teaspoon garam masala

1 teaspoon salt

1/4 - 1/2 cup potato flakes (for thickening)


Steps:


| | |
| --- | --- |
| | Make empanada dough and set aside in the refrigerator to chill. |
| | |
| --- | --- |
| | To a medium sauce pan, add the diced potatoes and coconut milk. Simmer until just tender. Add the saffron. |
| | |
| --- | --- |
| | While the potatoes cook, saute the diced onions until tender. Add to the simmering potatoes. Add the finely chopped cauliflower and cook until tender. Were trying to cook all the vegetables evenly. Add the peas and carrots. |
| | |
| --- | --- |
| | When the vegetables are tender, add the seasonings. Adjust the salt as necessary. Cook over a low heat for a minute. Remove from the heat and transfer to a medium bowl. |
| | |
| --- | --- |
| | Add just enough of the potato flakes to bring the mixture together. Let cool. |
| | |
| --- | --- |
| | Form the empanadas by taking a walnut sized ball of dough and flattening into a oval shape. Add a tablespoon of filling, fold dough over and crimp. See my instructions on the Sephardic Boreka recipe and video. |
Place empanada on a sheet pan, either sprayed or with parchment paper. Brush lightly with egg mixture and poke with a fork.

Bake at 350' until light golden brown. Let cool slightly before serving as the filling will be very hot.


Recently viewed recipes:



Curried Vegetable Empanadas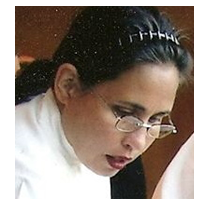 About Leah
Hi! Thank you for stopping by to watch me, Leah, cook kosher. I've been the owner operator of my boutique catering firm in Seattle, Leah's Catering, for the past 14 years.
Read more...
Leah's Blog

Aviva Makes Aliyah and The Sandwich Generation

Happy Chinese New Year! Happy Super Bowl! Go Hawks!

Tradition! Fun with the Seattle International Film Festival

Where Have I Been in My Life???

Making Kosher Salads

Blog Categories
Leah's Kosher Pantry

View what is in the pantry
Recipes

Appetizers
(44)

Appetizers - Dips and Sauces
(11)

Appetizers - Starter Courses
(10)

Beverages - Cold
(1)

Breads - Yeast
(10)

Breakfast Pastries
(7)

Dessert - Frostings
(6)

Desserts - Cakes
(13)

Desserts - Cookies and Brownies
(29)

Desserts - Dairy
(42)

Desserts - Pareve
(71)

Desserts - Pies and Tarts
(14)

Desserts - Tea Breads, Quick Breads
(8)

Desserts and Baked Goods - Gluten Free
(18)

Main Dish - Beef
(7)

Main Dish - Dairy
(3)

Main Dish - Eggs and Fritattas
(6)

Main Dish - Fish
(11)

Main Dish - Poultry
(14)

Main Dish - Vegetarian and Vegan
(9)

Salads - Dressing
(8)

Salads - Fruit
(4)

Salads - Grains & Legumes
(7)

Salads - Green
(1)

Salads - Pasta and Rice
(10)

Salads - Potatoes and Eggs
(5)

Salads - Vegetable
(15)

Side Dishes - Kugels and Souffles
(7)

Side Dishes - Potatoes and Vegetables
(17)

Side Dishes - Rice, Grains and Pasta
(7)

Soups, Stews and Cholent
(9)
Special Considerations

Dairy-Free Recipes
(230)

Gluten-Free Recipes
(134)

High Fiber Recipes
(18)

Low-fat Recipes
(11)

Nut-Free Desserts Recipes
(48)

Vegan Recipes
(101)

Vegetarian Recipes
(207)
Holidays

Rosh Hashana Recipes
(23)

Yom Kippur Recipes
(3)

Sukkot Recipes
(26)

Simchat Torah Recipes
(9)

Chanukah Recipes
(20)

Tu B'shevat Recipes
(16)

Purim Recipes
(9)

Passover Recipes
(44)

Lag Ba'omer Recipes
(6)

Shavuot Recipes
(24)

Shabbat Recipes
(34)
Cookbook Library

New Releases

Jewish Classics

Other Favorites
Kitchen Gadgets

Essentials

Small Appliances
Chef Of The Week

Barbara Williamson
Congratulations to our chef of the week.