Roasted Red Pepper Dip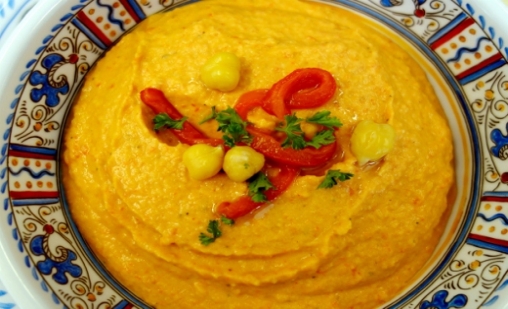 I confess. This website has become invaluable to me as a resource in the kitchen. When I forget a recipe, I just go to the archive. Of course, I'm on a 3G Blackberry; great for email but bad for internet. Cleo, who never used to answer her home phone let alone carry a cell phone, now sports an iPhone. Much faster. iPad is next, though.
At any rate, I want to get all my dip recipes posted so I have them for reference. Of course, our last batch was 27 pounds so this recipe is a guideline. Just because I need large quantities doesn't mean I take short cuts. You can bet that we roast peppers, squeeze lemon and mince garlic....oh, and cook our own beans. However, canned beans work for small amounts. That said, I still like to cook my canned beans to soften them. The extra step makes a smoother dip.
This dip changes hummus up a bit and brings some color to the table. Give it a try!
Kosher Status:
Parve
Number of servings:
8 - 10
Main Ingredient(s):
Preparation Time:
00:20
Cooking Time:
00:20
Skill Level:
1 - Easy

(1 Easy - 5 Hard)

Estimated POINT value:


Ingredients:


1 can garbanzo beans

1 red pepper, roasted and peeled

2 tablespoons tehini

1/4 cup lemon juice

1 1/4 teaspoon minced garlic

1 teaspoon salt

1/4 teaspoon black pepper

1/2 teaspoon cumin

1/4 cup olive oil

2 tablespoons water (or enough to make a smooth dip)


Steps:


To roast the pepper, wash and coat with olive oil. Place on a cookie sheet in a very hot, 400' oven and bake until the skin starts to char and blisters. Remove from the oven and place in a small bowl, cover with plastic wrap. Then, peel and seed.

Place all ingredients into the food processor. Process until smooth, adding a little water if necessary. Taste and adjust the salt and pepper.


Recently viewed recipes:



Roasted Red Pepper Dip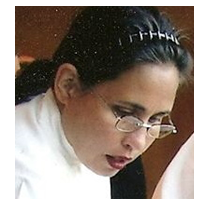 About Leah
Hi! Thank you for stopping by to watch me, Leah, cook kosher. I've been the owner operator of my boutique catering firm in Seattle, Leah's Catering, for the past 14 years.
Read more...
Leah's Blog

Aviva Makes Aliyah and The Sandwich Generation

Happy Chinese New Year! Happy Super Bowl! Go Hawks!

Tradition! Fun with the Seattle International Film Festival

Where Have I Been in My Life???

Making Kosher Salads

Blog Categories
Leah's Kosher Pantry

View what is in the pantry
Recipes

Appetizers
(44)

Appetizers - Dips and Sauces
(11)

Appetizers - Starter Courses
(10)

Beverages - Cold
(1)

Breads - Yeast
(10)

Breakfast Pastries
(7)

Dessert - Frostings
(6)

Desserts - Cakes
(13)

Desserts - Cookies and Brownies
(29)

Desserts - Dairy
(42)

Desserts - Pareve
(71)

Desserts - Pies and Tarts
(14)

Desserts - Tea Breads, Quick Breads
(8)

Desserts and Baked Goods - Gluten Free
(18)

Main Dish - Beef
(7)

Main Dish - Dairy
(3)

Main Dish - Eggs and Fritattas
(6)

Main Dish - Fish
(11)

Main Dish - Poultry
(14)

Main Dish - Vegetarian and Vegan
(9)

Salads - Dressing
(8)

Salads - Fruit
(4)

Salads - Grains & Legumes
(7)

Salads - Green
(1)

Salads - Pasta and Rice
(10)

Salads - Potatoes and Eggs
(5)

Salads - Vegetable
(15)

Side Dishes - Kugels and Souffles
(7)

Side Dishes - Potatoes and Vegetables
(17)

Side Dishes - Rice, Grains and Pasta
(7)

Soups, Stews and Cholent
(9)
Special Considerations

Dairy-Free Recipes
(230)

Gluten-Free Recipes
(134)

High Fiber Recipes
(18)

Low-fat Recipes
(11)

Nut-Free Desserts Recipes
(48)

Vegan Recipes
(101)

Vegetarian Recipes
(207)
Holidays

Rosh Hashana Recipes
(23)

Yom Kippur Recipes
(3)

Sukkot Recipes
(26)

Simchat Torah Recipes
(9)

Chanukah Recipes
(20)

Tu B'shevat Recipes
(16)

Purim Recipes
(9)

Passover Recipes
(44)

Lag Ba'omer Recipes
(6)

Shavuot Recipes
(24)

Shabbat Recipes
(34)
Cookbook Library

New Releases

Jewish Classics

Other Favorites
Kitchen Gadgets

Essentials

Small Appliances
Chef Of The Week

Barbara Williamson
Congratulations to our chef of the week.