Dried Fig and Olive Tapenade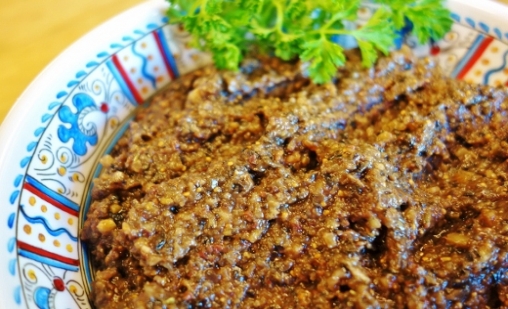 Making this recently for an appetizer party, I feel like I finally mastered the balance of texture and flavors. I love buying dried figs from Turkey or Greece. They remind me of my high school days working at the Pike Place Market. Back then, the dried figs were flattened and strung on twine, then tied in a circle before being wrapped in plastic. Now, they come in a plastic tray, sometimes still in a circle.
Working for a Sephardic Jewish family from Rhodes, there was a tinge of the old country in the way the figs were regarded. Usually, they made their appearance in the winter and were positioned with the many varieties of unshelled nuts. Selling these in the freezing outdoor market weather, the season was short-lived. I find these figs at PFI, the Italian importer of unique and memorable foods. Laying eyes on the rounds of dried figs always transports me back to the old Market, before it was 'saved'.
This tapenade is great with feta cheese cubes, lavash crackers and grapes. It's a little bit of work and slightly expensive to make. Doesn't stop me from making 18 pounds; it's worth it!
Kosher Status:
Parve
Number of servings:
1 1/2 cups, 10 - 12 servings
Main Ingredient(s):
Olives - Black
Preparation Time:
00:20
Cooking Time:
00:00
Skill Level:
1 - Easy

(1 Easy - 5 Hard)

Estimated POINT value:


Ingredients:


1/2 cup dried figs, thinly sliced

1 1/2 teaspoons olive oil

3/4 teaspoon brown sugar

1/2 cup kalamata olives

1/2 cup black olives

dash of salt

1 tablespoons balsamic vinegar

1/4 teaspoon lemon zest

11/2 teaspoon lemon juice

dash of cayenne pepper

1/8 teaspoon black pepper

3/4 teaspoons Herbes de Provence

1/2 teaspoon finely minced garlic


Steps:


| | |
| --- | --- |
| | Place the sliced dried figs into a small bowl and add a little water to rehydrate. It'll take some time to soften the figs. Cover and let sit overnight in the refrigerator if you have the time. You could also gently heat them in the microwave. We just want to soften them, not cook them. |
Add the softened figs to the food processor. Add the remaining ingredients and pulse. Taste and adjust salt, pepper and cayenne. Refrigerate overnight, or at least for 4 hours, to blend the flavors.

Serve at room temperature.


Recently viewed recipes:



Dried Fig and Olive Tapenade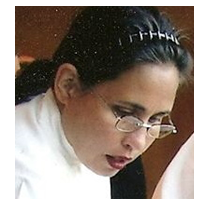 About Leah
Hi! Thank you for stopping by to watch me, Leah, cook kosher. I've been the owner operator of my boutique catering firm in Seattle, Leah's Catering, for the past 14 years.
Read more...
Leah's Blog

Aviva Makes Aliyah and The Sandwich Generation

Happy Chinese New Year! Happy Super Bowl! Go Hawks!

Tradition! Fun with the Seattle International Film Festival

Where Have I Been in My Life???

Making Kosher Salads

Blog Categories
Leah's Kosher Pantry

View what is in the pantry
Recipes

Appetizers
(44)

Appetizers - Dips and Sauces
(11)

Appetizers - Starter Courses
(10)

Beverages - Cold
(1)

Breads - Yeast
(10)

Breakfast Pastries
(7)

Dessert - Frostings
(6)

Desserts - Cakes
(13)

Desserts - Cookies and Brownies
(29)

Desserts - Dairy
(42)

Desserts - Pareve
(71)

Desserts - Pies and Tarts
(14)

Desserts - Tea Breads, Quick Breads
(8)

Desserts and Baked Goods - Gluten Free
(18)

Main Dish - Beef
(7)

Main Dish - Dairy
(3)

Main Dish - Eggs and Fritattas
(6)

Main Dish - Fish
(11)

Main Dish - Poultry
(14)

Main Dish - Vegetarian and Vegan
(9)

Salads - Dressing
(8)

Salads - Fruit
(4)

Salads - Grains & Legumes
(7)

Salads - Green
(1)

Salads - Pasta and Rice
(10)

Salads - Potatoes and Eggs
(5)

Salads - Vegetable
(15)

Side Dishes - Kugels and Souffles
(7)

Side Dishes - Potatoes and Vegetables
(17)

Side Dishes - Rice, Grains and Pasta
(7)

Soups, Stews and Cholent
(9)
Special Considerations

Dairy-Free Recipes
(230)

Gluten-Free Recipes
(134)

High Fiber Recipes
(18)

Low-fat Recipes
(11)

Nut-Free Desserts Recipes
(48)

Vegan Recipes
(101)

Vegetarian Recipes
(207)
Holidays

Rosh Hashana Recipes
(23)

Yom Kippur Recipes
(3)

Sukkot Recipes
(26)

Simchat Torah Recipes
(9)

Chanukah Recipes
(20)

Tu B'shevat Recipes
(16)

Purim Recipes
(9)

Passover Recipes
(44)

Lag Ba'omer Recipes
(6)

Shavuot Recipes
(24)

Shabbat Recipes
(34)
Cookbook Library

New Releases

Jewish Classics

Other Favorites
Kitchen Gadgets

Essentials

Small Appliances
Chef Of The Week

Barbara Williamson
Congratulations to our chef of the week.