Perfect Lemon Bars (Pareve or Dairy)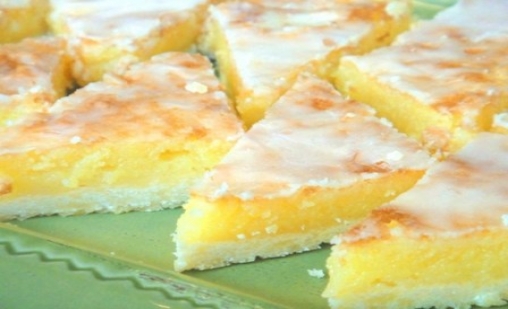 Serving these lemon bars the other day, a guest said, "Oh, the world's most perfect lemon bars!" They weren't always the most perfect. Often the center wouldn't set up as much as I liked. Instructing my crew to add more flour to the lemon mixture, we'd get better results. No one would ever correct the paperwork, though. So, for years, every other batch was problematic. We have a saying around the kitchen these days; "Twelve years later....." Yes, I now have some time to breathe and take stock of the 'oral tradition' and commit our changes to paper. A new piece of paper since the original is so marked with notes in the margins it is hard to decipher.
My favorite time of year to make lemon bars is the winter when Meyer lemons are available at the big box retailer. Meyer lemons are a hybrid of lemons and tangerines. Tart with a well-rounded sweetness, Meyer lemon juice makes the perfect topping on buttery shortbread. The rest of the year, fresh squeezed lemon juice is a close second. I find lemon bars refreshing, like a glass of lemonade, on a sweet table. Not chocolate and without nuts they claim their place on the buffet with regal surety.
Admittedly, these are addictive. For events I like to cut them with clean precision leaving plenty of edges for nibbling in the kitchen. I've had these photos ready to upload for months but I get stumped on how large the batch should be for home use. What's a serving....1/2 the pan?! I'm opting for the 13" x 9" pan. Cut it in 1/2 for an 8" x 8". These lemon bars freeze great so make a batch and keep them on hand.
Kosher Status:
Dairy
Number of servings:
13" x 9" pan, about 5 dozen triangles
Main Ingredient(s):
Juice - Lemon
Preparation Time:
00:40
Cooking Time:
00:40
Skill Level:
2

(1 Easy - 5 Hard)

Estimated POINT value:


Ingredients:


Crust:
1 cup butter or margarine (for pareve)

2 cups flour

1/2 cup powdered sugar
Filling:
1/2 cup fresh lemon juice

zest of 2 lemons

6 eggs

3 cups sugar

2/3 cups flour

1 3/4 teaspoons baking powder
Glaze:
1 1/2 cups powdered sugar

fresh lemon juice (about 2 tablespoons)


Steps:


Preheat the oven to 350'.

Put the crust ingredients into a bowl. I like to use a hand-held mixer to make a fine crumb. You can use your finger tips or a pastry cutter. I find that a paddle type mixer makes the dough come together too much. We're looking for a loose crumb.
| | |
| --- | --- |
| | Line the baking pan with parchment paper. I leave any long end extended over the side of the pan so the bars will lift out easily. Empty the crumb mixture into the pan. |
| | |
| --- | --- |
| | Gently press the crumb mixture into the pan. Try to get an even and level crust. Bake at 350' for about 15 minutes or until lightly browned. |
| | |
| --- | --- |
| | Combine all the filling ingredients into a bowl. |
| | |
| --- | --- |
| | With the mixer, blend the ingredients. |
| | |
| --- | --- |
| | When the crust is lightly browned, remove from the oven. Pour the filling over the crust and return to the oven. Bake for 25 - 35 minutes until the filling is set in the middle. |
| | |
| --- | --- |
| | While the lemon bars bake, make the glaze by combining the powdered sugar and lemon juice to form a spreadable mixture. Add lemon juice a little at a time as necessary. |
| | |
| --- | --- |
| | When the lemon bars are baked, remove from the oven and pour the glaze over the top. With an off-set spatula, spread the glaze in a thin layer over the top. Set aside to cool. |
When the bars are cooled, cut with a sharp knife. Wipe the knife between slices to keep a sharp edge on the lemon bar. I cut squares about 2 1/4" x 2 1/4" and then cut them in half to form triangles. Gently remove the bars with a metal spatula.

You can freeze the entire lemon bar pan and cut them later, too.


Recently viewed recipes:



Perfect Lemon Bars (Pareve or Dairy)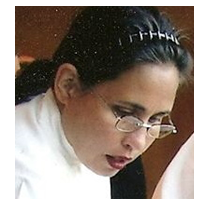 About Leah
Hi! Thank you for stopping by to watch me, Leah, cook kosher. I've been the owner operator of my boutique catering firm in Seattle, Leah's Catering, for the past 14 years.
Read more...
Leah's Blog

Aviva Makes Aliyah and The Sandwich Generation

Happy Chinese New Year! Happy Super Bowl! Go Hawks!

Tradition! Fun with the Seattle International Film Festival

Where Have I Been in My Life???

Making Kosher Salads

Blog Categories
Leah's Kosher Pantry

View what is in the pantry
Recipes

Appetizers
(44)

Appetizers - Dips and Sauces
(11)

Appetizers - Starter Courses
(10)

Beverages - Cold
(1)

Breads - Yeast
(10)

Breakfast Pastries
(7)

Dessert - Frostings
(6)

Desserts - Cakes
(13)

Desserts - Cookies and Brownies
(29)

Desserts - Dairy
(42)

Desserts - Pareve
(71)

Desserts - Pies and Tarts
(14)

Desserts - Tea Breads, Quick Breads
(8)

Desserts and Baked Goods - Gluten Free
(18)

Main Dish - Beef
(7)

Main Dish - Dairy
(3)

Main Dish - Eggs and Fritattas
(6)

Main Dish - Fish
(11)

Main Dish - Poultry
(14)

Main Dish - Vegetarian and Vegan
(9)

Salads - Dressing
(8)

Salads - Fruit
(4)

Salads - Grains & Legumes
(7)

Salads - Green
(1)

Salads - Pasta and Rice
(10)

Salads - Potatoes and Eggs
(5)

Salads - Vegetable
(15)

Side Dishes - Kugels and Souffles
(7)

Side Dishes - Potatoes and Vegetables
(17)

Side Dishes - Rice, Grains and Pasta
(7)

Soups, Stews and Cholent
(9)
Special Considerations

Dairy-Free Recipes
(230)

Gluten-Free Recipes
(134)

High Fiber Recipes
(18)

Low-fat Recipes
(11)

Nut-Free Desserts Recipes
(48)

Vegan Recipes
(101)

Vegetarian Recipes
(207)
Holidays

Rosh Hashana Recipes
(23)

Yom Kippur Recipes
(3)

Sukkot Recipes
(26)

Simchat Torah Recipes
(9)

Chanukah Recipes
(20)

Tu B'shevat Recipes
(16)

Purim Recipes
(9)

Passover Recipes
(44)

Lag Ba'omer Recipes
(6)

Shavuot Recipes
(24)

Shabbat Recipes
(34)
Cookbook Library

New Releases

Jewish Classics

Other Favorites
Kitchen Gadgets

Essentials

Small Appliances
Chef Of The Week

Barbara Williamson
Congratulations to our chef of the week.