Swedish Apple Pie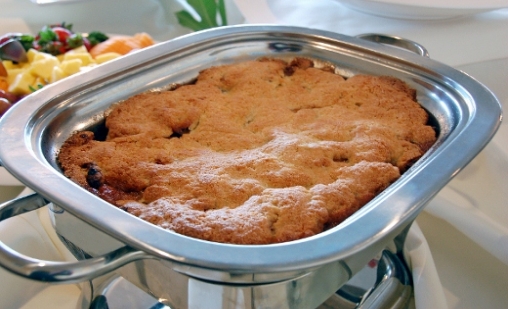 Yontif is just out. All of you are breathing a sigh of relief. Looking like a deer caught in headlights, I have 2,000 meals ahead of me in the coming week. A stack of event plans needs my attention; now! I've savored the time off but now it's game on.
Before getting to my day and night job, I want to post this simple recipe for Swedish Apple Pie. Why not, it's still fall and apples are harvested as I write. We made this for an event we did a few months back at The Swedish Club. It is noteworthy because it is incredibly simple to make. I've been working backwards uploading recipes. Starting with the 2 crust apple pie, the single crust Dutch apple pie, and ending with the no crust crisp. Here is the pour on 'crust' and it doesn't get any easier. You don't need me to tell you that there is a Shabbat dinner in 3 days! Give yourself a break and whip up one of these.
As with all baked goods Swedish, it's probably better with butter. Use a good quality margarine to make it pareve and your efforts will be rewarded with appreciative 'yums'.
Kosher Status:
Parve
Number of servings:
9" x 13" pan, 12 - 16 servings
Main Ingredient(s):
Apples
Preparation Time:
00:30
Cooking Time:
00:50
Skill Level:
1 - Easy

(1 Easy - 5 Hard)

Estimated POINT value:


Ingredients:


Filling:
8 - 10 Granny Smith Apples, or other tart apple

1/2 cup sugar

2 tablespoons ground cinnamon
Topping:
1 1/2 cup unsalted butter or unsalted margarine

2 cups sugar

2 cups of flour

2 eggs


Steps:


Preheat the oven to 350'.

Peel, core and slice the apples and place in a bowl.

Mix the sugar and cinnamon together. Pour over the apples and toss.

Spray the pan and add the apples.

Make the topping by melting the butter or margarine in a sauce pan. Add the remaining sugar, flour and eggs. Stir well.

Pour evenly over the apples. Bake for 45 minutes or until the apples are tender.


Recently viewed recipes:



Swedish Apple Pie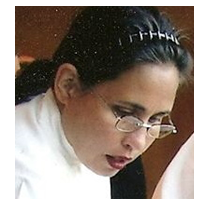 About Leah
Hi! Thank you for stopping by to watch me, Leah, cook kosher. I've been the owner operator of my boutique catering firm in Seattle, Leah's Catering, for the past 14 years.
Read more...
Leah's Blog

Aviva Makes Aliyah and The Sandwich Generation

Happy Chinese New Year! Happy Super Bowl! Go Hawks!

Tradition! Fun with the Seattle International Film Festival

Where Have I Been in My Life???

Making Kosher Salads

Blog Categories
Leah's Kosher Pantry

View what is in the pantry
Recipes

Appetizers
(44)

Appetizers - Dips and Sauces
(11)

Appetizers - Starter Courses
(10)

Beverages - Cold
(1)

Breads - Yeast
(10)

Breakfast Pastries
(7)

Dessert - Frostings
(6)

Desserts - Cakes
(13)

Desserts - Cookies and Brownies
(29)

Desserts - Dairy
(42)

Desserts - Pareve
(71)

Desserts - Pies and Tarts
(14)

Desserts - Tea Breads, Quick Breads
(8)

Desserts and Baked Goods - Gluten Free
(18)

Main Dish - Beef
(7)

Main Dish - Dairy
(3)

Main Dish - Eggs and Fritattas
(6)

Main Dish - Fish
(11)

Main Dish - Poultry
(14)

Main Dish - Vegetarian and Vegan
(9)

Salads - Dressing
(8)

Salads - Fruit
(4)

Salads - Grains & Legumes
(7)

Salads - Green
(1)

Salads - Pasta and Rice
(10)

Salads - Potatoes and Eggs
(5)

Salads - Vegetable
(15)

Side Dishes - Kugels and Souffles
(7)

Side Dishes - Potatoes and Vegetables
(17)

Side Dishes - Rice, Grains and Pasta
(7)

Soups, Stews and Cholent
(9)
Special Considerations

Dairy-Free Recipes
(230)

Gluten-Free Recipes
(134)

High Fiber Recipes
(18)

Low-fat Recipes
(11)

Nut-Free Desserts Recipes
(48)

Vegan Recipes
(101)

Vegetarian Recipes
(207)
Holidays

Rosh Hashana Recipes
(23)

Yom Kippur Recipes
(3)

Sukkot Recipes
(26)

Simchat Torah Recipes
(9)

Chanukah Recipes
(20)

Tu B'shevat Recipes
(16)

Purim Recipes
(9)

Passover Recipes
(44)

Lag Ba'omer Recipes
(6)

Shavuot Recipes
(24)

Shabbat Recipes
(34)
Cookbook Library

New Releases

Jewish Classics

Other Favorites
Kitchen Gadgets

Essentials

Small Appliances
Chef Of The Week

Barbara Williamson
Congratulations to our chef of the week.